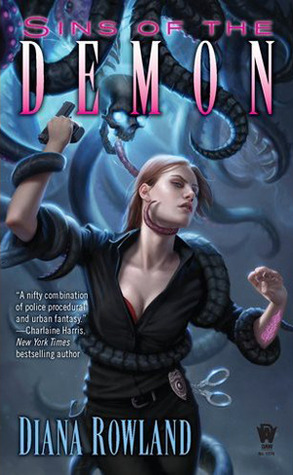 Sins of the Demon by Diana Rowland
The homicide beat in Louisiana isn't just terrifying, it's demonic. Detective Kara Gilligan of the supernatural task force has the ability to summon demons to her aid, but she herself is pledged to serve a demonic lord.

And now, people who've hurt Kara in the past are dropping dead for no apparent reason. To clear her name and save both the demon and human worlds, she's in a race against the clock and in a battle for her life that just may take her to hell and back.
Claimed by a Cowboy by Tanya Michaels (1/1)
A Demon Does It Better by Linda Wisdom (1/1)
Hold Me If You Can by Stephanie Rowe (1/1)
Lure of Song and Magic by Patricia Rice (1/1)
Midnight Reckoning by Kendra Leigh Castle (1/1)
Silver-Tongued Devil by Jaye Wells (1/1)
Darkness Falls by Cate Tiernan (1/2, YA)
Demon Crossings by Eleri Stone (1/2)
Escape Velocity by Anah Crow and Dianne Fox (1/2)
One More Summer by Liz Flaherty (1/2)
Private: #1 Suspect by Maxine Paetro, James Patterson (1/2)
The Viking's Sacrifice by Julia Knight (1/2)
All That Bleeds by Kimberly Frost (1/3)
Bloodrose by Andrea Cremer (1/3, YA)
Born of Ashes by Caris Roane (1/3)
The Bride Wore Black Leather by Simon R. Green (1/3)
Charmfall by Chloe Neill (1/3, YA)
Cinder by Marissa Meyer (1/3, YA)
City of the Lost by Stephen Blackmoore (1/3)
Dust of the Damned by Peter Brandvold (1/3)
Flashfire by Deborah Cooke (1/3)
Hammer Down by Moira Rogers (1/3)
Immortal Hope by Claire Ashgrove (1/3)
Labyrinth by Alex Archer (1/3)
Love in a Nutshell by Janet Evanovich and Dorien Kelly (1/3)
It Takes a Witch by Heather Blake (1/3)
Plan Bee by Hannah Reed (1/3)
Raven Cursed by Faith Hunter (1/3)
Seven Princes by John R. Fultz (1/3)
Sunrise with a Notorious Lord by Alexandra Hawkins (1/3)
Under the Never Sky by Veronica Rossi (1/3, YA)
To Walk the Night by E.S. Moore (1/3)
Whispers in the Dark by Maya Banks (1/3)
Wild Wild Death by Casey Daniels (1/3)
Dragonswood by Janet Lee Carey (1/5, YA)
Fated by Sarah Alderson (1/5, YA)
Night School by Christi Daugherty (1/5, YA)
Goldie by KC Shaw (1/6)
Fangtastic by Lucienne Diver (1/8, YA)
New year, new additions to the TBR pile! This particular week is full of bookish goodness that simply cannot be ignored. There's the latest from Diana Rowland, Faith Hunter, Jaye Wells, Maya Banks, Chloe Neill, and Janet Evanovich. The YA dystopian Under the Never Sky sounds incredibly intriguing, too. Oh, the choices!
How's about you?? Surely, something is piquing your interest from this week's selection of releases…right? ^_^