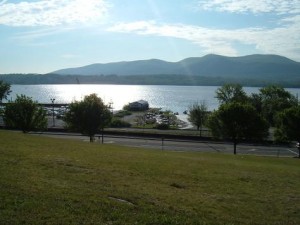 I've been reading The Marriage Bargain by Jennifer Probst recently. Her book takes place in Newburgh, New York, which I had never heard of until picking this book up. Of course, I had to take a look and see.
According to the all-mighty Wiki, Newburgh is "located in Orange County, New York, United States, 60 miles (97 km) north of New York City, and 90 miles (140 km) south of Albany, on the Hudson River". In researching this post, I found lots of information about Newburgh's restoration attempts which is featured prominently in Probst's book too. A nice little tie in, I think. So let's take a tour and check out this quaint area:
This looks like a lovely vacation spot to visit in the summer months and I bet with those mountains close by, there would be some winters sports too. Newburgh appears to have the qualities that we would associate with a "New England town" but in the heart of New York State. It also looks like it would be a great place to live, with a lovely balance between nature and city.
What do you all think? Have any of you heard of Newburgh before? Or like me, enjoy discovering new destinations, thanks to the books we read?
And if you're a fan of architecture too, here's a site that is tracking some of the work in Newburgh's revamping: Newburgh Restoration