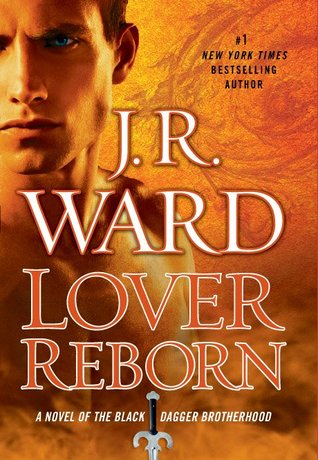 Lover Reborn (Black Dagger Brotherhood, #10) by J.R. Ward
Ever since the death of his shellan, Tohrment is a heartbroken shadow of the vampire leader he once was. Brought back to the Brotherhood by a self-serving fallen angel, he fights again with ruthless vengeance- and is unprepared for a new tragedy. Seeing his beloved in dreams—trapped in a cold, desolate netherworld—he turns to the angel to save his former mate, only to despair at the path he himself must take to set her free.

As war with the lessers rages, and a new clan of vampires vies for the Blind King's throne, Tohr struggles between an unforgettable past, and a future that he doesn't know he can live with… but can't seem to turn away from.
The Alchemist of Souls (Night's Masque #1) by Anne Lyle (3/27)
The Art of Duke Hunting (Royal Entourage, #2) by Sophia Nash (3/27)
Back from the Undead (The Bloodhound Files, #5) by D.D. Barant (3/27)
Barefoot Season (Blackberry Island, #1) by Susan Mallery (3/27)
Bear Meets Girl (Pride, #7) by Shelly Laurenston (3/27)
Body, Inc. (Tipping Point Trilogy, #2) by Alan Dean Foster (3/27)
A Breath of Eyre (Unbound #1) by Eve Marie Mont (3/27, YA)
Caught in the Act by Jill Sorenson (3/27)
The Cowboy Takes a Bride (Jubilee, Texas, #1) by Lori Wilde (3/27)
Deliverance (Mortal Path, #3) by Dakota Banks (3/27)
Fair Coin (Coin, #1) by E.C. Myers (3/27, YA)
Forgiven (The Demon Trappers, #3) by Jana Oliver (3/27, YA)
Goddess Interrupted (Goddess Test, #2) by Aimee Carter (3/27, YA)
Her Dark Protector by Carol Stephenson (3/27)
Highland Lover (Scottish Knights Trilogy, #3) by Amanda Scott (3/27)
Hot Under Pressure (Rising Star Chef, #3) by Louisa Edwards (3/27)
The Kingdom (Graveyard Queen ,#2) by Amanda Stevens (3/27)
Master of Sin (Courtesan Court, #4) by Maggie Robinson (3/27)
(Blood on the Bayou (Annabelle Lee, #2) by Stacey Jay (3/27)
The Outcast Blade (Assassini Trilogy, #2) by Jon Courtenay Grimwood (3/26)
A Perfect Storm (Men Who Walk the Edge of Honor, #4) by Lori Foster (3/27)
The Rising (Department 19, #2) by Will Hill (3/29, YA)
Sacrificial Magic (Downside Ghosts, #4) by Stacia Kane (3/27)
The Saint (Highland Guard, #5) by Monica McCarty (3/27)
The Seduction of Lady X (Secrets of Hadley Green, #3) by Julia London (3/27)
The Seduction of Phaeton Black (Paranormal Investigator, #1) by Jillian Stone (3/27)
Shadow's Fall (Shadow World, #3) by Dianne Sylvan (3/27)
Sins of the Son (Grigori Legacy, #2) by Linda Poitevin (3/27)
Slide (Slide, #1) by Jill Hathaway (3/27, YA)
Spellcaster (Spellbound, #2) by Cara Lynn Shultz (3/27, YA)
Taming an Impossible Rogue (Scandalous Brides, #2) by Suzanne Enoch (3/27)
Temptation Rising by A.C. Arthur (3/27)
The Unseen by Heather Graham (3/27)
Wanted: Undead or Alive (Love at Stake, #12) by Kerrelyn Sparks (3/27)
A Week to Be Wicked (Spindle Cove, #2) by Tessa Dare
Wicked as They Come (Blud, #1) by Delilah S. Dawson (3/27)
This week's New Release list was compiled via the following method:
Compile list of the most exciting, intriguing, promising releases.
Cower in fear of said list's magnitude.
Run for help; enlist ruthless list-cutting agents.
Cut list in half.
Breath a sigh of relief for TBR piles everywhere, both yours and mine.
There are so many wonderful new books out this week–from the NY pubbies, from e-pubbies, from boutique pubbies, etc. (and I just love calling publishers "pubbies"). New series, old series, standalones. Consider the list above just a sampling (not a "best of", because that'd be impossible for a New Release list; book tastes differ). So whether your existing TBR pile rejoices in the potential addition of new friends or weeps at its ever-increased burden, I hope you find something you'll like.
For my part, I've been awaiting Amanda Stevens's The Kingdom since this time last year (look out for a review of it next week). The latest J.R. Ward's a given (especially for those patiently awaiting Tohr's story), and a new series opener that looks might intriguing is Wicked as They Come by Delilah Dawson. All perfect for the rainy springtime weather.
How about you? Anything you've been awaiting eagerly for ages? Something brand new catch your eye this week?