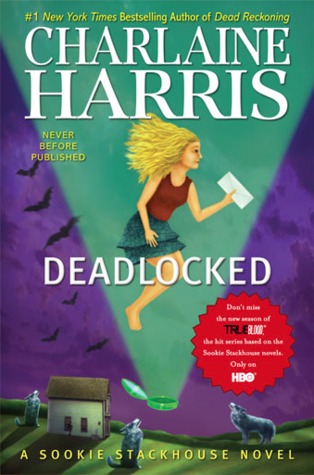 Deadlocked (Sookie Stackhouse, #12) by Charlaine Harris
With Felipe de Castro, the Vampire King of Louisiana (and Arkansas and Nevada), in town, it's the worst possible time for a body to show up in Eric Northman's front yard—especially the body of a woman whose blood he just drank.

Now, it's up to Sookie and Bill, the official Area Five investigator, to solve the murder. Sookie thinks that, at least this time, the dead girl's fate has nothing to do with her. But she is wrong. She has an enemy, one far more devious than she would ever suspect, who's out to make Sookie's world come crashing down.
A Gentleman Says "I Do" by Amelia Grey
Barely Breathing (The Breathing Series, #2) by Rebecca Donovan
Beguiling the Beauty (Fitzhugh Trilogy, #1) by Sherry Thomas
Bitterblue (Graceling Realm, #3) by Kristin Cashore (YA)
Black Dawn (The Morganville Vampires, #12) by Rachel Caine (YA)
Born of Silence (The League, #5) by Sherrilyn Kenyon
Brownies and Broomsticks (A Magical Bakery Mystery #1) by Bailey Cates
Captivated (Phantom Corps #3) by Lauren Dane
Demon's Bride (Hellraisers, #2) by Zoe Archer
Destined (Wings, #4) by Aprilynne Pike (YA)
Embrace of the Damned (Brotherhood of the Damned, #1) by Anya Bast
Heart of Brass (Wardens of the Realm, #1) by Kate Cross
In the Company of Witches (Arcane Shot, #2) by Joey W. Hill
Insurgent (Divergent, #2) by Veronica Roth (YA)
Karma (Serendipity, #3) by Carly Phillips
Kiss of the Goblin Prince (Shadowlands, #2) by Shona Husk
Lady Maggie's Secret Scandal (The Duke's Daughters, #2) by Grace Burrowes
Midnight Rescue (Killer Instincts, #1) by Elle Kennedy
My Lady Rival (Belgrave Square Affair, #1) by Ashley March
Shine (Shade, #3) by Jeri Smith-Ready (YA)
Silence (Queen of the Dead, #1) by Michelle Sagara West (YA)
Sparks Fly (Light Dragons, #3) by Katie MacAlister
The Impossible Cube (Clockwork Empire #2) by Steven Harper
The Last Princess by Galaxy Craze
The Last Boyfriend (Inn BoonsBoro, #2) by Nora Roberts
The Peculiars by Maureen Doyle McQuerry (YA)
The Proposal by Mary Balogh
The Seven Year Witch (That Old Black Magic, #2) by Jodi Redford
The Serpent's Shadow (Kane Chronicles, #3) by Rick Riordan (YA)
Under Fire (Elite Force, #3) by Catherine Mann
Under Suspicion (Underworld Detection Agency, #3) by Hannah Jayne
Warrior Enchanted (Sons of the Zodiac, #4) by Addison Fox
Wrecked by Anna Davies (YA)
Quite a bit going on this week, wouldn't you say? Of course, there are the series mainstays like the latest Sookie Stackhouse novel and Rachel Caine's new Morganville Vampires installment. There are a lot of relatively new series on feature this week…and the handful of brand new series are actually shaping up as most promising. Take a look at Sherry Thomas's book, Beguiling the Beauty, which starts of an historical romance trilogy and features a strong, capable heroine (thank goodness!). We've also got a new Anya Bast paranormal romance series that looks as intense as it is intriguing (All Things Urban Fantasy called it a cross between Thor and Gena Showalter's Lords of the Underworld series). Ashley March's new Belgrave Square Affair series looks like a scandalously decadent addition to historical romance. And there seems be just one word to describe Elle Kennedy's series opener, Midnight Rescue: badass (a woman raised and trained by a retired army ranger? Come on, that's asking for an action-packed thrill ride!).
For this week, are there any series, new and old, that pique your interest? When it comes to series, do you prefer to read in strict publishing order (even if not required)?