I'll tell you a secret: besides being the Latin Lover and a big fan of Latin culture, I've been fascinated by the rich history and culture of China ever since my pre-teens. For my graduation gift I asked for a 2week trip to visit the imperial cities of China from my parents and since then my interest for it has grown.
So when I heard about My Fair Concubine, a historical romance set in Ancient China (!!) which was a retelling of My Fair Lady, I couldn't say "Yes!" fast enough! 😀 Since then I devoured My Fair Concubine and discovered a new favourite author in Jeannie Lin. (You can read my review here.) So it is my great pleasure to welcome her to Book Lovers Inc. today and tell you all about her novels and all the research and secret that goes into writing them.
Please give Jeannie the warmest welcome and read on, besides some colourful glimpses into Chinese culture you'll learn some interesting tidbits as well, and oh yeah, almost forgot, there is a very 'fair' giveaway at the end as well! 😉
Stella: Hi Jeannie, welcome to Book Lovers Inc! Can you please tell us a bit about yourself?
Jeannie: I'm a computer gal in my day job and a former high school science teacher. A bit of a science geek and a nerd. Hopelessly optimistic. Oh, and I just had twins: a boy and a girl.
Stella: What do you think is the difference between a reader and a real Book Lover?
Jeannie: You can always tell when you meet a book person. You start a conversation about the last book you read, the books you loved, the books you hated and then all of the sudden hours have gone by and it's time to go get a drink and continue talking. I met my best friend over books – we kept on checking out the same ones from the school library. A reader enjoys reading books. A booklover's life wouldn't be same without them.
Stella: You pen historical romances for Harlequin that are quite unique and different from the usual Regency/Victorian ones since yours are set in Ancient China in the Tang Dynasty! Why did you choose this time period and to set your novels in Asia?
Jeannie: I really think the Tang Dynasty is going to be the next big thing in historical romance. *tongue in cheek* My inspiration was the wuxia stories of authors like Jin Yong. I loved the romance and adventure of those books and movies. The Tang Dynasty is one of the Golden Ages of Chinese history and a time where women had more freedom. It was a time of both high culture, but also of intrigue and rebellion.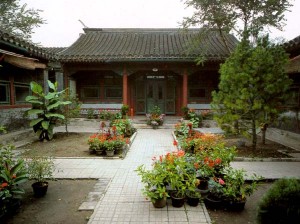 Stella: How did your fascination with China and its rich culture and history start? Do you have any personal connection to it? (e.g. have you visited?)
Jeannie: I have visited China and if I had known that I would eventually write stories set there, I would have totally changed my itinerary (and stayed for a couple more weeks!) My connection to it is through my culture. I'm Vietnamese and the culture is heavily influenced by Chinese culture. In fact, during the Tang Dynasty, North Vietnam (Annam) was part of China. It was where they exiled officials who fell out of favor. Having to live in the swampy, tropical climate was considered a punishment!
My great-grandmother was from a wealthy Chinese family living in Vietnam. My great-grandfather was a scholar who passed the civil exams and was given a post as a tutor for the last emperor of Vietnam. The imperial system of Vietnam was modeled after the Chinese system and it was a big deal to be able to pass the exams. Basically it made him quite a catch. A matchmaker brought the two families together (with a bit of trickery, as the family story goes) and after fleeing several wars and takeovers, here we are in America.
Growing up with this background, it was natural to be drawn to Chinese history and the culture. I guess I'm a Sinophile the way many Americans are Anglophiles.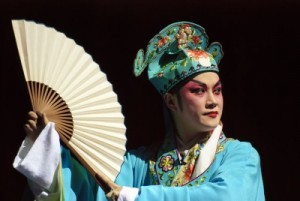 Stella: Your novels must require quite a lot of research, any funny or interesting research-related story you could tell us? (e.g. weirdest thing you had to research, most wonderful thing you discovered thanks to a bookish research? etc.)
Jeannie: I already gave up the trivia about the banishment to the swamps. Darn.
Every book brings out new discoveries. For Butterfly Swords, I discovered that the ancient Chinese wrote about the Roman Empire (Da Qin) and believed it to be a land where the men were "tall and honest". For The Dragon and the Pearl, I looked into ancient methods of tattooing. For My Fair Concubine, I learned about the practice of heqin and sending princesses — and false princesses — to the frontier and how these women played a diplomatic role that was often overlooked. I researched tea drinking and dan roles (men playing females) in Chinese opera.
There are so many little threads that get woven into the story. It's one of the best parts about writing historical romance.
Stella: Since your novels are so different from the mainstream England/Scotland set historical romances, did you have any difficulties initially finding publishers, people who would give a chance to a not so usual romance? What was your path to publishing?
Jeannie: My big break was when my debut book, Butterfly Swords, was nominated for the RWA Golden Heart award. I had been submitting for almost a year and when the nomination came, agents started taking notice. From the nomination announcement, I signed with an agent, won the Golden Heart and sold to Harlequin Mills & Boon over the course of 11 weeks. But I had been writing for over four years before that.
Looking back, I'd say it was an easier publication journey than some, harder than others. I feel like I've been rejected by every agent and publisher out there. But the optimistic thing is, there were a lot of looks. Everyone wanted to see what I was bringing to the table. In the end, only Harlequin was willing to put their money down, but everyone else was curious enough to take a peek.
I really want aspiring writers to know that was what the experience was truly like. It wasn't "No, no, no". It was "Maybe, just maybe…" They're looking for something. I wasn't it, but maybe you are.
Stella: The 3rd book in your Tang Dynasty series My Fair Concubine was released a couple of weeks ago, congratulations! Can you tell our readers what they can expect of it?
Jeannie: Thank you! My Fair Concubine is something a little different from my first two books which were more angsty. My first book, Butterfly Swords, was an action/adventure. I think of my second, The Dragon and the Pearl, as a darker book about intrigue and past secrets. My Fair Concubine is a playful book about the culture of the imperial capital: the teahouses, the entertainment district, the parks and stage plays. I wanted to paint the picture that it's not all about war and betrayal and death in the Tang Dynasty. It was really a beautiful era.
Stella: Do you have any good teaser excerpt/scene you could share with us (or just some titillating lines)?)
Jeannie: Instead of practicing diction, Fei Long teaches Yan Ling how to write. Here's a snippet from their first writing lesson:
"We'll start today with basic brush strokes."

Fei Long described the process for making ink from the charcoal stick while she listened intently. Instruction always seemed to ease the tension from him. It was a ritual with expected roles and outcomes; teacher and student. She poured a few drops of water from a vial into the well of the ink stone. Then she ground the stick in small circles until the water became onyx black.

"The way you hold the brush is very important for proper technique."

He handed her the brush. Her fingers curled clumsily around the delicate bamboo shaft.

"Press your thumb here. Curve your first finger."

His steady hands enclosed hers and a ripple of warmth besieged her. The next breath lodged in her throat and she grew still, at a loss at what to do.

They had touched before. They must have every time she handed him something or he'd helped her onto the horse during their journey. Yet when Fei Long's hands moved gently over her fingers to position them, her heartbeat skipped.

"Don't grip it too tight. Now hook your middle finger around here." He continued, unaware of how her pulse quickened beneath his touch.

"Keep the brush straight as you execute the brush strokes." His voice was low, confident. Sensual without meaning to be as it pierced deep to fill her. "More control that way. Understand?"

She nodded mutely, afraid to speak. He'd been nothing but Lord Chang up until then, her disapproving task master. This rush of feeling was unacceptable. She swallowed as he moved away from her.

"Is there something wrong?" he asked.

Wrong? The brush held fast in her hand and she didn't move a finger.

"No, my lord. I…I must be more tired than I thought I was." She was ashamed for making such an excuse, but she was more ashamed of the heat swimming through her. It would pass.

His tone hardened behind her. "As you mentioned, we only have two months. Not much time."

She kept her head down. If she looked up, he would certainly be able to see everything revealed in her face. "I can continue," she said apologetically.

"Good."

He took the brush from her and stood to her right. She shifted aside in the chair to give him space. Suddenly, she'd become aware of everything about him: his wide shoulders and how close his arm came to hers. The rustle of his robe as he moved. She watched, transfixed, as Fei Long dipped the tip of the brush into the oily blackness of the ink, swirling to remove the excess. He then braced a hand against the lower corner of the paper and brushed a single dot over the pristine white paper.
Stella: Could you introduce the hero/heroine (or even some other characters if you'd like) to our readers?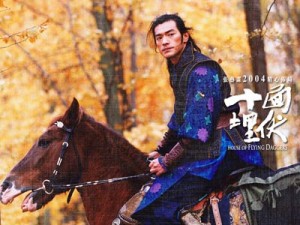 Jeannie: Yan Ling is the impetuous tea house girl whose temper gets her into trouble.
Fei Long is the serious and honorable nobleman who is trying to make the best out of an impossible situation.
Bai Shen is the colorful actor who teases everyone and tries to play matchmaker.
Dao is the sensible house servant who warns Yan Ling about the dangers of falling for the master's charms
Stella: Can you summarize My Fair Concubine for us twitterstyle (140 characters or less)?
Jeannie: MY FAIR CONCUBINE: A nobleman & tea house girl match wits & fall in love in Tang Dynasty China #mustread
Stella: Now can you tell us 3 reasons why people should read My Fair Concubine?
Jeannie:
– From a review: Fei Long is WAY hotter than Rex Harrison
– It's an old school slow-burning, sensual romance
– You get to visit Changan during the Golden Age
Stella: I totally agree that Fei Long is much more handsome (and sexy) than Rex Harrison! 😉 Can you tell us any behind the scenes secret related to My Fair Concubine or any of the other Tang Dynasty novels? (either to the writing process, or some tidbit about the characters that didn't end up in the final version, etc.)
Jeannie: Behind the scenes: Bai Shen's sexuality never comes into play, but I always envisioned that he prefers men. There are actually veiled references to it in My Fair Concubine.
Stella: (Oh, I took that as a given fact that he was open about his sexuality and that he either prefers men or both.) You are a historical romance author. Are you planning on trying out some different genres/romance subgenres or not for the moment? And do you remember how you discovered the HR genre and your love for it? Was it love at first read?
Jeannie: I have a steampunk set in Qing Dynasty China that I dream of one day finishing. Also a fantasy book with lots of swords flying around. For now I'm working at writing more historical romances.
My love for HR started with Johanna Lindsey. Fires of Winter. The heroine is a swordwoman. The hero is a brute of a Viking. After the first forced seduction scene, she laughs at him. I was scandalized! I proceeded to read every other Lindsey book I could get my hands on…scandalous, every one of them. 🙂
I get giddy just thinking of those days. The HRs I read back then felt so lush and forbidden. I'd be reading and I'd feel my pulse race and my chest hurt like my heart was breaking. I mean, I know they had their issues and what not, but sometimes the historical romances I read today feel so bloodless by comparison. Maybe you can never go back?
Stella: What shall we expect from you, what is next on your schedule? Will there be more books in the Tang Dynasty series?
Jeannie: I was just offered a two book contract with HQN to bring the Tang Dynasty to that line. I also have two more books to write for Harlequin Historical. The Tang Dynasty series is a bit of a misnomer – the books aren't all in the same series. It's more of a sub-genre or period. But I do plan for a sequel to The Dragon and the Pearl.
Stella: You became a mom recently, congratulations your babies are so adorable! 😀 I bet since their arrival your schedule must have greatly changed. How do you find the time to write? Can you describe a typical day of writing, are there any such thing as typical since the babies arrived? 😉 Are you a planner or pantser?
Jeannie: Thank you! They have changed EVERYTHING.
I strive for a schedule. I really do! I try to write between 5am and 8am if I can. Somewhere in there, the little ones always wake up. I'm a planner/plotter all the way, but in truth I sort of play the movie in my head a bunch of times. When I write, what I'm actually doing is writing down the director's cut of the movie. I call this my incubation period. This makes it very hard to write when I only have a short time between inception and deadline. My Fair Concubine, the movie version, played in my head for a year before I wrote it. Then I wrote it start to finish in about three months.
My current project, I've hardly had any incubation time at all. The movie is playing out like this awful B-movie with lots of gratuitous action scenes and sex. 😉
Stella: Can you share with us some little secret trivia, something that not many people know about you?
Jeannie: It's so hard to have secrets with the internet and social media. I bet people would never guess that I was so shy that in seventh grade I checked out a book from the library titled "How to Have Conversations with People". That's the type of shy little bookworm I was.
My Fair Concubine by Jeannie Lin

The Nobleman Who Turned a Tea Girl Into a Princess…

Yan Ling tries hard to be servile—it's what's expected of a girl of her class. Being intelligent and strong-minded, she finds it a constant battle.

Proud Fei Long is unimpressed by her spirit—until he realizes she's the answer to his problems. He has to deliver the emperor a "princess." In two months can he train a tea girl to pass as a noblewoman?

Yet it's hard to teach good etiquette when all Fei Long wants to do is break it, by taking this tea girl for his own…

Buy at Amazon – B&N – Book Depository 
Jeannie Lin started writing in 2005 while she was teaching high school. After a long journey through rejections and contests and revisions, her manuscript, Butterfly Swords, won the 2009 Golden Heart® award for historical romance. Her first two books have received starred reviews in Publishers Weekly and Library Journal and her second novel, The Dragon and the Pearl, was listed as one of Library Journal's Best Romances of 2011. Check the Books section for information on individual titles and release dates.

Her stories are inspired by her love of adventure, history, and fantasy in both western and Asian traditions. From an early age she was fascinated by legends of King Arthur and the fantasy of Lord of the Rings as well as the Chinese wuxia (martial arts) fiction. As a result, she writes heroic characters in epic situations while interweaving a strong romance to make larger than life characters human. For more on wuxia and the historical background to her books, see the extras section.

You can find out more about Jess and her books at her website / blog / Twitter / Facebook / Goodreads.
~~~~~~~~~~~~~~~~~~~~~~~~~~~~~~~~~~~~~~~~
~*~*Giveaway*~*~
Jeannie has generously offered a paperback copy of My Fair Concubine to a lucky commenter!
All you have to do is leave a comment answering Jeannie's question:
My Fair Concubine is an homage to My Fair Lady. It seems like there are a bunch of remakes nowadays in book and film. What's your favorite retelling of a classic story? What's your least favorite?   
(You can read our full giveaway policy here)
This giveaway is open to everyone!
Giveaway ends on Saturday 30 June 2012, and we'll announce the winner on Sunday!
Good luck!