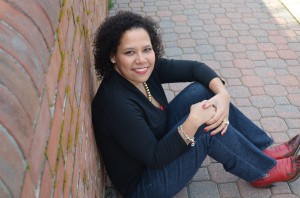 Today, we're happy to welcome Robin Covington to Book Lovers Inc. We'll be reviewing Robin's novel, A Night of Southern Comfort, later in the week, but today she's here to talk about the popularity of bodyguard/client themed stories. Remember to enter to win a copy of Robin's novel at the end of the post too; a simple answer to the question is all it takes 🙂 Now, please help me in extending a very warm welcome to Robin!:
The Bodyguard Crush – Whitney & Kevin had it right.
One of the most popular plotlines in a romance novel is the one where the bodyguard is hired to protect a woman (or vice versa) and ends up falling for them. I think almost everyone on the planet has seen the movie, THE BODYGUARD, with Whitney Houston and Kevin Costner. The film not only made $410 million at the box office but also spawned the best-selling soundtrack of all time with 42 million copies sold worldwide.
No wonder Whitney would always remember us.
But, while that film is a very visible example of that plots popularity, it isn't the only one. A quick browse of the bookshelves yields bodyguard books from Adrienne Giordano, Cindy Gerard, Cherry Adair, Suzanne Brockman and almost every Harlequin Intrigue ever published (my faves are always by Carol Ericson). It appears that the theme of having one character (the hero, usually) be in the position of protecting the heroine is a time-honored tradition.
I love it. My debut novel, A Night of Southern Comfort, features the yummy Jackson Cantrell as a hired bodyguard to protect Dr. Michaela Roarke from a stalker. She also happens to be the woman with whom he had the hottest one-night-stand of his life — just to keep it interesting. So, why are these so popular? I have a few ideas:
1. Forced proximity: You throw the hero and heroine into a situation where they are forced to remain in close quarters and they are either going to kill each other, die of boredom from playing hours of Yahtzee, or jump each other's bones. I vote for door number 3. Throw in a blizzard or a safe-house situation to up the tension and you have the perfect way to get them together.
2. Increasing the tension increases the . . .ummm . . .tension. Sexually, that is. As my hero, Jackson, said "nothing gets the libido going like a stalker." People in danger have an almost chemical need to either flee or fornicate — they have to do something to prove to their frenzied brain that they are still alive and running. As a romance author, I'm digging it.
3. Stockholm Syndrome . . . or something like that. Now, bodyguards haven't actually kidnapped their protectees but I think the same type of psychological attachment thing happens in this situation. You have two people whose emotions are heightened and they are forced into early, intense intimacy and they naturally develop feelings for each other at an abnormal rate. Simply said, you are the last two people on the island and you latch on emotionally to the other person and then it has the chance to develop into something real.
And my favorite reason:
4. It is a perfect fantasy. Who doesn't want some yummy, strong, testosterone laden man with a proficiency with firearms and wilderness survival to focus all of that attention on YOU. Sign me up! Except for the whole I-might-die-if the stalker-catches-me-thing, this scenario is the perfect. Guys with guns and expertise in battle strategy are HOT. How many SEAL books were published after our American heroes nabbed Osama Bin Laden? Yep—you get my point.
So, that's my theory on why the bodyguard is so popular in romance novels. I loved writing mine.
Happy reading,
Robin
A Night of Southern Comfort

One night of passion…
Detective Jackson Cantrell never imagined that one night with an irresistible stranger would turn his life upside down. He's spent years living in the shadows, but Dr. Michaela Roarke awakened a passion inside him he'd buried years ago.
He never expected the woman would turn out to be the governor's daughter…and his next assignment. The governor blackmails Jackson to secretly watch over Michaela and protect her from a stalker, or kiss his dream job at the FBI good-bye. Swearing to keep things strictly professional, Jackson moves in with Michaela. Too bad his heart can't keep the same promise.
But when the stalker's attacks quickly escalate beyond mere photographs to bodily harm, Jackson must race to save Michaela's life. And he'll have to figure out how to keep her once she discovers his lie.
Excerpt:
Mr. Sex-on-a-Stick took his last shot and accepted the congratulatory thumps on the back from his friends. He didn't smile in response, just quirked his full, sensual lips and turned to face her head-on with an expression full of hot promise. Catcalls and low whistles from his friends drifted across the crowded bar.
Come on, handsome. Don't let me strike out at my first real bar pickup.
The breath she didn't realize she was holding whooshed out as he separated himself from his friends and headed over to her. His movements were precise, controlled, and deliciously predatory. He possessed the confident demeanor of either military or law enforcement. He definitely wasn't a paper-pushing warlord or a politico. Years of experience trained her to spot those guys a mile away. No, his mask of control was one born of the need for survival, much like hers.
Okay, big boy. You let me peek behind yours and I'll let you peek behind mine.
He stopped in front of her, his thigh brushing her leg and setting off a series of sparks underneath her skin. His chocolate brown eyes met hers, filled with the assurance of decadent possibilities.
Michaela opened her mouth and shut it again. Now that he was here, she had no idea what to say. What would Angelina do? Channel your inner Jolie.
She cleared her throat. The result was a sultry, sexy voice she didn't know she possessed. "May I buy you a drink?"
He glanced at the glass in her hand and nodded.
"A Southern Comfort." She spoke in the general direction of the bartender, unable to tear herself away from her companion. "Neat."
He slid onto the stool next her, his leg still against hers and her temperature hovering near the boiling point. He leaned on the bar, creating their own intimate circle as the noise of the busy bar faded into the background. His lips curved into a slight smile.
"Is there something funny?"
"No. Not at all." His deep voice rumbled in her ear, his warm breath grazed her cheek. "I didn't take you for the whiskey type."
"And what type am I?"
He leaned back, examining her ice-blue satin, strapless cocktail dress and matching Manolo Blahnik pumps. She squirmed in her seat as her body responded to the desire pulsing between them.
"Honestly?" He cocked his head. "You strike me as the chardonnay type. A proper drink for a proper lady."
She laughed. Any other night, his description would have been close to the mark. "Whiskey's a drink of control and power." She took another sip and caught his stare over the rim of her glass.
"I see." He lifted his glass and downed the contents, then turned his full attention back to her. "So…why are you drinking alone?"
"I'm not drinking alone. Now." Michaela gestured toward his drink and ordered him another when he nodded.
"Okay, so you're here…?"
"Celebrating my new life."
"Aahhh." He lifted his glass to her in salute. "Let me be the first to say that your ex-husband is an idiot."

Available at Amazon – Barnes and Noble –  Entangled Publishing
Bio:
On her fortieth birthday, Robin Covington decided that having a mid-life crisis and finding a boy-toy were far too tacky, so she delved a little deeper into the "bucket list" and pulled out the long-shelved dream of becoming an author. Now, she spends her time writing sizzling romance where the hero and heroine can't keep their hands off each other.

She doesn't miss the boy-toy at all.

Robin is a member of the Romance Writers of America, the Washington Romance Writers, a faculty member at Romance University, a member of the Waterworld Mermaids, and a guest contributor to the Happy Ever After blog at USA Today.

Robin lives in Maryland with her hilarious husband, brilliant children, and ginormous puppy. You can find Robin on her website, Facebook, and Twitter (@RobinCovington).
~~~~~~~~~~~~~~~~~~~~~~~~~~~~~~~~~~~~~~~~
~*~*Giveaway*~*~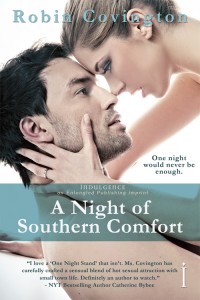 There's an ebook of A Night of Southern Comfort by Robin Covington available for one lucky commenter!
All you have to do is answer this question: What is your favourite bodyguard themed romance, either in a book or a movie?
(You can read our full giveaway policy here)
Please be sure to include a valid email address in the comment form (need not be in the actual body of the comment).
This giveaway is open to all!
Giveaway ends on Saturday, August 4th, 2012; we will announce the winner on Sunday.
Good luck!