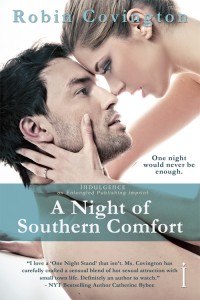 Format read: ebook
Genre: Contemporary Romance
Release Date: June 15, 2012
Number of pages: 150 pages
Publisher: Entangled Publishing
Formats available: ebook
Purchasing Info: Goodreads, Author's Website,  Amazon | B&N | Kobo | Book Depository US | Book Depository (UK)
Book Blurb:
One night of passion…

Detective Jackson Cantrell never imagined that one night with an irresistible stranger would turn his life upside down. He's spent years living in the shadows, but Dr. Michaela Roarke awakened a passion inside him he'd buried years ago.

He never expected the woman would turn out to be the governor's daughter…and his next assignment. The governor blackmails Jackson to secretly watch over Michaela and protect her from a stalker, or kiss his dream job at the FBI good-bye. Swearing to keep things strictly professional, Jackson moves in with Michaela. Too bad his heart can't keep the same promise.

But when the stalker's attacks quickly escalate beyond mere photographs to bodily harm, Jackson must race to save Michaela's life. And he'll have to figure out how to keep her once she discovers his lie.
Our Thoughts:
Jackie: There's nothing like a title that immediately brings about the image of a hot, steamy, Southern night to get you in the right mood for a romantic read. So, it was with this in mind that I agreed to review A Night of Southern Comfort. I was hoping for a light, fun read that had the typical FBI protector feel to it.
Marlene: Me too. The title definitely evokes hot southern nights (I live in Atlanta, so that would be right now!) I was expecting summer, sex, adult relationships with adult problems, and a bodyguard romance. And I expected it to be mostly fun, with a dash of suspense.
Jackie: I think, overall, the story did deliver to expectations. It was predictable and very much like those movies that have you screaming at the characters on screen to watch out for the obvious bad guy, but still fun.
Marlene: This was definitely fun, but I did want to beat a few characters over the head with a "clue by four". Didn't anyone else notice that the person who turned out to be villain was not exactly playing with a full deck of cards? The warning signs were everywhere. It made a great set up for a bodyguard romance, but the suspense well, wasn't.
Jackie: Yes! The answer all but smacked you in the face, lol. Moving on to the hero, Jackson was a bit of a hard character to really like. His reasons for not wanting any type of relationship, convinced that nothing would last, seemed weak to me. It became a little clearer towards the end of the book but still not enough to make his assertions valid.
Marlene: It's pretty much a cliche that law enforcement is a high-divorce profession, but Jackson hadn't really tried relationships and failed. He'd assumed he'd fail and never bothered to try. Now whether he should have gotten involved with the particular person he was guarding while he was guarding her, that's a whole other kettle of fish.
Jackie: Totally! "Little" Jackson seemed to have more of an influence on him than his commanding officer, partner, or former FBI boss, but at least it guided us to some steamy interactions.
Marlene: The steam heat in this one, absolutely (fans self here). The opening scene was hot. But I thought Michaela had just divorced an abusive hubby, not escaped from the Stepford family. That was a big surprise.
Jackie: The best part of the story, for me, was Michaela's stubbornness where her father was involved. He was a controlling power freak that I would've liked to bitch slap frequently. Fortunately, she'd been through it all before and was trying really hard to stay adamant in her own assertions, to the point of utter stupidity sometimes, just to prove she could do it. This whole part of the story made it easier for me to swallow the need for the protector.
Marlene: Michaela's relationship with her father, or just Michaela's father, was he a throwback to the 19th century, or maybe earlier? Michaela was every father's dream, even if daddy was the Governor. She was a doctor. Daddy Dearest seemed too over-the-top asshat to be believable, at least as portrayed.
Jackie: Sadly, I think there are people out there that enjoy acting like that, holding control over others they see as lesser beings. To think the guy would ever get voted for anything again though…pfft.
In Summary:
Jackie: A Night of Southern Comfort was a quick read and a story that did, in fact, keep me engaged despite its tendency toward clichés. I enjoyed reading it and recommend it as a cute, summer time adventure.


I give A Night of Southern Comfort 3 ½ stars.
Marlene: In spite of my misgivings about the Daddy Dearest subplot, I still had a great time with A Night of Southern Comfort. I think it would make a great beach read (if you put your ereader in a waterproof bag.


I give this bodyguard romance 3 ½ stars.
***FTC Disclaimer: Most books reviewed on this site have been provided free of charge by the publisher, author or publicist. Some books we have purchased with our own money and will be noted as such. Any links to places to purchase books are provided as a convenience, and do not serve as an endorsement by this blog. All reviews are the true and honest opinion of the blogger reviewing the book. The method of acquiring the book does not have a bearing on the content of the review.