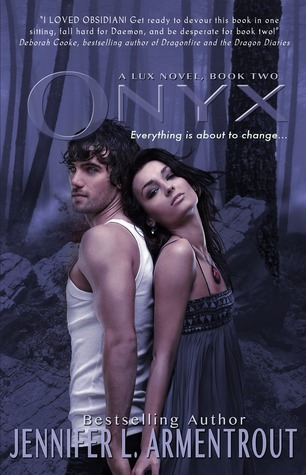 Onyx (Lux, #2)
by Jennifer L. Armentrout
Genre: YA
Being connected to Daemon Black sucks…

Thanks to his alien mojo, Daemon's determined to prove what he feels for me is more than a product of our bizarro connection. So I've sworn him off, even though he's running more hot than cold these days. But we've got bigger problems.

Something worse than the Arum has come to town…

The Department of Defense are here. If they ever find out what Daemon can do and that we're linked, I'm a goner. So is he. And there's this new boy in school who's got a secret of his own. He knows what's happened to me and he can help, but to do so, I have to lie to Daemon and stay away from him. Like that's possible. Against all common sense, I'm falling for Daemon. Hard.

But then everything changes…

I've seen someone who shouldn't be alive. And I have to tell Daemon, even though I know he's never going to stop searching until he gets the truth. What happened to his brother? Who betrayed him? And what does the DOD want from them—from me?

No one is who they seem. And not everyone will survive the lies…
. . .
Because You Haunt Me (Because You Are Mine, #3) by Beth Kery
Biting Oz (Biting Love, #5) by Mary Hughes
Forsaken (The Fallen, #4) by Thomas E. Sniegoski (YA)
Hammer It Home (Powertools, #6) by Jayne Rylon
Kissing Shakespeare by Pamela Mingle (YA)
Life Drawing For Beginners by Roisin Meaney
Misplaced Cowboy (Foreign Affairs, #2) by Mari Carr and Lexxie Couper
Much Ado About Magic (Enchanted, Inc., #5) by Shanna Swendson
Scandal's Mistress by Bronwyn Stuart
Suck It Up and Die (Suck It Up, #2) by Brian Meehl (YA)
The Heroes of Olympus: The Demigod Diaries by Rick Riordan
The Kill Order (Maze Runner, #0.5) by James Dashner
The Kingmaker's Daughter (The Cousins' War, #4) by Philippa Gregory
The Second Empress by Michelle Moran
The Traitor Queen (Traitor Spy Trilogy, #3) by Trudi Canavan
The Treachery of Beautiful Things by Ruth Frances Long (YA)
The Unnaturalists by Tiffany Trent (YA)
Touched by Cyn Balog (YA)
. . .
Have you noticed a pattern to the schedule of major book releases? There seems to be a wave at the beginning and end of the month, with a minor ebb in between. This week would be an example of a minor ebb; "minor" because there's still a decent selection of new releases coming out this week.
In many instances, this releases pattern "ebb" also means a much higher percentage of YA book releases. There are numerous such books out this week, spanning genres from historical fiction (Kissing Shakespeare) and steampunk (The Unnaturalists) to paranormal fiction (Touched). I myself don't read very much YA these days, but a couple of these new releases might serve as compelling reason to get back into YA. Sometimes it's kind of nice to step away from the usual suspects, don't you think?
Find a hidden gem among this week's new cohort? Assuming you're a fan of genre fiction, how often do you go outside of that realm (say, into literary fiction)?