Today I'm really thrilled to welcome back to Book Lovers Inc Claire Ashgrove, author of one of my currently favorite paranormal series out there, The Curse of the Templars. Claire stops by today as part of her Blog Tour to celebrate her newest release in the series, Immortal Surrender and discuss with us about relics! Please welcome Claire and don't forget to check at the end of the post for the details on our giveaway 🙂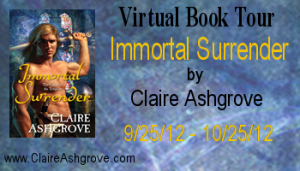 The Sudarium of Oviedo
by Claire Ashgrove
Hi all! Thanks for having me here today. Let's talk about relics, shall we? Specifically, the Sudarium of Oviedo. What is this elusive piece of cloth I incorporated into Immortal Surrender?
Well, some of you already know that the Sudarium of Ovideo is a bloodstained cloth, similar to the Shroud of Turin, that was recorded in The Gospel of John to be wrapped around the head of Christ after he died.
Unlike the Shroud of Turin, there is no 'face' born out of the bloodstains. It isn't mentioned as present at his actual burial, but is mentioned as being in the empty tomb after. This is claimed by both tradition and scientific studies. And in fact, the history of the cloth is better documented than the Shroud of Turn. Origin can be traced as well as its different stops on its journey.
So scientifically, what are the stains? They are one part blood and six parts fluid from a pleural oedema, which is liquid that collects in the lungs, when a crucified person dies of asphyxiation. If the body is jostled, it can come out through the nostrils.
And since my purpose here isn't to gross you all out…
Anthropology confirms that face that had been in contact with the sudarium had typically Jewish features, a prominent nose and pronounced cheekbones. The fact that the cloth was kept at all, lends to the belief this may have covered Jesus of Nazareth's head at the time he was crucified.
It is housed in a chapel in Oviedo, the Camara Santa, which was built specifically to house it and other relics, including some martyrs' tombs. And if you want to see the Sudarium, visit Spain, on Good Friday, The Feast of the Triumph of the Cross (Sept 14) and 8 days later on September 21st. It is displayed to the public then.
So where's the fiction?
Well… I'll leave a lot of that for you to answer. But in short, there haven't been recent attempts to date it (unlike the Shroud), and as far as the Camara Santa is concerned, I'm reasonably certain you won't find much Templar construction within. And while research says the stains belong to a human body, I'm also equally certain that when combined with …something else that's coming… it doesn't reveal the language of angels. But then, again, maybe it does.
What do you think?
About Immortal Surrender:
Farran de Clare, loyal member of the cursed Knights Templar, wants nothing to do with predestined mates. Even the Almighty won't turn him into a fool again—he'd rather sacrifice his soul. Yet in the scientist Noelle Keane, a devout atheist, Farran meets the seraph designed for him.

Ordered by the archangel Gabriel to protect Noelle, the possessor of a sacred relic that could give Azazel incredible power, Farran swears to do his duty—but in name only. Fighting an attraction that grows with each day, he's determined that he'll never pledge himself to her.

As they war over her future, their mutual passion ignites a conflict far more damning. But before Noelle will agree to eternity with him, she demands the ultimate sacrifice – his heart.


Buy Immortal Surrender:
Amazon | B&N | Book Depository US | Book Depository (UK)

About Claire:
Award-Winning Author Claire Ashgrove has been writing since her early teens and maintained the hobby for twenty years before deciding to leap into the professional world. Her first contemporary novel, Seduction's Stakes, sold to The Wild Rose Press in 2008, where she continues to write steamy, sexy stories for the Champagne and Black Rose lines. Adding to these critically acclaimed romances, Claire's paranormal romance series, The Curse of the Templars debuted with Tor in January 2012. For those who prefer the more erotic side of romance, she also writes for Berkley Heat as the National Bestselling Author Tori St. Claire.
She is an active member of Romance Writers of America, and her local RWA chapters, Heartland Romance Authors, Midwest Romance Writers, and North Texas Romance Writers of America.
Claire lives in Missouri with her two sons and too-many horses, cats, and dogs. In her "free" time, she enjoys cooking, winning at Rummy, studying Ancient Civilizations, and spending quiet moments with her family, including the critters.
To learn more about Claire, visit her on the web at www.claireashgrove.com, or www.toristclaire.com.

Excerpt:
Her nerves chafed at his bold intrusion. But the sight of him rendered her unable to speak. She stared, wide-eyed, at the strange man who had seemed so outwardly normal only a few hours earlier. Where he'd worn jeans and a casual long-sleeved shirt, he now dressed in a costume straight out of the Middle Ages. A long white surcoat, embellished with a bold crimson cross, draped down to his calves. Beneath it, he wore a hauberk of linked chain, complete with a coif to cover his sandy hair. Well-worn vambraces on his forearms matched the supple leather of his boots. The sword he'd brandished in Mikhail's office hung from a belt pulled so tight, it accented the trimness of his waist.

Only, where the actors she'd seen at the Renaissance festivals looked stilted and uncomfortable in their costumes, Farran wore his with the practiced comfort that belonged in the movies.

As if he wore the stuff daily.

Noelle blinked. She found her cobweb-covered tongue and managed to squeak, "What are you doing here?"

He pulled at the fingers on his gloves. One by one, they gave, and he slapped them lightly against his thigh before setting them on the small table near her door. "We are paired. Here is where I shall stay."

"Oh."

The short retort was all she could find, and she sagged back against the couch cushions. She ought to be surprised, ought to be furious. But the dilemma with the torc had sapped her energy so completely she didn't care. She'd spent the last two days with Farran. It was becoming almost natural to have him in her personal space. Besides, while she'd never admit it aloud, she'd rather not spend another minute alone and let her mind run away with possibilities.

"I shall sleep where you sit. The bed shall remain yours." Farran's hands dropped to his waist to give the buckle a tug. His belt fell away from his hips, and he leaned his sheathed sword against the wall. "I require a bath. Then I require rest."

His fingers stilled over the vambrace strings. For several silent seconds he gave her a thoughtful stare. He opened his mouth, shut it. His brows tugged together. Then he let out a nearly inaudible sigh. "If you wish to watch your television, I could rest in the other room. I would remove myself when you are ready to retire."

The bone was small, nearly tooth size. Yet Noelle realized the thrown offering in an instant. His quiet tone, the warm light in his eyes, the sheer work it took to summon the words—Farran was trying to be friendly.
~~~~~~~~~~~~~~~~~~~~~~~~~~~~~~~~~~~~~~~~
~*~*Giveaway*~*~
Claire is giving away one digital copy of any one of her backlist books, excepting those in the Templar series, to one randomly drawn commenter at each stop on the blog tour.  In addition, commenters' names will be added into the tour-end drawing of a 25.00 Amazon gift card.  Follow the tour – the more you comment, the better your chances of winning.  Complete tour dates can be found

here.

All you have to do is:
Leave a meaningful comment about the post or a question for Claire

(You can read our full giveaway policy here)

Please be sure to include a valid email address in the comment form (need not be in the actual body of the comment)
This giveaway is open to everyone!

Giveaway ends on Saturday, October 6, 2012 and we will announce the winner on Sunday.
Good Luck!