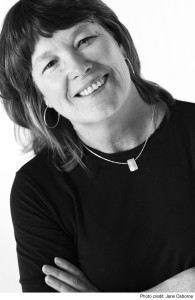 Today we're happy to welcome B.J. Daniels on Book Lovers Inc. Her new novel Justice at Cardwell Ranch is being released today! This is the 4th book in her Montana Mystique series. Congratulations on this new release! Prepare to be hungry because B.J. Daniels will tell us about her love for food in books. Don't forget to enter the giveaway to win your own copy of the book.
I love characters who eat!
Don't you hate books where the characters never eat? They don't even think about food.
That's one reason I've always loved James Lee Burke's books. His characters eat dirty rice and crawdads and other great Cajun fare.
I remember reading one of Sue Grafton's mysteries. The bad guys were making enchiladas down by the Salton Sea from some great recipe the bad guy had. (I mean, how bad could he be if he cooked?) Sue escaped before trying his enchiladas. It haunts me to this day. =)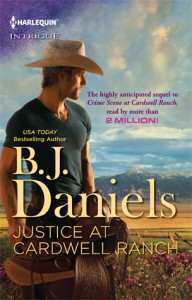 I put a lot of food in my books. My characters cook some of my favorite recipes. My characters also eat – especially my heroines. And my heroes LOVE it that the heroines aren't picky, dieting eaters. The heroes know that a passion for food equates to a passion for…everything else.
A couple of readers have said they can smell the pot roast cooking or the cookies baking when they read my books.
Recently I was writing a book where the characters were my favorite: oatmeal cake. I actually stopping writing for a moment and reached to take a bite of cake and laughed when I realized the smell of cinnamon was only in my imagination.
Maybe it's not fair to talk about food in my books, especially my favorite food without sharing at least one of my recipes.
At the Cardwell Ranch, Dana has a favorite chocolate cookie recipe.
Here's mine. It makes a bunch of cookies. I hope you like them. Have a cookie while you read JUSTICE AT CARDWELL RANCH out Oct. 1. Then let me know what you think at www.bjdaniels.com
CHOCOLATE CHIP COOKIES GALORE
1 ½ cups butter
1 ¼ cup granulated sugar
1 ¼ cups brown sugar
1 Tablespoon vanilla
2 eggs
4 cups flour
2 teaspoons baking soda
½ teaspoon salt
1 bag chocolate chips (4 cups)

Heat oven to 350 degrees. Cream butter, sugars, vanilla and eggs.
Add flour, baking soda and salt. The dough will be stiff. Stir in chocolate chips.
Drop cookies on sheet. Bake 11 to 13 minutes (depending on size). Cookies should be lightly brown with soft centers.
Makes about 6 dozen.
About the book:
Six years ago, Dana Cardwell found her mother's will in a cookbook and became sole owner of the Cardwell Ranch in Big Sky, Montana. Now happily married, Dana is surprised when her siblings, Stacy and Jordan, show up on the ranch…and trouble isn't too far behind.As danger draws closer to the ranch, deputy marshal Liza Turner quickly realizes that Jordan Cardwell isn't the man the town made him out to be.
About the Author:
B.J. Daniels' life dream was to be a policewoman. After a career as an award-winning newspaper journalist, she wrote and sold 37 short stories before she finally wrote her first book. Since then she has won numerous awards including a career achievement award last year for romantic suspense.

She lives in Montana with her husband, Parker, two Springer Spaniels, Jem and Spot, and a temperamental tomcat named Jeff. When she isn't writing, she snowboards, camps, boats and plays tennis.
~~~~~~~~~~~~~~~~~~~~~~
Giveaway
I will be giving away 1 copy of Justice at Cardwell Ranch  to 1 lucky commenter
All you have to do is answer one of these questions: Do YOU love reading about Characters who eat? Does it make you hungry? Do you like it when there are recipes in the book?
(You can read our full giveaway policy here)
Please be sure to include a valid email address in the comment form (need not be in the actual body of the comment)
This giveaway is open to anywhere Book Depository ships to!
Giveaway ends on Saturday, October 13, 2012 and we will announce the winner on Sunday.
Good Luck!