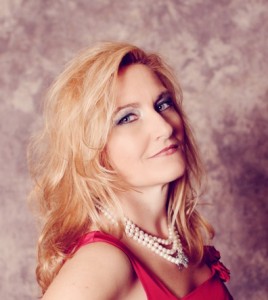 Today (and tomorrow!) we are incredibly pleased to welcome historical romance author Victoria Vane to Book Lovers Inc. Victoria has, by turns, enthralled, enraged, and enraptured us with her four-part novella series featuring the Devil Ludovic DeVere. In conjunction with the review of the fourth (but it turns out not totally final) story in the series, Victoria sat down and answered a few (lot) of our questions about her writing process and the series. She also let us make a few inquiries of DeVere and Diana, the hero and heroine of this Georgian-era erotic romance. Come back tomorrow for some detailed information on all the books in this luscious series, and some words from those two personages.
But first, let's hear from their author, Victoria Vane.
Stella: Hi Victoria, can you please tell us a bit about yourself?
Victoria: The basics: I'm 48 years old, a mother of two sons, and married to a wonderful guy for 29 years. Professionally, I worked for ten years in the travel industry and then another sixteen years in diagnostic medical imaging. If anyone had told me only five years ago that I would become a published author, I never would have believed it, but life can throw some curves!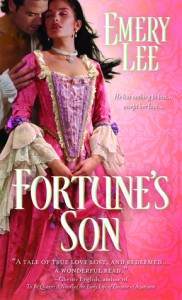 I began writing four and a half years ago when I got laid off from my job. I got my first contract within weeks of completing my first book, a work of historical fiction. A second contract followed, but then my publisher passed on my next book and my agent quit the business. Rather than sticking my head in the oven, I re-invented myself and began writing steamy historical romance as Victoria Vane.
I now have two published romantic historical novels for Sourcebooks (THE HIGHEST STAKES and FORTUNE'S SON writing as Emery Lee) and soon to be six historical romances as Victoria Vane, A BREACH OF PROMISE from Ellora's Cave, My 4 novella Devil DeVere series from Breathless Press, and TREACHEROUS TEMPTATIONS scheduled for early December from Entangled Publishing. I have now been writing full time for almost two years.
Marlene: Describe a typical day of writing? Are you a planner or pantser?
Victoria: I do not plot anything beyond a sketchy outline and I despise writing synopses as I know the story I write will be quite a different animal from what I first propose. (This can drive an editor crazy but so far they have always been happy with my end result!)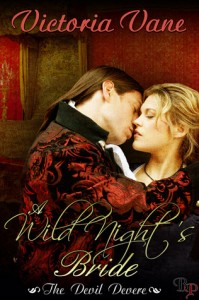 I am extremely character-driven. They dictate the story to me so I never know what is going to happen until it does! This is really almost a miracle when you consider how intertwined the DeVere series is. It was NOT planned but came to me piecemeal. I can only think the stars were in perfect alignment during those five months of writing it as I was totally on fire. I wrote A WILD NIGHT'S BRIDE in less than four weeks and THE VIRGIN HUNTRESS in twelve days, both of which are about 32K words. THE DEVIL YOU KNOW and THE DEVIL'S MATCH both took about a month at about 42K words each. The time really flew!
As for my habits, I promote, blog, research and do busy work during the day but my creative brain only seems to work at night. When I was working a regular job, I would begin writing after dinner, between 6-7 pm and stay up until about 11PM. But now that I don't have a "day job" and am suffering from peri-menopausal insomnia, I generally begin writing anywhere between 6-8PM and typically stay up until 2AM – 3AM. Fortunately insomnia and writing are quite compatible!
Stella: What do you think is the difference between a reader and a real Book Lover?
Victoria: Passion! I think true book lovers, as opposed to casual readers, are very passionate about what they read. Like the author, they also tend to relate to fictional characters as if they are real people. Lastly, they LOVE to share their books by rating, sometimes ranting, and reviewing them.
Stella: You have taken the blogosphere by a storm with your steamy historical romance series of 4 novellas: the Devil DeVere series. What inspired you to write the series? And especially to make it a 4 novella series (and why break up the last story into novella #3 and #4 since they both feature the same hero and heroine, what were your reasons for that)?
Victoria: A long question requires a long answer! LOL!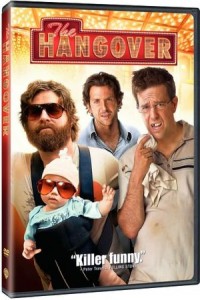 The Devil DeVere series began as a single story, inspired in part by the 2009 film THE HANGOVER.  After watching the movie, I thought how fun it would be to write a similar story set in my beloved naughty, bawdy Georgian era. As I am a true-blue history geek, a number of elements in this over-the-top romantic comedy were taken straight from history— such as the settings, the actual play that Phoebe performed in, the King's Place brothel, the Feast of Venus, as well as a number of the supporting characters such as Charlotte Hayes and Prince George.
The story turned into much more than I had bargained for the moment Ludovic DeVere stepped on stage. He was only planned as a secondary character, a bad boy to act as a foil for my ever-noble Ned, but DeVere stole the show. He would have taken over the story altogether had Ned not taken him out with his powerful right hook!
DeVere was so larger than life that he really turned out to be a one-in-a-million dream character for me so I had no choice but to tell his story, but telling it in pieces was truly the best way to reveal all the fascinating facets of his character. So much about the inner man is shown though his dialogue and interactions with the other characters. I really loved this and the readers have too.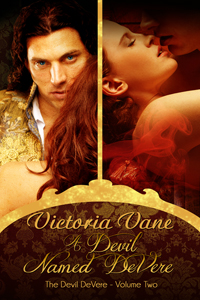 As to why DeVere and Diana's story has two parts, I knew I was taking a huge gamble on THE DEVIL YOU KNOW because the number one mandate of romance is the HEA. I really was afraid of serious reader backlash about the ending, but took a chance on it anyway because, to me, this was the only way to do justice to Diana and DeVere's story.
All writers also know the second most important writing mantra is to "show don't tell."
Writing two books permitted me to do that. It allowed me to give life and breath to characters who the reader would otherwise never have gotten to know, love (Annalee), and hate (Caroline and Reggie).
Fortunately my editor agreed with this approach, which is one of the reasons I write steamier titles for a digital press as they tend no to be so hard and fast about all the romance "rules" that the larger publishers mandate. This is a particularly good thing for me as I am a maverick and rule breaker by nature! ;P
Marlene: Even though the series is the Devil DeVere, DeVere, and Diana are mostly secondary characters in the first two novellas, and not portrayed in a very complimentary fashion at that. What made you decide to introduce your main characters as secondary characters in other people's lives?
Victoria: It was more interesting that way! I also wanted to show that most people are generally not what they first appear to be!

Stella: Can you tell us 3 reasons why people should read the Devil DeVere series?
Victoria: Firstly, I think the entire series is usual. It is comprised of four serialized novella but each of the stories is complete on its own although they absolutely need to be read in order to appreciate the overall character arcs.
Secondly, each story has its own unique theme and tone, ranging from ribald erotic comedy (A WILD NIGHT'S BRIDE), to sweetly sexy (THE VIRGIN HUNTRESS) mystery and intrigue with erotic undertones (THE DEVIL YOU KNOW) and erotically charged with heightened emotional intensity (THE DEVIL'S MATCH).
Lastly just for the characters, especially DeVere!
They are all truly wonderful! (Yes, I know. I know. Both of you despised Vesta, but the story was meant to be a bit over-the –top and  I still stand firm that she was precisely what Hew needed to lighten up and live again!)
Marlene: Can you summarize the Devil DeVere series for us Twitterstyle (140 characters or less)?  NO! LOL!  I think it's nearly impossible to summarize as a one liner as all the books are so different. I think I'll just quote Carol from Rakes and Rascals Reviews who said:
"innovative, compelling, heart-breaking, passionate, romantic, and funny. An unforgettable experience."   
Stella: Erotic historical romance stories seem to be the trend lately, why do you think that is?
Victoria: I think we have seen a gradual progression over time in the heat level of historical romance. As a teen in the seventies, I devoured Barbara Cartland who ended her books with a passionate kiss. I then moved on to Georgette Heyer who certainly raised the level of sexual tension, but still closed the door on anything beyond the passionate embrace.
Then the eighties came along with authors who wrote much steamier scenes but unfortunately used the "forced seduction" i.e. rape trope to bring the h/h together. I personally never enjoyed those kinds of stories and could never figure out the appeal. They also branded historicals as "bodice rippers," an image we have yet to completely dispel almost three decades later.
I think the steamier stories now are just a product of our changing times, and that today's readers crave more sensuality, something different authors deliver at varying levels. While I was not comfortable writing explicit sex in my earlier Emery Lee books, I knew that to succeed in "romance" I had to deliver the goods! I also decided that if I was going to write sex scenes, I would do so to the best of my ability. While there was certainly a learning curve involved, I have tried to write precisely what my characters see and feel, doing my best to convey the emotion, and not just the sexual act to the reader.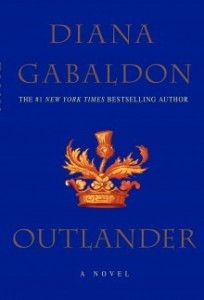 Marlene: I always ask this question, because I get the most fascinating answers. What book do you recommend that everyone should read, and why do you recommend that particular book?
Victoria: I can't give you a single answer on this because I believe tastes vary too much. Everyone likes something different (thank God!). I do however have some favorites that sit on my "keeper" shelf:
OUTLANDER by Diana Gabaldon, LORD OF SCOUNDRELS by Loretta Chase, FLOWERS FORM THE STORM by Laura Kinsale, almost anything by Georgette Heyer although  VENETIA is a particular fave, and the MACKINNON RANGERS trilogy by Pamela Clare. I also loved THE THORN BIRDS, although it's been many years since I read it, and many of the classics, WUTHERING HEIGHTS, JANE EYRE, and GONE WITH THE WIND.
Stella: What is next on your schedule? Any plans you'd like to share with us? Will there be more novellas in the Devil DeVere series, or any plans for other steamy historical romance stories? 😉
Victoria: Thank you so much for asking! I have several tidbits to share! My second trade paperback will release this month (A DEVIL NAMED DEVERE). Coming up next is my first full-length Victoria Vane novel called TREACHEROUS TEMPTATIONS for Entangled Publishing's brand new historical imprint. It is very much my homage to the novels of the 18th century in which virtue v. vice was the predominate theme. It is scheduled for an early December release.
My next big announcement is that I will indeed be adding to my DeVere series.
While I thought everything tied up very neatly with THE DEVIL'S MATCH, I have received so many fan requests for "more DeVere" that I am planning a number of "spin-off" books. These will vary from vignette to full length (over 40K words) depending on the characters and scenarios.
First up is Salime's story (the Turkish courtesan from THE DEVIL'S MATCH). I really loved her character but didn't plan to do any more with her until a reader specifically asked me to write an HEA for her. At first I was flummoxed but then the hero came of nowhere and he was perfect! His name is Simon Singleton and he is a friend of Ned and DeVere from their youth. He's also a bit of a tortured hero. I think readers will love him. The story is entitled JEWEL OF THE EAST and will be released in February along with a connected vignette featuring Diana and DeVere, which was another reader request!
It's terrific news to this reader that there will be more in The Devil DeVere series. Salime was a surprising (and fascinating!)  character who definitely deserves her own HEA.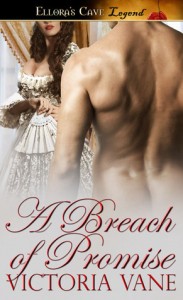 And speaking of terrific news, Victoria is giving away a ebook copy of her novel A Breach of Promise to one lucky commenter. All you have to do to get one entry in this giveaway is answer her question: How much real history do you like in your romance? (You'll have a chance to get an additional entry in this giveaway by answering Victoria's question in tomorrow's interview!)
~~~~~~~~~~~~~~~~~~~~~~~~~~~~~~~~~~~~~~~~
~*~*Giveaway*~*~
Victoria is giving away one digital copy of A Breach of Promise to one lucky commenter!
All you have to do is answer Victoria's question:
How much real history do you like in your romance?

(You can read our full giveaway policy here)
Please be sure to include a valid email address in the comment form (need not be in the actual body of the comment)
This giveaway is open to everyone!
Giveaway ends on Saturday, October 20, 2012 and we will announce the winner on Sunday.
Good Luck!
For an extra entry come back tomorrow and comment on the second part of Victoria's interview!