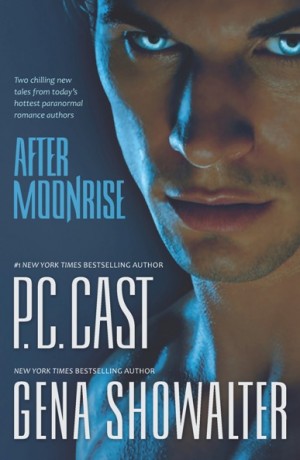 After Moonrise
by P.C. Cast and Gena Showalter
Genre: paranormal romance
Release date: October 23, 2012 by Harlequin HQN
Description:
Join two of the biggest names in paranormal romance on a breathtaking journey to a world where ghosts live on and love never dies…
POSSESSED
by #1 New York Times Bestselling Author P.C. Cast
Being a psychic detective who can channel only negative emotions makes Kent Raef good at catching murderers, but bad at maintaining relationships. Then Lauren Wilcox arrives with a most intriguing case: her twin sister has been murdered and is communing with Lauren's spirit-and sharing her body. Raef's the only one who can track the killer and free the spirit. But soon he begins to wonder just which twin he wants to save…and why…
HAUNTED
by New York Times Bestselling Author Gena Showalter
Artist Aurora Harper is convinced she's witnessed a crime-a murder so brutal she's repressed the memories, only to paint the scene by the light of the moon. Now she needs her new neighbor, Detective Levi Reid, to help her track down the victim-and the killer. Levi's dealing with his own memory issues, but one thing he knows for sure: Harper is meant to be his, and nothing can take her away from him-not in this life…and not in death…
. . .
A Reason To Believe by Diana Copland
Ask The Passengers by A.S. King (YA)
Beautiful Redemption (Caster Chronicles, #4) by Kami Garcia & Margaret Stohl (YA)
Dark Star by Bethany Frenette (YA)
Finale (Hush, Hush, #4) by Becca Fitzpatrick (YA)
Flutter by Gina Linko (YA)
Lean On Me (Holloway, #2) by HelenKay Dimon
Moonlight & Mechanicals (Gaslight Chronicles, #4) by Cindy Spencer Pape
My Kind of Christmas (Virgin River, #20) by Robyn Carr
Reflected in You (Crossfire, #2) by Sylvia Day
Sacrifice by Cayla Kluver (YA)
The Evolution of Mara Dyer (Mara Dyer, #2) by Michelle Hodkin (YA)
The Forgetful Demon Slayer (Samantha Savage, #1) by Beverly Rae
The Lost Prince (The Iron Fey: Call of the Forgotten, #1) by Julie Kagawa
Destiny Rising (The Vampire Diaries: The Hunters, #3) by L.J. Smith (YA)
Twelfth Night Secrets by Jane Feather
Twice Shy by Patrick Freivald (YA)
When Snow Falls (Whiskey Creek Trilogy, #2) by Brenda Novak
. . .
Whoa. Collaborative release by P.C. Cast and Gena Showalter (After Moonrise)? Totally missed that one; did you know about it? Sounds like a good bit of PNR fun, it does.
Outside of that, there's at least one release likely on many people's radars. Beautiful Redemption, for one, is sure to satisfy the zillions of fans that love the YA Caster Chronicles series. Likewise, Becca Fitzpatrick's wildly popular YA series Hush, Hush comes to a sweeping conclusion with the release of Finale. There's the latest Virgin River book, My Kind of Christmas. And then, of course, there's the brand new book in the successful Crossfire series. (A brand new Sylvia Day? 'nuff said.)
I couldn't help but notice the pretty cover for Dark Star, a standalone YA urban fantasy featuring a superhero protagonist. When reading the description, I noted that the book takes place in Minneapolis, Minnesota. It struck me because I don't believe I've ever read a book set in one of the Twin Cities. It put me in mind of my (ever-stalled) mission to read at least one book set in each of the 50 U.S. States–I breezed through the coastal regions, but had some difficulty finding promising titles set in certain other regions (like parts of the midwest).
. . .
Will this be a book buying week or a reading catch-up week? Have you ever read (or do you often read) a book set in your hometown / region of origin?