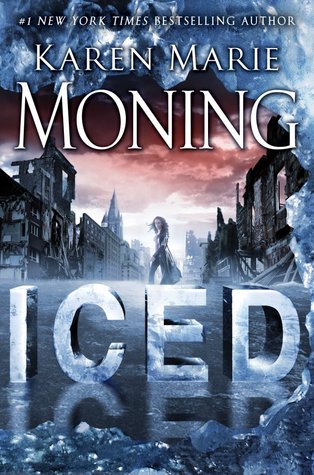 Iced (Dani O'Malley Trilogy, #1)
by Karen Marie Moning
Genre: urban fantasy
Release date: October 30, 2012 by Delacorte Press
Description:
From #1 New York Times bestselling author Karen Marie Moning comes the first book in her hotly anticipated new urban paranormal trilogy, set in the world of her blockbuster Fever series.
The year is 1 AWC—After the Wall Crash. The Fae are free and hunting us. It's a war zone out there, and no two days are alike. I'm Dani O'Malley, the chaos-filled streets of Dublin are my home, and there's no place I'd rather be.
Dani "Mega" O'Malley plays by her own set of rules—and in a world overrun by Dark Fae, her biggest rule is: Do what it takes to survive. Possessing rare talents and the all-powerful Sword of Light, Dani is more than equipped for the task. In fact, she's one of the rare humans who can defend themselves against the Unseelie. But now, amid the pandemonium, her greatest gifts have turned into serious liabilities.
Dani's ex–best friend, MacKayla Lane, wants her dead, the terrifying Unseelie princes have put a price on her head, and Inspector Jayne, the head of the police force, is after her sword and will stop at nothing to get it. What's more, people are being mysteriously frozen to death all over the city, encased on the spot in sub-zero, icy tableaux.
When Dublin's most seductive nightclub gets blanketed in hoarfrost, Dani finds herself at the mercy of Ryodan, the club's ruthless, immortal owner. He needs her quick wit and exceptional skill to figure out what's freezing Fae and humans dead in their tracks—and Ryodan will do anything to ensure her compliance.
Dodging bullets, fangs, and fists, Dani must strike treacherous bargains and make desperate alliances to save her beloved Dublin—before everything and everyone in it gets iced.
. . .
A Trace of Moonlight (Abby Sinclair, #3) by Allison Pang
Black Lament (Black Wings, #4) by Christina Henry
Blood Crime: An Original Hollows Graphic Novel by Kim Harrison
Claiming The Wolf by Michele Hauf
Dark Nights (Dark, #7) by Christine Feehan
Desperately Seeking Shapeshifter (Midnight Liaisons, #2) by Jessica Sims
Dream Unchained by Kate Douglas
Forbidden (World of the Nightwalkers, #1) by Jacquelyn Frank
Fourth Grave Beneath My Feet (Charley Davidson, #4) by Darynda Jones
Ghost Planet by Sharon Fisher
Heart of the Dragon's Realm by Karalynn Lee
Lost Spirits (Darke Academy, #4) by Gabriella Poole
Midnight City (Conquered Earth, #1) by J. Barton Mitchell (YA)
Midnight's Seduction (Dark Warriors, #3) by Donna Grant
Mr. Real (Code of Shadows, #1) by Carolyn Crane
No Reservations by Lilly Cain
Out for Blood (House of Comarre, #4) by Kristen Painter
Pandaemonium (Desdaemona, #2) by Ben Macallan
Provoked (Dark Protectors, #5) by Rebecca Zanetti
Rebel Heart (Dust Lands, #2) by Moira Young (YA)
Rootless by Chris Howard
Ruins (Pathfinder, #2) by Orson Scott Card (YA)
Running in the Dark (Night Runner, #2) by Regan Summers
Sapphire Blue (The Ruby Red Trilogy, #2) by Kerstin Gier (YA)
Shadow Rising (Otherworld, #12) by Yasmine Galenorn
Stolen by Shiloh Walker
The Dead of Winter (Cora Oglesby, #1) by Lee Collins
The Shattered Dark (The Shadow Reader, #2) by Sandy Williams
The Twisted Tragedy of Miss Natalie Stewart (Magic Most Foul, #2) by Leanna Renee Hieber (YA)
'Til Grits Do Us Part (Southern Fried Sushi, #3) by Jennifer Rogers Spinola
Touching the Surface by Kimberly Sabatini (YA)
Venom by Fiona Paul (YA)
Warrior Reborn by Melissa Mayhue
. . .
As with most heavy release weeks, the list above had to be cut significantly. ( 🙁 Sorry! ) That said, what exciting week for urban fantasy fans! We've got a new Charley Davidson book; a sequel to Sandy Williams's awesome fae-filled debut The Shadow Reader; the return of UF heroine Abby Sinclair (in Allison Pang's A Trace of Moonlight); Kristen Painter's latest House of Commare title (hot dayum, those covers!!!!); Dead of Winter a brand new (and awesome-looking) Western-UF from publisher Angry Robot (who bills the book as "True Grit meets True Blood"); a new installment of Christina Henry's Black Wings series; and…wait for it…a spinoff from the unspeakably popular Fever series (Iced by Karen Marie Moning)! And that ain't even the half of it.
That's not even to speak of the PNRs like Shiloh Walker's latest, or Carolyn Crane's (author of The Disillusionists Trilogy) new self-published PNR, Mr. Real. There's the creepy, ghost-focused YA series Magic Most Foul; and then there the two similar-seeming (yet unique) YA releases, both post-apocalyptic and featuring a barren landscape and disillusioned populace, but each influenced by different factors–in one, a nefarious alien species, and in the other, from humankind's own neglect of nature (the former is Midnight City from author J. Barton Mitchell, the latter Rootless from debut author Chris Howard).
As I mentioned, a lot of really intriguing releases are not on today's release list above…but that doesn't mean I can't mention of few of 'em, right? There's the cryptic but intriguing (especially if you're familiar with the mythical figure) Krampus by Brom. Greorge R.R. Martin is releasing what can only be described as an Atlas of the Seven Kingdoms from his (now infamous) series, Song of Fire and Ice (basis of the TV show A Game of Thrones). Doing a virtual shopping trip in Book Depository might be a dangerous proposition this week (I, for one, added two books to my shopping cart and added many more to my TBR, all from compiling this point. Aie!)
. . .
Have you been highly anticipating any of this week's releases? What's your book format of choice (hardback, trade/mass market paperback, ebook) (and is price or collectability more of a deciding factor)??