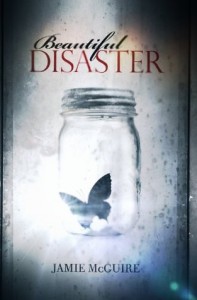 Format read: ebook
Series: Beautiful #1
Genre: Contemporary
Release Date: May 26, 2011 (reissued July 12, 2012)
Number of pages: 276 pages
Publisher: Atria
Formats available: ebook, paperback
Purchasing Info: Amazon | B&N | Kobo | Book Depository US | Book Depository (UK)
Book Blurb:
The new Abby Abernathy is a good girl. She doesn't drink or swear, and she has the appropriate percentage of cardigans in her wardrobe. Abby believes she has enough distance between her and the darkness of her past, but when she arrives at college with her best friend, her path to a new beginning is quickly challenged by Eastern University's Walking One-Night Stand.

Travis Maddox, lean, cut, and covered in tattoos, is exactly what Abby needs—and wants—to avoid. He spends his nights winning money in a floating fight ring, and his days as the ultimate college campus charmer. Intrigued by Abby's resistance to his appeal, Travis tricks her into his daily life with a simple bet. If he loses, he must remain abstinent for a month. If Abby loses, she must live in Travis's apartment for the same amount of time. Either way, Travis has no idea that he has met his match.
My Thoughts:
This book has been lumped in with the likes of Fifty Shades of Grey and Sylvia Day's Bared to You, and it was to see the comparisons that I read it. While I suppose the intense relationship between the male and female leads could be considered a similarity to those titles, I found overall, that this was a different story filled with some cool moments…and some frustrating ones.
We first meet Abby as this sweater set wearing college student (at least, this is the impression I took from it) but it's evident that she's not quite what everyone else sees her as. This was the part of the story (Abby's revelation, if you will) that I enjoyed the most. Abby's character was so overshadowed by the more powerful Travis for a good portion of the book. But something happens in the story that brings the true Abby out and I, for one, wasn't expecting it! This is probably what made some of the less favourable parts for me more palatable.
I've read in other reviews that people found Travis a hard to like character. I'd say this is fairly accurate, though he does have moments where he seems like a new man. For the most part, the unlikable quality was his possessiveness towards Abby. He starts off this 'I don't care about anyone' type guy but morphs into a weird co-dependency with Abby. By the end, I think it evens out but he does come across quite boorish throughout.
What I found hard to relate to was all the college partying, which I think is where the biggest difference is between Beautiful Disaster and those other books. Centered around these not-quite-twenty-year-olds, there was little interest in it for me reading about frat house antics, etc. For the right age group, this would be more appropriate, but let's just say, I left those days behind quite some time ago. Because of this, I'd be tempted to call this book a "new adult" type story, but with some of the heat found in its more mature (?) counterparts. I know this is probably a strange observation, considering I also read YA books, but something about this facet just didn't hold my interest.
In the end, though, I liked the story enough to read it quickly. The middle part of the book, where we find out Abby's true nature was the high point for me. I would most likely compare this story to Fight Club meets 21 (both movie versions). This is well worth checking out if you're curious (and if you'd like more of a story than 'just' BDSM…there's none of that in this book 😉 )
I give  Beautiful Disaster 3 1/2 stars

***FTC Disclaimer: Most books reviewed on this site have been provided free of charge by the publisher, author or publicist. Some books we have purchased with our own money and will be noted as such. Any links to places to purchase books are provided as a convenience, and do not serve as an endorsement by this blog. All reviews are the true and honest opinion of the blogger reviewing the book. The method of acquiring the book does not have a bearing on the content of the review.