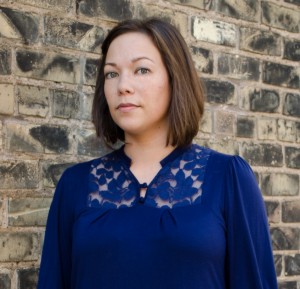 Let's give a warm Book Lovers Inc. welcome to Regan Summers! We need to help Regan keep toasty and warm because she lives in Anchorage, Alaska, the place where her heroine Sydney Kildare started her story as a courier for the vampires. (I'll confess that watching Sydney half-destroy a place I used to live was oodles of fun!) Regan is here to celebrate the release of the second story of Sydney's courier business, Running in the Dark. Read on to hear what Regan has to say, and be sure to check out Regan's giveaway at the end of the interview.
Marlene: Hi Regan, welcome to BLI! Can you please tell us a bit about yourself?
Regan: Thank you so much for having me, Marlene. I'm so pleased to be here! I was born and raised in Alaska, and fed a steady diet of British literature, comic books and action movies. So of course I write. I also have a family that puts up with me and occasionally steps in with encouraging reminders like, "for the love of God, put pants on before you leave the house!" and "what happened to the sticky note I left on your keys, the one about wearing pants?"
Marlene: Describe a typical day of writing? Are you a planner or pantser?
Regan: I work full time and have a four year old, so writing time is precious. I'll catch up on the last scene I wrote – or the one I'm still tweaking – then work for as long as I can (or until the clock strikes midnight). When I'm writing, the Internet is my enemy and quiet is my friend.
I'm an open planner. Stories always start, for me, with a few vivid scenes, and the plot creeps outward from those. I outline, but it's a flexible framework and I have no problem deviating when it'll make the story better.
Marlene: What do you think is the difference between a reader and a real Book Lover?
Regan: I assume that a casual reader appreciates a good story, picks up four to five books a year and has one or two favorite authors. Book Lovers stay up late to download new titles when the clock turns over on release day. Their eyes light up at the mention of a favorite title. They always accept recommendations, especially when delivered by a fellow Book Lover, even though they already have To Be Read piles at least twice their height. That may actually be a requirement of a Book Lover.
Marlene: What do you think makes living in Alaska different from living in the "Lower 48"?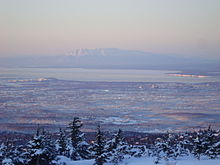 Regan: Great question! There are a few obvious things. The darkness and duration of the cold in winter. The way the sun travels horizontally across the sky without fully setting in the summer. But there are other, less tangible things. An Alaskan's concept of distance is different, with the hours or days it takes to fly or drive to the next-closest U.S. state. Alaskans take pride in their self-reliance, but it's not arrogance. It's necessity. Failure to plan or prepare can turn fatal. I doubt that many people in the Lower 48 stop and ask themselves "how can I avoid dying today" before they leave the house.
Marlene: And where did the inspiration for "vampires in Alaska" come from in the first place? It's absolutely brilliant, mind you, but only for half the year.
Regan: The idea came to me when I was basically housebound during a tough stretch of winter. This happens every winter, but that year it inspired the story. The idea is that vampires migrate toward the poles (and darkness) with the changing seasons. Because why would you stay somewhere where you couldn't, even if attacked, leave the building you were in? That would be crazy! The vampires that Sydney runs for in Alaska leave during our spring for South America, where the longer nights will give them more freedom and security.
This creates some additional challenges. Some vampires don't migrate, either staying in place to maintain the territory or, possibly, scheming to gain power while the Master Vampire is away at his other winter home.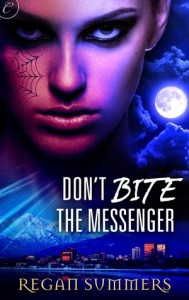 Marlene: How much of the real experience of living in Alaska actually made it into Sydney's experiences in Don't Bite the Messenger?
Regan: Messenger is set in winter, so all the Alaskan scenes take place on the gritty-white foundation of gravel and sand over ice packed roads. Driveways and parking lots are walled-in by snow. Outdoors, your breath plumes in the air and, inside, snow melts into the tops of your boots. Sydney Kildare, the main character, stares at the dark, cold landscape and wishes to be somewhere warmer, somewhere she can simply walk out of the house without bundling up and skating from place to place. That's a genuine Alaskan feeling come the middle of winter, and we aren't even trying to get away from vampires.
Marlene: Were you thinking "series" when you finished Don't Bite the Messenger, or was the original story complete in your mind?
Regan: By the time I finished with edits, after the novella had been sold, I was dead set on writing a series. The concept grew from a single fun, fast-paced episode into a larger world and more complex characters.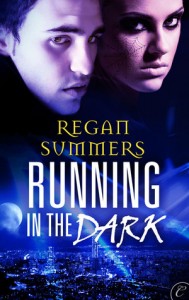 Marlene: What can we expect of Running in the Dark?
Regan: Well, Syd's supposed to be living on the downlow, but she's a magnet for trouble. Cracked-out vampires, rival runners and a demanding boss are issues she'll face, but the real danger will come from Malcolm's past. When you live for a long time, you can accumulate enemies with deep-seated grudges. Syd and Mal adore one another, and they're good for each another, but the events that unfold throughout this book are tough on the fledgling couple.
Marlene: Will there be more books in this series? What is next on your schedule?
Regan: I hope so! My schedule is like a Rorschach test superimposed over a piece of spin art, but my plan is to write more Night Runner stories. I've begun the next one. Sydney and Malcolm have a long way to go together, and there are certain aspects of the interplay between vampires and humans that I want to show more directly. I've also drafted a novel for a side character who makes her first appearance in Running in the Dark. Her story is fascinating to me and I think that readers will really enjoy seeing more of her.
Marlene: Now can you tell us 3 reasons why people should read your books?
Regan: Oh, yay, I love being put on the spot! <g>
Read these books if 1) You've ever sat through a romantic comedy and wished it had more explosions, 2) You like your heroines tough on the outside and a little bit gooey in the middle, or 3) You're interested in a couple ricocheting off each other as they skid along the outskirts of a dangerous, mysterious world.
Marlene: Can you summarize Running in the Dark for us Twitter-style (140 characters or less)?
Regan: Sydney Kildare's got a sweet new setup, a hot boyfriend and a decent courier job. Too bad she's caught the attention of murderous monsters and Malcolm's oldest enemy.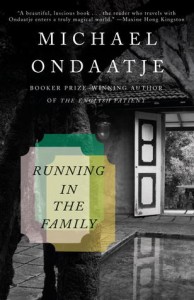 Marlene: What book do you recommend everyone should read and why?
Regan: Only ONE? *freezes*
Running in the Family (the title has nothing to do with Running in the Dark) by Michael Ondaatje. It's a sort of enhanced memoir of his family in Sri Lanka, and I adore it. It's full of a unique history and culture and populated by rich, multi-dimensional characters engaged in the joy, tragedy and humor of life. I love the poetry of Ondaatje's writing, and the stories he tells in this book are reminders that life doesn't have to be a working march toward the grave, that it can be ridiculous and fantastical, colorful and passionate.
Marlene: Coffee or Tea?
Regan: Yes, please. I'm primarily a coffee drinker, but I adore a good cup of Earl Grey with a splash of milk.
Regan, thank you so much. This was awesome. Sydney's Anchorage was so much like my Anchorage (without the vampires-the cold and the dark sucked quite enough, thank you) that I couldn't resist the visit. Living in Alaska just isn't like anywhere else.
About Regan

Regan Summers lives in Anchorage, Alaska with her husband and alien-monkey hybrid of a child. She is a huge fan of the low profile. She likes books, ottomans with concealed storage inside, small plate dining, libraries, Corporal Hicks, certain aspects of pre-revolutionary France, and most aspects of current Italy. She's probably writing right now.

Her debut paranormal novella, Don't Bite the Messenger, is a finalist for the 2013 EPIC eBook Awards.
Running in the Dark by Regan Summers

Santiago, Chile

After surviving a vampire turf war in Alaska, vampire courier Sydney Kildare is back behind the wheel and working under an assumed name in Chile. She doesn't speak the language, doesn't know the city and—worst of all—has to drive a crappy car.

What she does have is Malcolm Kelly, her sort-of boyfriend and manager of the city's vampire population. But with Malcolm preoccupied by bloodsucker business—and a gorgeous vampiress from his past—Sydney feels more alone than ever.

But Sydney has more than her love life to worry about. She's got vamps on her tail, mysterious deliveries that leave death in their wake, and old enemies targeting her to get to Malcolm. Turns out he's got a history more deadly than she ever imagined, and she'll have to use every skill in her arsenal to stay alive…
~~~~~~~~~~~~~~~~~~~~~~~~~~~~~~~~~~~~~~~~
~*~*Giveaway*~*~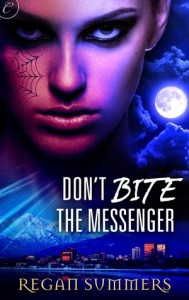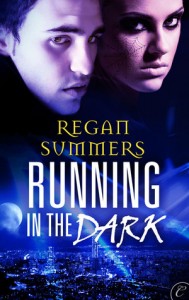 Regan has generously offered an ebook copy of either Don't Bite the Messenger or Running in the Dark (winner's choice)!
All you have to do is answer this question: What's the most exotic or unusual place you've ever lived, or ever wanted to live?
(You can read our full giveaway policy here)
Please be sure to include a valid email address in the comment form (need not be in the actual body of the comment).
This giveaway is open to all!
Giveaway ends on Saturday, 24 November 2012; we will announce the winner on Sunday.
Good luck!