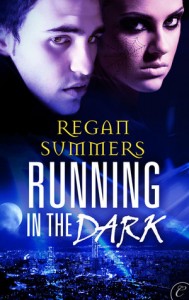 Format Read: ebook provided by NetGalley
Genre: Urban Fantasy
Release Date: October 29, 2012
Number of Pages: 146 pages
Publisher: Carina Press
Series: Night Runner #1
Formats Available: ebook, audiobook
Purchasing Info: Amazon | B&N | Kobo | Author's Website | Publisher's Website
Book Blurb:
Santiago, Chile

After surviving a vampire turf war in Alaska, vampire courier Sydney Kildare is back behind the wheel and working under an assumed name in Chile. She doesn't speak the language, doesn't know the city and—worst of all—has to drive a crappy car.

What she does have is Malcolm Kelly, her sort-of boyfriend and manager of the city's vampire population. But with Malcolm preoccupied by bloodsucker business—and a gorgeous vampiress from his past—Sydney feels more alone than ever.

But Sydney has more than her love life to worry about. She's got vamps on her tail, mysterious deliveries that leave death in their wake, and old enemies targeting her to get to Malcolm. Turns out he's got a history more deadly than she ever imagined, and she'll have to use every skill in her arsenal to stay alive…
My Thoughts:
If Sookie Stackhouse has a kick-butt older sister in thermals and hiking boots, it's Sydney Kildare. They are both humans who have just a bit extra, who are making their way, not just in a world where the vamps have come out of the coffin, but specifically in spheres that are vampire-dominated.
Oh yeah, and they both have boyfriends who are vampires, although Sookie seems to have ditched both of hers for the moment.
The big difference is that Sookie started out as an innocent in her vamp-infested world, and also seems to spend a lot of time either waiting for the next supernatural male to waltz into her life, or angsting about the one currently messing it up.
Sidney Kildare may have a vamp in her life, but that's not what her story is about. Malcolm is extra, except where he causes more trouble.
Sidney is a courier for the vampires. It's a dangerous job, but it pays well. And somebody's got to do it. Sidney likes the danger, and she is very, very good at her work. That's why she's still alive. She has skills. Mostly survival skills. And paranoia. Lots and lots of paranoia.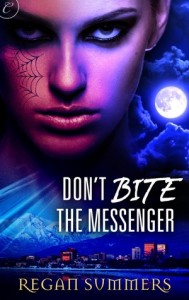 In Don't Bite the Messenger, the prequel novella to the Night Runner series, Sydney helped get a good chunk of Anchorage Alaska blown up as rival vampire gangs went after the Master Vampire she did courier service for. His rivals tried to mess with his business by targeting his pet courier. It didn't work, but Anchorage is now too hot for her (as hard as that is to believe.)
Since the vampires go to the South Pole, and no one knows her there, in Running in the Dark, Sidney tries to spend the southern winter in Santiago Chile with Malcolm, while he takes care of business. Trouble follows, but in this case it's Malcolm's trouble. One of his old enemies finds him in Chile, and targets the courier service Sidney is working for as collateral damage.
Santiago will never be the same.
Verdict: I will say that it is more fun reading about a place you've lived blowing up than someplace unfamiliar (I spent three years in Anchorage). But except for the extra added vicarious thrill,  Running in the Dark is every bit as much fun an urban fantasy as Don't Bite the Messenger. There is some romance between Malcolm and Sidney, but they are already together by this point.  I liked Don't Bite the Messenger, and not just because it's set in Anchorage. It's definitely worth a read (see review)  before Running in the Dark. The emphasis in Running is on the suspense. Malcolm's old enemy is causing trouble and Sidney (and Malcolm) have to figure out what's causing it.
The mystery was nasty, gross and disgusting, but then, this is an urban fantasy. The ending was satisfying all around. I am wondering where Sidney, and by extension Malcolm, can possibly go next, because they are running out of dark to hide in.

I give Running in the Dark 4 darkly dripping stars.
***FTC Disclaimer: Most books reviewed on this site have been provided free of charge by the publisher, author or publicist. Some books we trihave purchased with our own money and will be noted as such. Any links to places to purchase books are provided as a convenience, and do not serve as an endorsement by this blog. All reviews are the true and honest opinion of the blogger reviewing the book. The method of acquiring the book does not have a bearing on the content of the review.