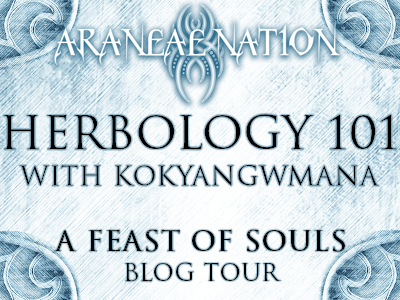 Merry mid-Week, book lovers! We're really excited to be welcoming Hailey Edwards back to BLI today. Hailey is author of romance fiction including the popular fantasy romance series, Araneae Nation. Today, she stops by from her blog tour to share some fascinating lessons about one of the many herbs employed by the heroine of her latest novel, A Feast of Souls. How much do you know about herbs and spices? Whether it's but a pinch or a whole satchel, you may learn something new. So check out what Hailey's got to say about…

Anise!
While writing A Feast of Souls, I researched herb lore because the heroine, Mana, is a spirit walker. In the Araneae world, that makes her a spiritual leader for her clan, one who can walk in between worlds and aid in healing from the spiritual plane. Mana also studies herbology. She is no doubt responsible for feeding her cousin Rhys's secret addiction to anise seeds.
Anise (Pimpinella anisum) is an aromatic plant with a distinct licorice flavor. The seeds are actually the source of the flavor for black jelly beans. Cool, huh? Oil made from anise seeds is used for treating nausea, abdominal pain, and vomiting. It's also used to treat cough, asthma, and bronchitis and is a great source of the minerals calcium, copper, iron, manganese zinc, and magnesium.
Here are a few cool facts about anise:
1. Star anise is the source of Shikimic acid, which is used in the production of Tamiflu.
2. Early European settlers in Virginia required every man to plant anise seeds in their gardens.
3. In England, anise was so popular that an export tax was put into place. The funds collected helped to pay for repairs to the London Bridge.
So my question is this—have you ever tried a home remedy or herbal cure? If so, did it work for you? Leave a comment to let me know and you'll be entered to win your choice of title from my backlist in any digital format and an Araneae swag pack. Contest is open internationally.
Excerpt from A Feast of Souls (Araneae Nation, #2) by Hailey Edwards


     The sound of that all-too-familiar voice made my cheeks burn. Here I thought the spirit I tracked was the greatest threat in these passages. Yet I'd found one much greater. Or he'd found me.

I sensed his gaze, and my shiver wasn't borne of cold.

My pulse skipped when the spirit bared his ghastly teeth in what I hesitated to label as a smile. Holding a finger to his lips, he made chill air ruffle my hair. Then he was gone.

Only then did it occur to me my circle was broken, which meant he was free to exact revenge for my attempt to end his haunting.

I started when a boot toed my ankle. Grinding a palm into my chest, I tried to crush my heart's wild flight. Still it fluttered.

"Why are you here, Vaughn?" I pretended my earlier question had been meant for him.

Even this close, his expression eluded me. Instead of the aura all souls cast from within their hosts, Vaughn was a blank space where no light shone. His emptiness repelled as it attracted me.

"I was curious."

Gooseflesh pebbled the skin his gaze caressed. Unable to read his expression, I pretended disinterest in his ambiguous remark. Sealing my tins, I collected the ashes from my ceremony for disposal, careful I left no refuse behind. Some spirits used burnt offerings against those like me.

"You spend a great deal of time wandering tunnels. Meeting someone?" He sounded closer. My head whipped toward him. "Perhaps you're meeting Henri?" Chin lifting, he inhaled. "No?"

"I'm alone." I bit my tongue as his dark chuckle pushed me to my feet.

Vaughn prowled a circle around me, his stride the envy of other predators I was sure.

Delicious heat encased my spine when his chest bumped my shoulders. His lips brushed my throat, fangs rasping over delicate skin. Hot fingers blazed trails from my shoulder to my wrist. I trapped a whimper behind my teeth. Predators fed on fear, and I stank of horrified fascination. He buried his face at my neck, his inhale punctuated with a groan as he breathed in his effect on me.

No male had ever made my knees weak before, but they threatened to buckle now.

Whether it was the sharpness of his teeth, the coldness of his voice or the ruthlessness of his reputation that did it, I thrilled at his nearness. As he traced the scar at my elbow, my eyes rolled shut. But not before I quivered at the sight of his hands on me. The absence of his aura made him unreadable to me. I saw no passionate red flares streaking from the crown of his head, where his halo should shine. No orange streamers announced arousal. No blue hinted at honest intentions.

Granted the latter was the last thing I expected from this male.

"I should go." I withdrew and dusted my hands. "I must bathe and dress before tonight's celebration." Dread bowed my shoulders. How I tired of this, my first taste of proper society.
Skirting him, I ignored chills from the flash of fang in his mouth and continued down the tunnel. He let me sidestep him before fisting the laces running parallel to my spine. "You won't find your way from the lower tunnels alone." His nail scraped slightly as his finger slid between my dress and my chemise. "Come on." He gave a tug. "I'll take you to your room."

"Thank you," I said, stepping forward, "but that's unnecessary."

"I beg to differ." His cool lips brushed my throat, and I muted a gasp. Oh yes. He was aware of his effect on me. I felt him smile. "You will return to your room, and I will escort you there."

His command made me shiver. If my steps quickened, I credited my pace to glimpsing light at the tunnel's end, not to the male who stalked so close on my heels his breath flushed my skin.

***This post contains general information about medical conditions and treatments. The information is not advice, and should not be treated as such. Click here for complete disclaimer.***

Find it at Goodreads | Amazon | B&N | Samhain Publishing

~~~~~~~~~~~~~~~~~~~~~~~~~~~~~~~~~~~~~~~~
~*~*Giveaway*~*~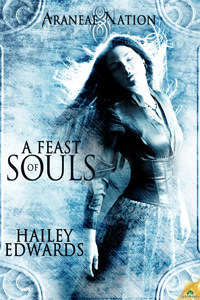 Hailey Edwards is very generously offering the chance to win your choice of title from her backlist (in any digital format) and an Araneae swag pack!
Simply leave a comment that answers her question:
Have you ever tried a home remedy or herbal cure?
(You can read our full giveaway policy here)
Please be sure to include a valid email address in the comment form (need not be in the actual body of the comment).
This giveaway is open worldwide!
Giveaway ends on 29 December 2012; we will announce the winner the following day.
Good Luck!