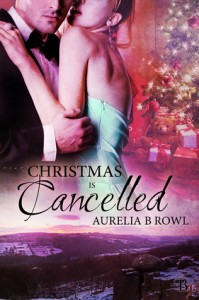 Format read: ebook
Series: N/A
Genre: Contemporary Romance
Release Date: Dec. 21, 2012
Number of pages: 113 pages
Publisher: Breathless Press
Formats available: ebook, paperback
Purchasing Info: Amazon
Matilda 'Tilly' Carter didn't think her day could get any worse, but even Christmas had just been cancelled.

The one girl Dean Watson has sworn never to have—never even expected to see again—just flared back into his life and into his home—his sanctuary—like she belonged there. Christmas would certainly be more bearable with Tilly around though…

As the chinks in Dean's armor appear, Tilly seizes the chance to win her knight once and for all. She's not about to take no for answer—not this time—but Dean must resist, even as his heart rebels and temptation threatens to undermine his resolve.

Win or lose? Love or honor? Which will Dean choose? Assuming he gets a choice…
My Thoughts:
Aurelia Rowl introduces us to her characters, Tilly and Dean, on Christmas Eve. Beyond this, the holiday season is less about the festivities side of it than it is about circumstances that just happen to coincide with the date. For this reason, it's actually a short story that could be read at any time of the year.
The story is much more focused on the central characters than anything else. In fact, it seemed that about two-thirds of the tale only involved Tilly and Dean, which is a bit of a departure from other contemporaries that I've read. This was actually kind of refreshing. In close quarters, it highlighted their traits, as well as their issues in such a way that you just wanted to root for them that much more. Of course, there was enough mentions of other players in their lives that had shaped the circumstances they found themselves in. This definitely aided in creating layers to the story.
The back story was well formed, giving the pace at which everything happened enough substance to seem reasonable. Rowl's writing is abundant in metaphor and she really attempted to make the reader feel they were seeing things as her characters were. There were a few scenarios that were left hanging from the background, like what happened with Tilly's sister, Sam, and why her family was at such a disconnect. These were small facets that were mentioned, so not relevant to the story at hand, but ones that could have been expanded a bit more. Perhaps it will come up in later work though, and is part of a larger story arc? We'll have to see.
Christmas is Cancelled is a cute story, containing a bit of English charm and a whole lot of destiny. It ended in a place that I could easily visualize…because I had been there 😉 Tilly and Dean were interesting characters, finally having a chance at a whirlwind romance and their well-deserved HEA. Their story is well worth a look when you need a fix of "meant-to-be" love.
I give  Christmas is Cancelled 3 1/2 stars!
***FTC Disclaimer: Most books reviewed on this site have been provided free of charge by the publisher, author or publicist. Some books we have purchased with our own money and will be noted as such. Any links to places to purchase books are provided as a convenience, and do not serve as an endorsement by this blog. All reviews are the true and honest opinion of the blogger reviewing the book. The method of acquiring the book does not have a bearing on the content of the review.