We are happy to welcome back to BLI Alex Hughes, author of the dark urban fantasy series featuring an ex-addict telepath hero, and she stops by today to tell you about Sharp, the second book in her Mindspace Investigations series. Please give her a warm welcome and answer the question at the end to win Clean, the first book in the series, that I liked a lot! 😀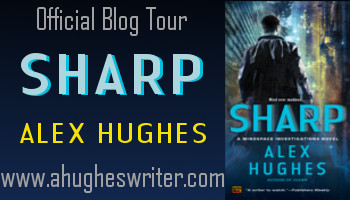 Behind the Scenes Secret Revelation Post: the Making of Sharp
by Alex Hughes
They say there are two things you don't want to see made: sausage and laws. I'd add a third to the list: a second book in a series.
When we sold Clean and knew there would be a second book, I found myself in the interesting position of having to write a book on a deadline, something I'd never done before. The editor wanted an outline about midway through the process, something I had never done before either. And my agent said that, if anything, this book had to be better than the first.
So, with a great deal of pressure on me, I had to figure out how to write a series that worked as a whole. I went to Aaron Allston's and Michael Stackpole's classes at DragonCon that year, one of which was How You Write a Series. Sincerely, thank you guys. You saved my life. I took copious notes and took the ideas back to my home office with me.
Then two and a half months went by with me staring at the whiteboard, scribbling occasionally, erasing occasionally, trying to craft a series arc that I was happy with. We had to have an "away game." We had to have series villains. And we had to have character growth. And it all had to fit in a certain number of installments that each stood alone. By the time I was done with all this intense thinking, I had nine books blocked out in general terms and a pretty good idea of where I was going.
Then it was time to settle down on Book Two. I wrote the first part as I had written Clean back in the day, strictly by the seat of my pants. I had forgotten that this process took years and many revisions. Plus, about twenty thousand words in, I got stuck. Very stuck. I banged my head against the wall for weeks until I decided to throw out the entire plot I had going and start over.
This time, I would outline. All the cool writers outlined, right? I got to work on a new plot, scrawled ideas on a few notebook pages, and started the book over. It was going well! Then the editor wanted to see the outline. Which meant, of course, I had a lot of work to do on my scrawled notes—for example, she probably expected complete sentences. After that, I had this unwieldy outline thing getting in my way as I tried to shape the wet clay that is a book in progress. My brain does not like a detailed outline.
My editor came back with a few amazingly pointed questions about the outline I'd built. I spun my wheels for a few days and tried to answer them. Then—it hit! A better villain! I emailed her with this information and ran to the keyboard as fast as my feet could carry me. It was brilliant.
Fast forward through weeks of staring at a screen—and then back at the whiteboard—and then back at the screen. I had a rough draft, and a villain I kinda loved. Now came the hard part. The revision.
My poor writer friends at this stage. My poor family. I made them read the book on no notice and with hardly any time to do it right. And they came through for me. They made amazing suggestions. I revised again. They made more suggestions. I revised again. And then I stepped back and looked at it. It was ready to send to my agent.
She writes back a two line email two weeks later: It's great. Maybe even better than the first.
I collapse into a small puddle of goo, spellcheck again, and send it to the editor. A whole week early.
Sharp by Alex Hughes

Book #2 in the Mindspace Investigations series

HISTORY HAS A WAY OF REPEATING ITSELF, EVEN FOR TELEPATHS…

As a Level Eight telepath, I am the best police interrogator in the department. But I'm not a cop—I never will be—and my only friend on the force, Homicide Detective Isabella Cherabino, is avoiding me because of a telepathic link I created by accident.

And I might not even be an interrogator for much longer. Our boss says unless I pull out a miracle, I'll be gone before Christmas. I need this job, damn it. It's the only thing keeping me sane.

Parts for illegal Tech—the same parts used to bring the world to its knees in the Tech Wars sixty years ago—are being hijacked all over the city. Plus Cherbino's longtime nemesis, a cop killer, has resurfaced with a vengeance. If I can stay alive long enough, I just might be able to prove my worth, once and for all…

Buy at Amazon – Kindle – B&N – Book Depository – iTunes
Guilt – an excerpt from Sharp, Mindspace Investigations Book #2
By Alex Hughes

You okay? came Cherabino's thought again, frustrated. Tap, tap, her mind against mine, tap, tap, as if she could somehow feel my distress and reacted with impatience instead of care. Tap, tap, along the long yellow line back to the real world.

I followed that line, hand over hand, inch by painful blind inch, laboriously surfacing, one overwhelming moment at a time. She kept tapping. She kept pushing. It was the only thing that got me all the way there.

I woke to the clear view of the floor and my knees, twelve inches from the bloodstain, my nose overcome with bad smells. I hadn't thrown up. I could say that much. And—mind shaking, aching, shivering in reaction pain, I realized I was back to mind-deaf. My head rang with pain, pain—but no emotion. I was deaf and blind again.

"You okay?" Cherabino asked.

I shook my head—and immediately thought better of it; the movement made the world spin.

My eyes caught the victim's foot, her bare foot on the tile, and I saw a small tattoo, a circle of wavy lines, neurons, encircling a stylized S and Q. I sat down hard, on the tile. I knew that tattoo.

I knew that tattoo, and in combination with it the female mind, or who she'd once been. Her name hadn't been Hamilton when I'd known her, but she hadn't been married. Emily, her name had been. Even through the overwhelming pain in my head, I couldn't let go of the thought. Emily had been one of my best advanced students, years ago. Before it all fell apart. Before her mind twisted into a knot—into something not an Abled mind anymore. Before I'd done the unthinkable.

"Are you okay?" Cherabino repeated.

I fought the guilt and the disorientation of seeing Emily again, seeing her dead. I fought the exposure sickness, the injury. I sat on them, hard, and built a barrier between us with bleeding fingers. Cherabino couldn't know. She knew too many of my failures as it was.

One small knee shuffle at a time, I moved back, away from Emily. It wasn't her fault she smelled of urine, dried blood, and darker things, but it wasn't mine either.

"Well, did the husband do it?" Freeman asked.

"Are you okay?" Cherabino repeated.

I pulled myself to my feet and fished out my sunglasses over my now-light-sensitive eyes. "Unless the husband's an ex-SEAL or something," I said in a rasp, "somebody else did it. And now, unless there's some kind of emergency, I'll be in the car."

Uncaring of reactions, I stumbled out of the devil house, away from the seat of every failure I'd ever had, down the stupid steep stairs, and climbed into the backseat of the cop car. I needed to be horizontal. Now.

Alex has written since early childhood, and loves great stories in any form including scifi, fantasy, and mystery. Over the years, she has lived in many neighborhoods of the sprawling metro Atlanta area, including Decatur, the neighborhood on which Clean is centered. Her work is dark, complex, action-filled and a little funny. Her Mindspace Investigations series has been called "A fun blend of Chinatown and Blade Runner" by James Knapp, and Publisher's Weekly called her "a writer to watch."

When not writing you can find Alex in the kitchen cooking gourmet Italian food, watching hours of police procedural dramas, and humming to delightfully obscure music.

Connect with Alex at: Website | Blog | Twitter | Facebook | Goodreads.
~~~~~~~~~~~~~~~~~~~~~~~~~~~~~~~~~~~~~~~~
~*~*Giveaway*~*~
Alex has very generously offered a paperback copy of Clean to one US commenter and TWO INTERNATIONAL commenters can win a Kindle ebook copy of Payoff!
All you have to do is either leave a question/comment for Alex or answer this question: What would you call the next book in a series featuring an ex-addict telepath hero working in law enforcement?
(You can read our full giveaway policy here)
Please be sure to include a valid email address in the comment form (need not be in the actual body of the comment).
This giveaway is open to everyone!
Giveaway ends on 20 April 2013 and we will announce the winner on Sunday.
Good Luck!