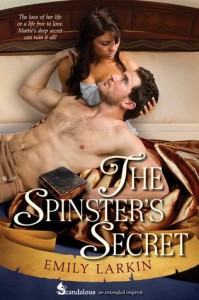 Format read: ebook provided by NetGalley
Genre: Historical Romance
Release Date: Feb. 17, 2013
Number of pages: 218 pages
Publisher: Entangled Publishing
Formats available: ebook
Purchasing Info: Author's Website | Publisher's Website | Amazon | B&N | Kobo
Penniless spinster, Matilda Chapple, lives at isolated Creed Hall, dependent on the austere charity of unloving relatives and under pressure to marry a man twice her age. In an attempt to earn enough money to escape this miserable existence, she writes a series of titillating 'confessions'. Her secret is safe — until battle-scarred Waterloo veteran, Edward Kane, reluctantly accepts the commission to uncover the anonymous author's identity.

While staying at bleak Creed Hall, Edward finds himself unaccountably drawn to his host's lonely niece. Can Matilda conceal the secret of her scandalous writings, or will Edward discover that the spinster and the risqué authoress are one and the same person? And when Matilda feels the need to experience sex as her fictional courtesan does–will she lose her heart to Edward, along with her virginity?
My Thoughts:
The concept of this story is so incredibly intriguing that I had to pick it up, but it doesn't quite live up to its expectations.
Or it does, but the setting is so dreary that the all-too-realistic description of the dreariness depresses the reader along with characters.
Let me explain.
Mattie Chapple is a penniless spinster. She is supposed to be grateful to her stingy, miserly, nasty uncle for the roof over her head, the food on her plate and the clothes on her back. The very cold roof over her head, the stringy and boiled food on her plate, and the always grey clothes on her back.
In other words, her uncle would make Ebenezer Scrooge seem like a generous and giving human being–before his visit from the spirits of Christmas. After all, Bob Cratchit was allowed to do whatever he wanted with his meager salary. Mattie doesn't even have an allowance, because she's female.
And she has to read sermons on female "meekness" after dinner. Every night. Even in the years just after Waterloo, Uncle would have been considered a bit much.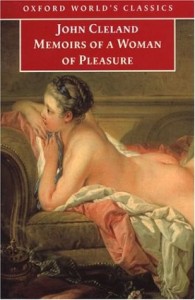 Mattie has a plan to escape her bleak life by writing salacious, and entirely fictitious, confessions of a courtesan. Mattie has no sexual experience whatsoever, so she is plagiarising the entire thing from a diary she found in a cupboard and a purloined copy of  Memoirs of a Woman of Pleasure, much more famously known as Fanny Hill.
Mattie's "confessions" are selling like hotcakes, or the time-appropriate equivalent.
Of course something happens so that she is in danger of discovery before she's ready. Otherwise there wouldn't be a story. And Uncle Skinflint (no that's not his name but really, nothing comes close) can't stand the thought of a prostitute in his domain.
Conveniently for the story, Edward Kane enters the picture to search for the supposed prostitute. The convenience is okay.
Kane is as fascinating a character as Mattie. He survived Waterloo. That's not it. His descriptions of exactly what he survived are gut-wrenching. He was ready to die, and you know exactly why. He's left with pretty horrible scars, and an even worse case of survivor's guilt. He's come to Creed Hall to do penance, and it's a good place for it.
He decides that his penance is to find the courtesan. Instead, he finds a reason for living.
Verdict: I don't have enough hands to do a proper "on the one hand/on the other hand". Some things were terrific and others made me want to scream.
On the one hand, I loved that neither the hero NOR the heroine were pretty people. And it's sad that it's necessary to applaud this as a welcome development. Kane is physically scarred as well as emotionally. His scars are startling and even frightening. His right ear is mostly missing, as are some of his fingers. Mattie loves him as he is. And Kane worships her as she is. He prefers the fact that Mattie is a big woman, because he is referred to as a goliath. He's happy to find a woman he doesn't have to be careful of. He thinks Mattie is the incarnation of Venus!
They are friends first, and their friendship is cautious, as it should be, and it takes time to develop. We see them tentatively reaching toward each other, and how fragile that bond is. This story would break if there were even a hint of insta-love. But there isn't.
The premise of the story, that a spinster with no experience whatsoever would be writing a salacious novel filled with sexual detail, and writing it by plagiarism at that, was just a bit too unrealistic. On the other hand, it did set up the reason for Mattie to proposition Kane, which in turn sets up the later misunderstandammit.
The story is actually a sweet love story about the power of redemption. I liked the story itself. But the extended descriptions of the utter, mind-numbing, soul-destroying dreariness of Creed Hall and Mattie's life there sucked most of the joy out of the story. I would be giving this story a higher rating if there had been a couple of dozen pages less detail about the bleakness of living in Creed Hall.


I give  The Spinster's Secret by Emily Larkin 3 and 1/2 slightly depressed stars
***FTC Disclaimer: Most books reviewed on this site have been provided free of charge by the publisher, author or publicist. Some books we have purchased with our own money and will be noted as such. Any links to places to purchase books are provided as a convenience, and do not serve as an endorsement by this blog. All reviews are the true and honest opinion of the blogger reviewing the book. The method of acquiring the book does not have a bearing on the content of the review.