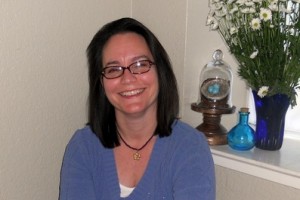 Welcome, book lovers! Today we're pleased to have author Jennifer Ryan visit BLI. Her lastest release, Lucky Like Us, is now available from Avon Impulse. She stops by today to talk a bit about the book's characters, their unexpected adventures, and exciting paths to love. Please show her a warm BLI welcome (and check out the end of the post for giveaway info!).
. . . .
We all have stress in our lives and deal with it in different ways. Book lovers curl up in their favorite comfy chair with a novel and lose themselves in another world. Some people sweat it out at the gym, or hike or bike ride in the great outdoors. Others veg out on the couch with a yummy snack, watching their favorite show. Maybe you set your mind to a task that you can get lost in, like knitting, gardening, or playing a video game. How about sitting on a sundrenched beach, a drink in your hand and nothing to do but watch the waves roll in?
Now that's my idea of stress relief.
Bakery owner Elizabeth Hamilton has every reason to find that secluded beach and hide out from her troubles. She's got a stalker ex deluding himself that she's his fiancé and a serial killer bent on killing her before she can identify him to the FBI. Forced into protective custody, it's not all bad to lose your freedom when the guy protecting you is sexy FBI agent, Sam Turner. Somewhere between saving his life and trying to stop a madman, she's fallen head over heels for him, but did she have to go and tell him she loves him after only knowing him a matter of weeks?
"Did everything go all right last night?" she asked.

"Better than all right. I'll tell you all about it later."

"So you're okay?"

"Yes, sweetheart. I'm fine. Were you worried?"

"Just a little." More than a little, actually, but she wasn't about to tell him. She was used to seeing him with the gun strapped to his belt. Seeing him put on another gun told her he was expecting trouble, and that hadn't sat well with her. She'd also missed having him in her bed last night.

"I hate to admit it, but it feels good knowing you're worried about me and want to know if I'm okay. I missed you. I'll see you tonight."

"Okay. I love you. Bye." She hung up and immediately realized what she'd said. She looked across the dining room table at Tyler, who'd been sitting there listening the whole time. "Did I say 'I love you' to him and hang up?"

"Yes you did, darlin'." Tyler gave her a huge smile. "You look so pretty when you're in shock," he teased.

"Oh, God. What have I done?"

…Frustrated, she stood and went into the kitchen. She needed to work off some of her energy and think about everything. She'd come up with an explanation for what she'd said if he asked. Maybe he wouldn't ask. Maybe he'd let it go. That's it. They'd pretend it never happened.

She aimlessly took canisters out of the cabinets.

"What are you doing?" Tyler asked.

"What would you like? A pie, a cake, maybe some cookies? Oh, I'll make them all and you can decide once they're done."
Hours later, Elizabeth is just as stunned as Sam to realize her unintentional admission prompted a fruit-filled frenzied pie making stress release that fills every bakery rack and countertop in her kitchen.
Heat rose in her cheeks when she saw what she'd done. She glared at Tyler. "Why didn't you stop me?"

"Stop you? You were a woman on a mission, and I stood back and got out of the way before you baked me into one of those pies." He looked back at the kitchen and her again. "What did you want me to do? Tell you to put the spatula down and come out of the kitchen with your hands up?" Tyler smiled, along with everyone else but Elizabeth.
Elizabeth's odd behavior is telling, and Sam isn't about to let Elizabeth suffer under this intense pressure any longer. A man on a mission, he'll find a way to tell her he loves her too, convince her to be his wife, and make every day they're together happy. First, he'll eliminate the deadly threats against her, because nothing is more important to him than her safety.
. . . .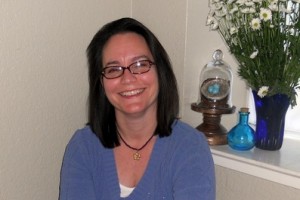 About the Author
Jennifer lives in the San Francisco Bay Area with her husband, three children, her dog, Bella, and cat, Shadow.

When she isn't writing a book, she's reading one. Her obsession for both is often revealed in the state of her home and how late dinner is to the table. When she finally leaves those fictional worlds, you'll find her in the garden, playing in the dirt and daydreaming about people who live only in her head, until she puts them on paper.

For more information about Jennifer and her upcoming releases, visit www.jennifer-ryan.com.
About Lucky Like Us:
The Hunted series continues as Special Agent Sam Turner discovers protecting the FBI's star witness is more difficult than he thought!

Bakery owner Elizabeth Hamilton's quiet life is filled with sweet treats, good friends, and a loving family. But all of that is about to turn sour when an odd sound draws her outside. There's a man lying unconscious in the street, a car speeding toward them. Without hesitation, she gets the man out of harm's way before they're run down.

Unwittingly, Elizabeth has put herself in the path of a serial killer, and as the only one who can identify the FBI's Silver Fox Killer, she's ended up in the hospital with a target on her back.

The only man standing between her and death is Special Agent Sam Turner. Against his better judgment, Sam gets emotionally involved…determined to take down the double threat against Elizabeth – an ex desperate to get her back, despite a restraining order, and a killer bent on silencing her before she can identify him.

They set a trap to catch a killer – putting Elizabeth in the killer's hands and Sam desperate to save her. If he's lucky, he'll get his man…and the girl.


Find it at: Goodreads | Amazon | B&N | Book Depository
~~~~~~~~~~~~~~~~~~~~~~~~~~~~~~~~~~~~~~~~
~*~*Giveaway*~*~
Jennifer has generously offered an ebook copy of Lucky Like Us to one lucky commenter!

To be entered just fill out the Rafflecopter form below. And tell us: what's one of your little stress relieving hobbies (aside from book reading, of course!)a Rafflecopter giveaway

Good Luck!