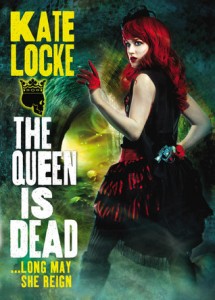 Review: The Queen is Dead by Kate Locke.
Format Read: ebook.
Number of Pages: 336.
Release Date: February 5, 2013.
Publisher: Orbit.
Genre: Urban Fantasy.
Series: The Immortal Empire #2.
Formats Available: Hardback, ebook, audiobook.
Purchasing Info: Author, Goodreads, Book Depository, Amazon.
Book Blurb:
Nothing lasts forever—and immortality isn't all its cracked up to be.

When her brother Val gets in over his head in an investigation of Half-Blood disappearances and goes missing himself, it's up to Xandra, newly crowned Goblin Queen, to get him back and bring the atrocities to light. Xandra must frequent the seediest parts of London, while also coping with what she is, the political factions vying for her favor, and the all too-close scrutiny of Queen Victoria, who wants her head. Add this to a being a suspect in a murder investigation, a werewolf boyfriend with demands of his own, and a mother hell bent on destroying the monarchy, and Xandra barely knows which way is up. One thing she does know is that she's already lost one sibling, she's not about to lose another.
My Thoughts:
Author's Pitch: I invented this fabulously complex world to set a new series in!
It's a strictly hierarchal society.  At the top we have the uber-white aristocrats. They rule with iron fists, brutally crushing rebellions when necessary.
Then there are the common-folk.
Though inter-marriage is strictly forbidden, the white people have devastatingly low fertility. To prevent the world from being overrun with dirty commoners, the aristocrats take the most attractive and physically fit girls from among the proletariat, and sexually enslave them to use as breeding stock.
This gives rise to a separate class of mixed-race children, who are cut off from all contact with their maternal families, and packed off to boarding schools that rigorously train them in the art of absolute service to their patriarchs. They kill and die for the aristocracy. Betray their families. Commit atrocities.
Which is easy to justify, because this breeding program that spawned them ensures they are stronger, smarter, and sexier than the average person. The Best of the Best – just not quite as beautiful, brilliant, or brave as the white aristocrats.
The general public doesn't mind that their daughters are forced into sex slavery, or that their grandchildren are alienated from their culture, trained as assassins, and subject to all manner of experimentation, because this provides necessary protection from the final race. Those terrifyingly dangerous creatures who are so repugnant that we force them to live in underground, eating whatever we deign to toss in the sewers.
Editor's Note: Wow, this is super-racist.
Author's Defense: HOW DARE YOU!!! I will show off my liberal-cred because the main character's extended family is filled with queer and transpeople who are totally accepted in society and have absolutely equally rights. 
Editor's Note: Still super-racist. Are you at all familiar with the whole destruction of native cultures through forced Boarding School Programs in Australia and the U.S.? Or the historical subjugation of oppressed populations through rape? Or the use of indigent and minority populations as an unknowing test group for medical experimentation.
Author's Last Chance: Ugh, you are so ignorant! That is not what my series is about. My series is about The Girl Who Can Pass As White. But I can sex it up for you. We'll use vampires, dhampirs, humans, and … goblins. No one empathizes with goblins. They can be shut down in the sewers. Haven't you seen Labyrinth?!
[youtube http://www.youtube.com/watch?v=ViftZTfRSt8&w=420&h=315]
And so one of the most blatantly racist pieces of garbage I have forced my way through in a long fucking time is born.
The primary plot of this book is that the main character is a minority goblin who can pass as a white vampire. Obviously, she is now their Queen. Because the only qualification one needs to be leader of a subjected people that you irrationally fear and despise is the ability to blend in with the whites vampires. Accio innate understanding of the core needs of your citizens!
Xandra aptly displays these skills that pushed her to the forefront of the Queening Olympics when, in her first Queenly Act, she allows a racist police force to invade one of her post-partum subject's homes while she dropped in for a royal baby viewing. Then sits back while the racist cops demand a free freak show viewing of the newborn, and won't allow any of her subjects with cognitive functions to do anything about this horrifying invasion of privacy. Nevermind the trauma and humiliation this might cause parents and child, those devoted subject who wanted to show off their newborn to their new Queen.
Fuck this noise.
(Also? Bonus Scottish Racism! All the extra brutal aristocrats are Scottish werewolves. Because the whole Brits-think-Scottish-people-are-hairy-barbarians thing just never gets old.)
Spoiler Alert! Xandra does not die at the end. No matter how much you hope she will.


One star. I was going to go with no stars, but the author has, miraculously, managed to portray a woman and queer friendly society. Well, so long as you are a white vampire, werewolf, or dhampir queer woman.
***FTC Disclaimer: Most books reviewed on this site have been provided free of charge by the publisher, author or publicist. Some books we have purchased with our own money and will be noted as such. Any links to places to purchase books are provided as a convenience, and do not serve as an endorsement by this blog. All reviews are the true and honest opinion of the blogger reviewing the book. The method of acquiring the book does not have a bearing on the content of the review.