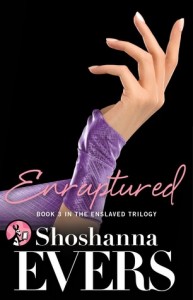 Format read: ARC ebook from Edelweiss, provided for review
Series: Enslaved Trilogy
Genre: Contemporary Erotic Romance
Release Date: June 10, 2013
Number of pages: 175 pages
Publisher: Pocket Star
Formats available: ebook
Purchasing Info:   Amazon | B&N | Kobo | Book Depository US | Book Depository (UK)
The stunning conclusion to the red-hot Enslaved erotica trilogy finds a curious young beauty baring more than her skin…Lovely, blonde, and young, Jessica accepted a job at New York's most exclusive BDSM nightclub to make ends meet…and to satisfy her curiosity. Nobody is more intriguing than the BAD boys—Billionaire Arrogant Doms—a trio of unbelievably rich and sexy men. Jessica willingly gets involved with the group, shedding her formerly shy persona to explore the limits of her own desire. But she isn't sure how vulnerable she wants to be…until the one BAD Boy who never wants to fall in love again—the gorgeous, passionate, and unexpectedly tender Roman—takes an interest in her, and Jessica finds herself drawn deeper into his world than she ever expected.
My Thoughts:
Enraptured marks my first real attempt at reading BDSM. I was curious if I could make it through a book that had a no-holds-barred attitude towards this particular kink and I'm happy to say I did! More than that, I actually devoured this book in one night. It is a relatively short read, but it was the character experiences that kept me going.
Roman and Jessica were interesting characters that had a few things going against them. Roman was a self proclaimed sadist, which I will admit gave me a pause a few times through the read, and Jessica, someone innocent to the lifestyle but with what turned out to be a healthy curiosity. I thought it would be Jessica's, not necessarily innocence, but more lack of experience that would cause a rift between the couple. Roman definitely pushed limits and I was at times maddened by his actions. I had to keep reminding myself that these were consensual acts between two adults and that helped me make it beyond these 'scenes'.
It was interesting, too, to see the potential psychological ramifications of Roman's past relationships. This wasn't something that the author really delved into in this book, but it is something that the reader could see having an effect on Roman and Jessica's relationship down the road. Hints from the previous two books showed that Roman had had a rocky go of it and it would be interesting to see what got him to this point. Roman was a player that definitely needed more exploration than this book provided.
All in all, I enjoyed reading Enraptured. It did make me squeamish, but it left a resounding mark, which is what an author is trying to do ultimately. I'd be curious to read the other stories in the series because they differed significantly from this one, with characters already immersed in the BDSM lifestyle. And although I'm not sure I could handle another scene with paddling in it, I'm happy to report I did not use my safeword at all while reading Enraptured 🙂
I think that if you found Fifty a little too tame or if you're a newbie to BDSM reading like myself, this is a great story to test the waters.
I give  Enraptured 3 1/2 stars!
***FTC Disclaimer: Most books reviewed on this site have been provided free of charge by the publisher, author or publicist. Some books we have purchased with our own money and will be noted as such. Any links to places to purchase books are provided as a convenience, and do not serve as an endorsement by this blog. All reviews are the true and honest opinion of the blogger reviewing the book. The method of acquiring the book does not have a bearing on the content of the review.