We are delighted to welcome Katie Porter a.k.a. writing duo Lorelie Brown & Carrie Lofty to BLI today to celebrate the release of INSIDE BET the second book in their Vegas Top Guns series, which was released by Samhain this past Tuesday, August 28th. I read INSIDE BET and can honestly say was absolutely WOW'ed (my full review will be featured at BLI later today). Hot fighter pilots, sin city and dares followed by kinky sex…INSIDE BET has it all!
About Katie Porter:
Katie Porter is the co-writing team of Lorelie Brown and Carrie Lofty, friends and critique partners of six years.
Both are multi-published in several romance genres. Carrie has an MA in history, while Lorelie is a US Army veteran. Generally a high-strung masochist, Carrie loves weight training but she has no fear of gross things like dissecting formaldehyde sharks. Her two girls are not appreciative. Lorelie, a laid-back sadist, would rather grin maniacally when Carrie works out. Her three boys love how she screams like a little girl around spiders.
Katie is here today to talk about one of the main themes driving their new release–dares & be sure to enter the Giveaway at the end of the post!
Take it away Katie!
Dares, Dares and more Dares!
By Katie Porter
INSIDE BET is the second of the Vegas Top Guns series, featuring Captain Jon Carlisle and Heather Morris. Heather works in accounting, which might sound pretty boring (and it is. Don't tell her. She loves it.) but that doesn't mean she's a boring person. She can't be if she has a snowball's chance in hell of hanging with Jon Carlisle. He's a man who knows what he wants, when he wants it and he knows how to rock a girl's world while he's about it.
All the good hero stuff, in other words.
Series: Vegas Top Guns, Book 2
Genre: Contemporary Erotic Romance, BDSM
Release Date: August 28, 2012
Publisher: Samhain Publishing
Formats Available: eBook, Kindle, Nook
Purchasing Info: Publisher, Author's Website, Goodreads, Kindle, Nook
Book Blurb:
As assistant director in an accounting firm, Heather Morris is at the top of her game. Her straight-laced colleagues wouldn't believe the secrets she hides: her wild teenage past, work-of-art tattoo and nipple ring.

Her orderly life veers off course when she's approached at a wine tasting by an arrogant pretty boy with a dirty mind and a hardcore dangerous profession. She finds herself tempted to step outside her respectable façade for some well-deserved excitement.

Captain Jon "Tin Tin" Carlisle knows women. Loves women. One glimpse of the nipple ring under Heather's conservative blazer lights up all his instincts. He's stumbled upon a rare treasure: an exotic beauty with a sexy laugh and a taste for dares.

After a red-hot hour of roulette, their simmering attraction bursts into an exploration of mutual passion that tests even Jon's erotic limits. Soon he craves something he's never desired before. More. But for Heather, more means trusting, and trusting leads to trouble.

Now Jon must decide if the best sex of his life is worth chancing his heart on a woman who shields hers so well.

Warning: Contains hot power play featuring a fighter pilot who comes from old money but knows all about bringing the dirty. Also: a nipple ring, sex on the hood of a hella sweet sportscar, and one teensy, tiny, wickedly naughty fluid exchange.
But the thing is, both Jon and Heather like to be challenged. Love it, actually. Their entire relationship founded on dares, if you like. They up the ante on each other, flipping the scorecard back and forth. Their entire first date is a series of dares. Whether Heather will leave a wine bar with such a near stranger. The way they liven up a night of roulette with side bets. Here Jon and Heather spar in their sultry style:
Then for her ears only he said, "I also like seeing what you'll do next. So tell me, Ms. Morris, what shall we do if that ball drops on twelve? Make it good. I know you enjoy surprising me."

"The odds are too long to make that any real fun. How about if it drops on any red?"

"Too easy. You'll hedge and give me something common."

Her hip molded against the roulette table. If he looked down, he'd have a clear view of the cleavage he found so fascinating, but his gaze didn't budge from hers. He was waiting, just as she was, to see how much daring she could drag into the light.

Taking the chance, Heather indulged the first of her many fantasies involving this man. She cupped the base of his skull. He smelled of something like Obsession or Pierre Cardin. Rich. Classic. Masculine. She pressed harder, rubbing a little, enjoying how his cropped hair scoured her skin.

"Not common at all, Captain Carlisle. If the ball drops on red, I'll show you my tattoo."
There's just something about dares that can liven up almost any time. I remember playing truth or dare with a pack of girls at a sleepover. (Though trust me. Heather and Jon's sleepover turns out much differently than the one twelve-year-old me was at. No one's underwear get dipped and frozen.) Or there was another time when I was fresh from Army training and someone proposed a game of strip poker…. You'll understand if I maintain a lady's right to privacy on whether I took that dare up.
Dares are special. Exciting. They're everything from convincing your special someone to try a deep-fried steak finger (even if they spit it out in disgust) to more the more dramatic. Though I had problems over all with The Vow, that Channing Tatum movie that came out last year, one of the absolute best scenes was when Channing dared his wife into going near-skinny-dipping in April! (The other best scene being when he unthinkingly walked into the bedroom naked. Sorry. I'm shallow. It's a personal failing.)
So get a peek in on Heather and Jon's dares and the exciting places they lead in Inside Bet. I promise you'll have almost as good a time as if you were taking the dares yourself.
Question: What's the most exciting dare you've taken? (Most exciting you're willing to admit in public, that is.)
Up next for Katie Porter, the co-writing team of Carrie Lofty and Lorelie Brown:
Now that both RT BookReviews 4½ Star Top Picks DOUBLE DOWN and INSIDE BET have been released, we're looking forward to the September 25th arrival of HOLD 'EM, featuring wild child Leah and a surprising reunion with a fellow pilot. The final two installments of the Vegas Top Guns series will follow in 2013.
November brings the m/m Christmas-themed CAME UPON A MIDNIGHT CLEAR, and in January, LEAD AND FOLLOW will launch the five-part "Club Devant" series of erotic multi-partner romances set in a hot New York City burlesque club.
Where to Katie Porter:
Website | Twitter | Facebook
Or individually:  Carrie Lofty @carrielofty and Lorelie Brown
~~~~~~~~~~~~~~~~~~~~~~~~~~~~~~~~~~~~~~~~
~*~*Giveaway*~*~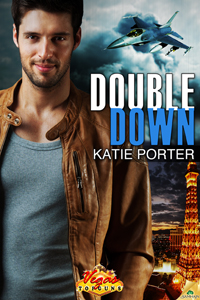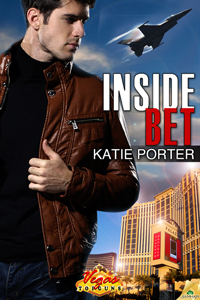 Katie has generously offered a digital copy of DOUBLE DOWN or INSIDE BET to one lucky commenter (Winner's choice)!
All you have to do is answer the question noted above!
(You can read our full giveaway policy here)
Please leave us a way to contact you.
(Email in blogger profile or twitter name – no way to contact you – no entry).
This giveaway is open to International entries!
Giveaway ends on Saturday, September 15 2012; and we will announce the winner on Sunday.
Good luck!