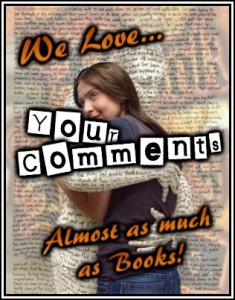 The winner of our We Love Your Comments Giveaway for April is … Sandy who commented on our post: Romance and Me: The Horror of the Episode Novels:
I've picked up a couple of e-books before and read them before I realized they were the first in a serial–very frustrating. I'm a fan of Beth Kery, but I haven't read her serialized books yet. And its not so much the money to me (a little, but not a lot), but the having to wait. I will read a book in one sitting and very rarely will I be able to stop until I'm finished (good grief, I read Sherrilyn Kenyon's ACHERON throughout the night when it first came out–it was JUST THAT GOOD). I guess I'm just impatient and have to know NOW what is going to happen–how are they going to resolve this issue, will the hero realize what a turd he's being, will the heroine get some backbone. So for those who don't mind the wait and like those pesky cliffhangers, these installment books should be okay for them. For me, eh, not so much.
We will now start counting for May. Here again the rules:
We thought long and hard about how we should show you, the readers of Book Lovers Inc how much we appreciate your input and interaction. We are happy and grateful for every comment cuz we know how it is to be a "blog-hopper". We enjoy reading your thoughts and we love to start a good discussion with you. This blog is all about spreading the love for books and without you that mission would be lost.
We pondered how to give some of the love, you give to us with your comments, back.
So our "We Love Your Comments Giveaway" was born.
But what can you win?
We will buy you a book ($10 limit) from The Book Depository.
You can choose whatever you want and get one title off your wishlist.
The giveaway is open to everyone who can receive books from The Book Depository.
How do you enter this giveaway?
Every meaningful comment you leave on a non giveaway post will enter you into the giveaway!
It doesn't matter if it is an old or a new post. We get an email for every new comment so you don't have to worry about that.
At the end of each month we will draw a random winner from all the comments of the month.
We will post the winner on the 1st of the month and open the new giveaway for the next round.
Be sure to check back at that time!