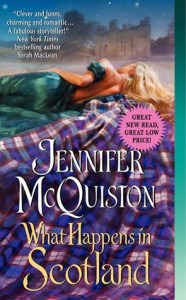 Format read: ebook
Series: N/A
Genre: Historical Romance
Release Date: Feb. 26, 2013
Number of pages: 384 pages
Publisher: Avon
Formats available: ebook, paperback
Purchasing Info: Amazon | B&N | Kobo | Book Depository US | Book Depository (UK)
Lady Georgette Thorold has always been wary of marriage, so when she wakes up next to an attractive Scotsman with a wedding ring on her finger, it's easy to understand why she panics and flees. Convinced that Georgette is a thief, her may-be husband, James McKenzie, searches for her. As both try to recall what happened that fateful night, they begin to realize that their attraction and desire for each other is undeniable. But is it enough?

Fans of Sarah MacLean and Mary Balogh will enjoy this utterly charming historical romance from award-winning author Jennifer McQuiston that features unforgettable characters and a satisfying mix of adventure and passion.
My Thoughts:
It's no accident that this title is reminiscent of the modern sentiment towards Sin City. This story kicks off with a wildly hungover woman trying to figure out how she ended up in a room with a roguish looking man…naked. From there, the story diverges into a serious of events that would make the Wolf Pack proud. With misunderstandings based on language (ie. Scottish slang) and a wacky cast of characters, What Happens in Scotland is very entertaining.
At first, Georgette's character was a little too uptight for my taste. Just coming out of mourning for a man unnecessarily cruel to her, even if it was only his words that had altered her self-image, the heroine was looking for a change. It became more clear that her desire to remain free was a well-thought out, logical choice considering. Georgette's experiences created a woman uninterested in men of any kind, looking to forge a life for herself on her terms.
Of course, this becomes problematic when she discovers she may or may not have married the handsome rogue on that brandy-soaked night. It was this fighting spirit in Georgette and her determination to succeed in her new, freer existence, even though others had ideas to the contrary for her, that won me over. Still with the question of did they marry or not, James, intrigued with Georgette, was the one that needed to work for her heart. It takes an equally strong man to take a challenge such as this and find success, while allowing Georgette to live as she wished as well. And from what he had witnessed of her that one drunken night, he knew that she was much more than the rigid woman presented.
McQuiston takes the reader on a uproarious ride, piecing together Georgette's night of debauchery and blends it nicely with a story line that illustrates the changing sentiments of women (ie. their need for a husband or not.) As events unfold, you can't help but wonder what will be next or what services were actually rendered to account for Georgette's increasing collection of tributes. What Happens in Scotland is a fun read, well worth the effort.
I give  What Happens in Scotland 5 stars!

***FTC Disclaimer: Most books reviewed on this site have been provided free of charge by the publisher, author or publicist. Some books we have purchased with our own money and will be noted as such. Any links to places to purchase books are provided as a convenience, and do not serve as an endorsement by this blog. All reviews are the true and honest opinion of the blogger reviewing the book. The method of acquiring the book does not have a bearing on the content of the review.