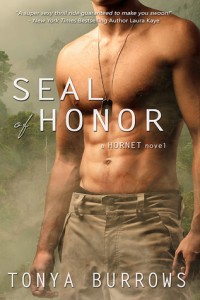 Format read: ebook provided by the publisher
Series: HORNET, #1
Genre: Romantic Suspense, Military Romance
Release Date: May 28, 2013
Number of pages: 352 pages
Publisher: Entangled Select
Formats available: ebook, paperback
Purchasing Info: Author's website | Amazon | B&N | Kobo | Book Depository US | Book Depository (UK) | Goodreads
It's a good thing Gabe Bristow lives and breathes the Navy SEAL credo, "the only easy day was yesterday," because today, his life is unrecognizable. When his prestigious career comes to a crashing halt, he's left with a bum leg and few prospects for employment that don't include a desk.

That is, until he's offered the chance to command a private hostage rescue team and free a wealthy American businessman from Colombian paramilitary rebels. It seems like a good deal—until he meets his new team: a drunk Cajun linguist, a boy-genius CIA threat analyst, an FBI negotiator with mob ties, a cowboy medic, and an EOD expert as volatile as the bombs he defuses. Oh, and who could forget the sexy, frustratingly impulsive Audrey Van Amee? She's determined to help rescue her brother—or drive Gabe crazy. Whichever comes first.

As the death toll rises, Gabe's team of delinquents must figure out how to work together long enough to save the day. Or, at least, not get themselves killed.Because Gabe's finally found something worth living for, and God help him if he can't bring her brother back alive.
My Thoughts:
This team is a mess. The story, however, isn't totally although it does have a few moments that are sticky when things shouldn't be. And not-sticky when they should be.
<sigh> Let me explain…
Two Navy SEALs are forced to retire after a fairly mundane car accident, Gabe Bristow and Travis Quinn. If the only easy day for a SEAL was yesterday, it's pretty clear that for Bristow, life was way easier as a member of SEAL Team Ten. For Quinn, not so much.
But it's not Quinn's book.
Bristow's the one with the leadership qualities. He's the guy who can make a SEAL team, or the bunch of highly qualified misfits that gets recruited by "HumInt Consulting Inc." to become a private hostage rescue team, follow anybody's orders willingly.
About those misfits, well, let's just say that it's really obvious there's going to be a book about each one. For the purpose of this first story, the fact that these guys are all still jockeying to figure out whose ass is badder makes for a lot of laugh out loud moments…but it does interfere with the operation they're supposed to be on.
It shows that the team is neither all military, which it isn't, nor is it ready for the job it has been shoved into. The team's story is how they pull together and get themselves out of really, really deep foo-foo without losing anyone.
Gabe Bristow's story is learning to live with who he is now. His leg is busted up too bad for him to ever go back to being a SEAL. That's why they retired him. This is his life, and he can still do a lot of good. He just has to accept that it is what it is.
Part of that acceptance comes in the package of Audrey Van Amee. She is the sister of the man his team is supposed to recover. She is also an asset. She speaks Spanish like a native, her brother was kidnapped in Colombia, and half of Bristow's team doesn't have any language skills.
Audrey not only throws herself into a lot of situations that she shouldn't, she talks to herself about the fact that she's walking or running or leaping headfirst into a situation that in the movies always ends up with the heroine getting captured or killed, but she does it anyway. Sometimes she seemed brave, and sometimes not.
SEAL of Honor wouldn't be romantic suspense without the romance. So the sister of the kidnapping victim, meaning Audrey, and the leader of the rescue team, in the person of Gabe Bristow, naturally have way more chemistry together than they can manage to handle, in spite of, or maybe because of, the heightened tension of the situation they find themselves in.
And let's not forget about the kidnapping. Bryson Van Amee was in the import/export business. The problem is that Bryson had been doing a little bit of dealing in, let's call it the shady side of the business. He hadn't quite reached the dark side yet, but he was getting there. So there are multiple gangs of bad dudes either involved with his kidnapping, killing off the dudes involved with his kidnapping, or threatening the possibility of his rescue from his kidnapping.
Verdict: On the sticky where it shouldn't have been side, the heroine was not in the least bit squeamish about having sex with the hero in a hut in the jungle in the midst of being kidnapped at gunpoint by a bunch of drug-running thugs that she had seen murder several cops. And again in the house of a known drug-dealer, admittedly in more plush surroundings. On the not-sticky where it should have been side, she wasn't willing to let Gabe use the violence necessary to let them escape from said murderous drug-running thugs.
The romance between Gabe and Audrey had a little too much insta-love in it for my taste. And the whole business where he decides that she doesn't really love him, that it's all just the intensity of the situation, drove me nuts. That is one of my least favorite misunderstandammit tropes.
One of Gabe's team members is a Cajun named Jean-Luc. No, just no.
But the teambuilding aspect of the story, or rather the fact that they do one hell of a lot of fumbling and screwing up, that part was fun to read. It was great to read about a para-military team that does not have its act in gear.
The suspense part was pretty decent. There was so much double-faking going on, it took most of the book to figure out who was on first. All the bad guys blamed each other, and they kept the good guys (and the reader) plenty confused.

I give  SEAL of Honor by Tonya Burrows 3 and ½ stars!
***FTC Disclaimer: Most books reviewed on this site have been provided free of charge by the publisher, author or publicist. Some books we have purchased with our own money and will be noted as such. Any links to places to purchase books are provided as a convenience, and do not serve as an endorsement by this blog. All reviews are the true and honest opinion of the blogger reviewing the book. The method of acquiring the book does not have a bearing on the content of the review.