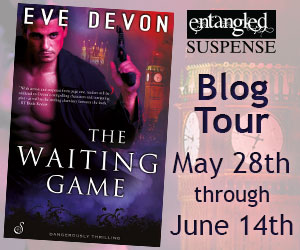 Stella: Hi Eve, welcome to Book Lovers Inc! Can you please tell us a bit about yourself?
Eve: Hi Stella, thanks so much for having me here today. Let's see, I live in leafy Surrey in the UK with my very own hero Hubby. I feel most like "me" when I'm creating stories and still have to pinch myself that I get to call this my job. I love Castle, Sherlock, The Big Bang Theory and all things Agatha Christie. I'm a bit suspicious about exercise! Oh, and I'm really bad at singing (we're talking dogs howling, bad). Why is it that people who can't sing, love to?
Stella: Oh I LOVE those shows as well! 😀 Are you a planner or pantser? Can you tell us a bit about your writing process? How do your novels come to life?
Eve: I think I'm a little of both. I've learnt over the years that some books I have to plan to the nth degree and some seem to simply unfold. All my books stem from a scene which pops into my head. The scene just refuses to let go and I end up mulling over "what if" scenarios as the characters start telling me things about themselves. I tend to write a loose outline but I like to leave myself a little room for the plot to breathe and take unexpected turns. The plotting chart makes an appearance when I'm about a third of the way through the first draft and all the different threads are starting to come together and I want to make sure I don't leave any loose ends.
Stella: What do you think is the difference between a reader and a real Book Lover?
Eve: Ooh, great question! I guess readers enjoy absorbing information and escaping through story. They might even put a value against how many books they read, but they're also able to put the book down and go do something else. Real book lovers can't put the book down. They're passionate about story-telling and ready and willing to immerse themselves in different worlds. Anticipation and pleasure starts before they even turn to the first page.
Stella: Your debut novel, The Waiting Game just got released by Entangled Publishing, congratulations! I won't ask how it feels to be a published author, because I bet it's awesome 😀 But can you tell us how it all came true? How you came to celebrate the release of your first novel?
Eve: LOL it really does feel awesome. And this book The Waiting Game is incredibly special to me because it waited for me while I underwent a little adventure with some neurosurgery for a Chiari Malformation! After surgery, my creative gene, which had gone AWOL straight after my diagnosis, finally returned. What I had worried was the end of a dream, was actually the beginning of me getting published.
The first book I tried writing again after surgery was The Waiting Game. After completing it I set it aside and started another project. After a few months, when I trusted in my writing again, I returned to it, polished it, and entered it into a pitch contest Entangled Publishing were doing. To my utter surprise I won the pitch! The contest prize was to submit the partial and within days of submitting I got a request for the full! When I finally got the Skype call from my editor I'm eternally grateful I didn't have the webcam on…jumping to your feet to happy-dance—only to be comically yanked back down to your chair by your headphone cable is so not a good look! All the years of rejection letters, of learning, revising, deleting and rewriting, coupled with the break in the middle for surgery, was worth it and it taught me the most valuable lesson: Never give up on your dreams.
Stella: Can you tell our readers what they can expect of The Waiting Game? (if you'd like you could even include a teaser or a titillating few lines)
Eve: Sometimes the very thing that forces you to play it safe in life, forces you off the sidelines. With psycho-stalker Andre Spinks released from prison, ex-songstress turned recluse Brooke Bennet knows her life is back to balancing on a knife-edge. But that doesn't mean letting former protector, sexy security consultant Came Dexter, call all the shots.
Here's a little excerpt:
He walked slowly toward her, pinning her with his stare, crowding her deliberately. Needing to push her. Checking one last time that she was capable of functioning even when all riled up. "It's a new day," he said. "I want the truth—you still think you're ready for this? To go back to London?"

"Of course."

Not good enough.

"What if something goes wrong and Spinks steps up behind you in a stairwell and puts a cloth over your mouth and you wake up tied to a metal gurney and all you see are his instruments of torture?" he said in a rush of words. "What are you going to say when he makes you wait while your imagination goes off the scale, wondering what he's going to do to you?"

She swallowed. Fisted her hands at her sides. "That won't happen. You'll be at my side to protect me. You and your team.

It's going to be different this time. For a start, his pride would never take into consideration that I could be different from before. He expects me to be the same. But I'm not, and the minute he gets anywhere near me, he'll have made his first mistake."

Damned if he didn't feel himself responding to the hope, the bravado in her voice. But still he pushed. "You've got it all figured out, haven't you?"

"I'm not stupid, Cam. I know I can't do this on my own."

He took another step toward her. "Going back before we know exactly what he's planning could be playing right into his hands. If I take you back now, it's my show all the way, Brooke. You're not going to like my response if you push back at me."
Stella: Could you introduce the hero and heroine of The Waiting Game to us? 
Eve: Here's a couple of snippets about how each makes the other one feel:
Cam on Brooke:
As soon as he heard the front door close and the security panel bleep into submission, Cameron turned what he knew were bloodshot eyes to Brooke. She was wearing one of his sweatshirts, which hung on her. The arms too big, the hem falling an inch past her dress—leaving her legs exposed all the way down to her pretty painted toenails. He registered the kicked-off strappy high heels by the sofa. They looked erotically feminine in such a masculine space. His gaze drew back to her, and he took in her smudged dark eye makeup. Her hair was choppy and wild from running her hands through it. Her expression was haunted as she stood in front of him—waiting. And even with everything that had gone down tonight, all he could think was that he wanted Brooke Bennet.
Brooke on Cam:
In the warm light, her gaze went straight to Cam, still seated on the sofa, his laptop perched on the coffee table. His hair was mussed, and the blue T-shirt he wore was hitched up a little at the side from where his hand had sneaked under to absently stroke his abs. As he sat there all rumpled, concentrating on the file in front of him, she couldn't help admiring that ability of his to focus. Not only did her blood thicken in her veins at the memory of him turning all that focus on her last night, but his ability to stay so sharp-minded made her feel safe.
Stella: If The Waiting Game were to be made into a movie, who would be your perfect cast?
Eve: I think for my hero Cam Dexter I'd cast actor Brett Tucker for his piercing blue eyes that convey an assessing and definite can-do attitude! And for my heroine Brooke Bennet, I'd cast actor/singer Natalie Imbruglia, who has these huge, haunting eyes with a beautiful vulnerable quality. For supporting cast: I know Colin Farrell usually plays a leading man, but I think in "mean and moody" acting mode he'd make a great Andre Spinks. Cat Deeley would make a lovely Megan McGuinness and Tim Roth would make a great Steven Sheldrake. Can you tell I've thought about this??? All I need is a director!
Stella: Now can you tell us 3 reasons why people should read The Waiting Game?
Eve:
1. If you like romance that sizzles and suspense with a psychological slant then you'll love reading The Waiting Game. The hero Cam Dexter is completely, utterly, thoroughly always in control…except where the heroine Brooke Bennet is concerned. If you like your alpha heroes seduced by very gutsy heroines, then The Waiting Game is definitely for you.
2. It features locations to die for: an isolated très-chic French cottage, wild-flower meadow glampsites with yurts, luxurious London hotel suites, and a beautiful beach-front mansion. Did I mention there's Glamping!?!
3. Oh, and apparently my villain is a genuinely frightening sick psycho!
Stella: Could you please summarize The Waiting Game for us Twitter-style (in 140 characters or less)?
Eve: Run & hide or go down fighting? With Cam at her side Brooke's planning on playing The Waiting Game differently…and winning.
Stella: The Waiting Game is a romantic suspense novel, why did this genre call out to you? What appealed to you? And I have to ask: for you in an ideal romantic suspense story what is the romance vs. Suspense ratio?
Eve: Whether in literature or in film I love seeing how people react to danger. In a Suspense characters are usually being pushed to their limits—throw in the romance element and those limits are tested even further. Delicious! Having grown up on a diet of Agatha Christie and Category Romance, fusing the two together seemed natural to me. I love my romantic suspense best when the romance/suspense ratio is forty-sixty or fifty-fifty. I don't like it when the romance is more of an afterthought. I need to believe the characters' developing feelings are not solely down to the attraction of danger.
Stella: What is your favourite part of a romance novel to read or write? The beginning, the first meeting, first kiss, getting to know each other, first love scene, big fight, HEA, or something else?
Eve: For reading I love the big fight, all is lost moment. When it's done right—wow, your investment in the story ratchets up and the race is on to get to the end and see if they get their HEA. I love writing the big fight, too. Laying down the words that switch everything up from going well, to the angst-ridden twisty-turny, tortuous, hot-mess of the dark moment is very satisfying!
Stella: What is next on your schedule? Any future plans you'd like to share with us?
Eve: I'm working on my next suspense. It has a hot hero without a past and a heroine who's looking to hers for answers. I also write contemporary romance which has a much lighter, flirtier feel and I'm waiting to hear back on those.
Stella: Could you share with us something, a trivia that not many people know about you?
Eve: Um…so I kind of get my words wrong when I'm really tired! They always have the right number of syllables and sort of sound like what I'm trying to say but, yeah, so I have genuinely left a party early by claiming I needed to go pick up some embalmed goblins!!!! I actually meant engraved goblets! I know. Mortifying. And the other morning when I woke up in a horrendous mood I told my husband I was a…."crotch-pants"???? Yeah, turns out I meant "Cross-patch"!!!!
I can't believe you got me to confess that—your interview style is very relaxing. Think I'd better say goodbye and thanks for having me, now, before I confess all my secrets. 😉
About the Author
Eve Devon writes sexy heroes, sassy heroines & happy ever afters…


Growing up in locations like Botswana and Venezuela gave Eve Devon a taste for adventure; her love for romances began when her mother shoved one into her hands in a desperate attempt to keep her quiet during TV coverage of the Wimbledon tennis finals!


When Eve wasn't consuming books by the bucketload, she could be found pretending to be a damsel in distress or running around solving mysteries and writing down her adventures. As a teenager, Eve wrote countless episodes of TV detective dramas so the hero and heroine would end up together every week. As an adult, still hooked on romance and mysteries, she worked in a library to conveniently continue consuming books by the bucketload, until realizing she was destined to write contemporary romance and romantic suspense herself.

 Connect with Eve at Goodreads – Website – Facebook – Twitter
About the Book
Five years ago a madman stalked her. Kidnapped her. Tattooed her.

When security expert Cameron Dexter—the man Brooke Bennett once loved—appears unexpectedly at her door with terrifying news, the former musician discovers she can no longer hide from her past. After five years, her vicious kidnapper is out of prison and on the hunt—for Brooke.

Now he's returned to complete his art.

Cam failed to protect Brooke once before. Now he'd rather die than let her be captured. With her life at stake, Cam vows to keep her hidden and safe. Brooke, however, is done with running. Unlike Cam, she wants to stand and fight. Emotions both old and new roil between them, but addressing their heated past must wait. Together they set a trap in London to catch a killer. But they soon discover the enemy wears many faces.

And waiting is no longer an option…
~~~~~~~~~~~~~~~~~~~~~~~~~~~~~~~~~~~~~~~~
~*~*Giveaway*~*~
There will be a tour-wide giveaway for an Amazon gift card worth $20 or (depending on where the winner lives)  a handmade leather notebook. Just fill the Rafflecopter form below to enter: