It is a great pleasure to welcome back to Book Lovers Inc. Maggie Robinson, author of many deliciously steamy historical romance series like the Courtesan Court or London List series. Maggie stops by BLI today to tell us about her brand new series, the Ladies Unlaced series, and more particularly its first book: In the Arms of the Heiress! In the Arms of the Heiress is a fake marriage trope in a historical setting, and since I just LOVE the fake engagement/marriage one, I was curious to know what made Maggie choose it? Why did she want to write a fake marriage story in a historical romance? So please give a warm welcome to Maggie and read on, you could even win a copy of the novel!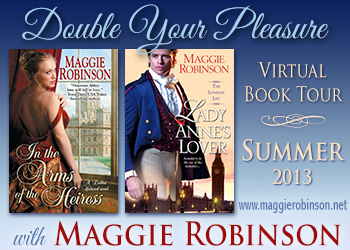 Thanks so much for having me here! While I am totally honest (unless I really have to lie), I've always been intrigued with clever fibbing. One of my favorite movies is "True Lies" (even though it's got Arnold Schwartzenegger in it—he lives a double life as a spy and no one suspects). I think writing romance lets me stretch my "let's pretend" muscles perfectly.
How better to stretch than have a heroine who's a bit of a fantasist, a young woman who lives in her own dream world to escape the unpleasant reality of her family life? Some might call Louisa Stratton a liar; I say she's just got a great imagination.
And when she needs to be "married" in the hopes of keeping her interfering family off her back, creating Maximillian Norwich is literally child's play—that was the name of her girlhood imaginary friend. Maximillian is inhumanly perfect, and with each letter Louisa writes home, he becomes harder and harder for her to resist.
As Louisa's eventual faux hired husband, Charles Cooper has a discussion about their "marriage" with her:
"Mrs. Evensong is tutoring me as to proper husbandly behavior, but I'm sure you can instruct me far better."

"Oh, I don't have the first idea what a real husband does. Maximillian has ruined me for any other man," Miss Stratton said sweetly. "He is entirely considerate of my feelings, always at my elbow ready to be helpful. We discuss art and history and philosophy and he takes my opinions as seriously as his own."

Aye. The girl was definitely off her onion.
Who can live up to such a reputation? And that's where the fun begins. Charles is naturally concerned he will not be able to transform himself to this paragon of manly virtue:
He felt a little like a prize bull at the fair, only he wouldn't be getting the bonus of getting cozy with the cows once he'd won his blue ribbon. A day under Mrs. Evensong's roof had not been sufficient to rope him back into civilization, and he was making a hash of this husband business already, unless they were to be a bickering couple.

That he thought he could manage. This Maximillian sounded like a moony moron that bore no resemblance to anyone he knew, and Rosemont was bound to be perfectly awful. He'd probably break the china and piss in a corner before it was all done.

As miserable as Charles has been since he served in the army, he accepts the challenge. For Louisa is irresistible herself:

"I suppose I'm a bit nervous about going home," Louisa said, surprising him. "I haven't seen my family in over a year. And it's absolutely essential you understand the role you are to play. I thought we just might brush up on the details we discussed with Mrs. Evensong."

"Rembrandt. Louvre. You were the most beautiful girl I'd ever seen."

Her golden brows knit. "I'm sure I never told you to say that."

"It's my own invention. You want Max to be your devoted dog, don't you?"

"Not at all! I would never want a man who could be led around on a leash. Maximillian is much too much of a man to allow me to dominate."

Charles flashed back to his mental image of a near-naked Louisa, her creamy flesh encased by a rigid corset. Bound. Helpless. Perhaps with a gag over those lovely ever-mobile lips. He shifted in discomfort on the seat. What the hell was she doing to him?
It was so much fun to orchestrate the push and pull between Charles and Louisa. They are perfect for each other despite their disparate backgrounds and experiences. It only took one little white lie to start it all.
In the Arms of the Heiress by Maggie Robinson


Book #1 in the Ladies Unlaced series

It's all fun and games until someone falls in love…

Independent heiress Louisa Stratton is going home to Rosemont for the holidays, and at the family's request, she's bringing her new husband—Maximillian Norwich, art connoisseur and artful lover, the man she's written of so glowingly. There's one hitch—he doesn't exist. Louisa needs a fake husband, and fast, to make the proper impression.

Charles Cooper, a captain in the Second Boer War and far from silver spoons or gilded cages, is so hard up that even this crazy scheme appeals to him. It's only thirty days, not till death do them part. What's so difficult about impersonating a husband, even if he doesn't know a Rembrandt from a Rousseau?

The true difficulty is keeping his hands off Louisa once there's nobody around to see their ruse. And then there's the small problem of someone at Rosemont trying to kill him. Keeping his wits about him and protecting Louisa brings out the honor he thought he'd left on the battlefield. But when Louisa tries to protect him, Charles knows he's found a way to face his future—in the arms of his heiress.

Buy at Amazon – Kindle – Book Depository
Maggie Robinson is a former teacher, library clerk and mother of four who woke up in the middle of the night, absolutely compelled to create the perfect man and use as many adverbs as possible doing so. A transplanted New Yorker, she lives with her not-quite perfect husband in Maine, where the cold winters are ideal for staying inside and writing hot historical romances.
~~~~~~~~~~~~~~~~~~~~~~~~~~~~~~~~~~~~~~~~
~*~*Giveaway*~*~
Maggie has generously offered to give away a copy of In the Arms of the Heiress or any other book from her backlist to one lucky commenter!
All you have to do is leave a comment and tell us:
Are you a fan of the faked engagement/ marriage trope? Why do you like/dislike it?
(You can read our full giveaway policy here)
Please be sure to include a valid email address in the comment form (need not be in the actual body of the comment).
This giveaway is open to all!
Giveaway ends on Saturday, 20 July 2013; we will announce the winner on Sunday.
Good luck!