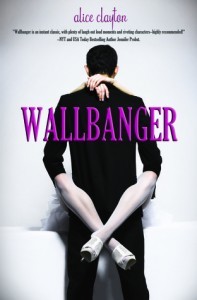 Format read: ebook
Series: N/A
Genre: Contemporary Romance, Humour
Release Date: Nov. 27, 2012
Number of pages: 320 pages
Publisher: Omnific Publishing
Formats available: ebook, paperback, audiobook, Kindle
Purchasing Info: Amazon | B&N | Kobo | Book Depository US | Book Depository (UK)
Caroline Reynolds has a fantastic new apartment in San Francisco, a KitchenAid mixer, and no O (and we're not talking Oprah here, folks). She has a flourishing design career, an office overlooking the bay, a killer zucchini bread recipe, and no O. She has Clive (the best cat ever), great friends, a great rack, and no O.

Adding insult to O-less, since her move, she has an oversexed neighbor with the loudest late-night wallbanging she's ever heard. Each moan, spank, and–was that a meow?–punctuates the fact that not only is she losing sleep, she still has, yep, you guessed it, no O.

Enter Simon Parker. (No, really, Simon, please enter.) When the wallbanging threatens to literally bounce her out of bed, Caroline, clad in sexual frustration and a pink baby-doll nightie, confronts her heard-but-never-seen neighbor. Their late-night hallway encounter has, well, mixed results. Ahem. With walls this thin, the tension's gonna be thick…

In her third novel, Alice Clayton returns to dish her trademark mix of silly and steamy. Banter, barbs, and strutting pussycats, plus the sexiest apple pie ever made, are dunked in a hot tub and set against the gorgeous San Francisco skyline in this hot and hilarious tale of exasperation at first sight.
My Thoughts:
If I were to give this book a deep critical review, I might talk about its moments of repetitiveness or that it sometimes had the feel of a New Adult title rather than an actual adult story because of the immature actions of the characters. Instead, as you'll eventually see by the rating I gave it, I managed to (mostly) suspend any critique in favour of another criteria: fun. This book was an unabashed ride of sexual tension and silly goodness.
Carolyn's search for her missing O was epic and frustrating for both her and the reader. Bring on her interactions with Simon, who miraculously had so much in common with her, it set the scene for the inevitable though it was, at one point, beginning to look like the inevitable was never going to happen. What was refreshing about Carolyn's character, as well as most of the others, was their openness about sex and all of its intricacies. There was a point where I though, Oh my! here comes a group scene, but no, it didn't go there.
Simon was such a great love match…for anyone really…but he was a lovely contrast for Carolyn. His reactions to her cooking were hilarious, though consistent with those immature elements I mentioned before. There was a little depth where his character was concerned, but for the most part Wallbanger was just a pure guilty pleasure.
The beginning of the story really snagged me in. By the end though, my interest had begun to wane, in part because of the length of time it took for things to happen with the main characters, but also as a result of the cheesiness in the book which had started to grate on me. Despite this, I still think it was a fun read overall and offered me the levity I was desperately looking for after a few months of scholastic reading.
I give  Wallbanger 3 1/2 stars!
***FTC Disclaimer: Most books reviewed on this site have been provided free of charge by the publisher, author or publicist. Some books we have purchased with our own money and will be noted as such. Any links to places to purchase books are provided as a convenience, and do not serve as an endorsement by this blog. All reviews are the true and honest opinion of the blogger reviewing the book. The method of acquiring the book does not have a bearing on the content of the review.