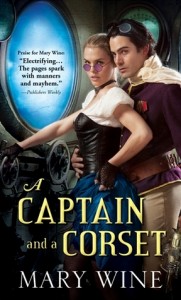 Format read: ebook provided by NetGalley
Series: Steam Guardians, #2
Genre: Steampunk Romance
Release Date: June 4, 2013
Number of pages: 317 pages
Publisher: Sourcebooks Casablanca
Formats available: ebook, mass market paperback
Purchasing Info: Author's website | Goodreads |Amazon | B&N | Kobo | Book Depository US | Book Depository (UK) | Publisher's Website
For Sophia Stevenson, there's no going back to the life she knew. She never asked for the powers that make her a precious commodity to the secret society of Illuminists—and their archenemies.

Captain Bion Donkova would give anything to possess the powers that have fallen in Sophia's lap. If only the beautiful, infuriating woman could stay out of trouble, he wouldn't have to keep coming to her rescue…

Bion and Sophia have friction to spare—and nothing fuels a forbidden passion better than danger…
My Thoughts:
I liked A Captain and a Corset a whole lot better than the first book in the series, A Lady Can Never Be Too Curious (reviewed at Reading Reality). Admittedly, that's a damn low bar to get over.
The characters in Captain were way more interesting than in Curious. Whatever we might think of all the Victorian rules regarding female behavior, having the heroine be a woman who believed in those rules and had been jerked out of her place against her will made Sophia Stevenson more interesting, especially since one of the rules of the Illuminist society she had perforce become part of at the end of Curious was that she couldn't contact her father for a year! Unlike the heroine of Curious, Sophia's father was a genuinely nice man, and a widower who both loved and depended on Sophia. She missed him and felt terrible that he had to think she was dead. Topping off this horrible situation, he lived across the bloody street!!!!
Sophia does obey the rules laid out for her. She may not like or agree with them, but she does participate in what she's supposed to do (unlike the heroine of Curious). Sophia gets kidnapped by the bad guys from her very own room while under guard.
Again, we do learn more about the evil dudes.  The Helikeians are basically Slytherins, if you'll pardon the Harry Potter cross-over reference. They believe that only the pure-blooded should be in charge. Everyone else should be ground under their aristocratic boot heels. And they despise the Illuminists because the Illuminists have this terribly egalitarian streak and accept anyone of talent. Of course, that same egalitarian streak is what makes Victorian society in general reject the Illuminists.
Then we have our hero, Bion Donkova. He's a bit of an enigma, but in a good way. Seemingly the tall, dark and dangerous type, but he's kind of a lone wolf. What makes him interesting is that we see that he's raised himself up through the Illuminist ranks by talent and willpower. He definitely started with nothing and has never forgotten it.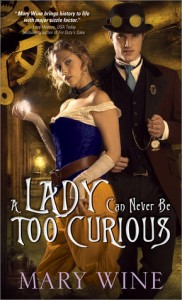 He and Sophia strike sparks from each other from the minute they meet in A Lady Can Never Be Too Curious, and the dynamic between them is one that is guaranteed to cause friction. Sophia accidentally received the talent that Bion has waited all of his life for. She absorbed the power of an exploding crystal rootball and has become an airship navigator. Her old life is over, but she can't go back, her eyes have permanently changed. She may not appreciate what's happened to her but she's stuck.
And Bion Donkova has made himself her trainer. Sophia can't tell whether he's so hard on her because that's how much he resents her, or whether he's just always that mean.
Then she gets kidnapped by sky pirates, and Sophia discovers that Bion didn't prepare her nearly well enough. But when he gets himself shanghaied in order to rescue her, she realizes what all those sparks between them really meant. And she doesn't resist any more.
The best thing is that in this story, they rescue each other. Unfortunately it takes them a couple of tries to get it right!
Verdict: If you enjoy steampunk, A Captain and A Corset is much more fun than A Lady Can Never Be Too Curious, and I don't think you need to read that one first. I kind of hope you don't.
Sophia and Bion were better rounded characters than the hero and heroine in the first book. In this story, they kept making assumptions about each other, and were constantly surprised by how wrong they both were. They grew towards each other, especially as Sophia let go of her Victorian restrictions.
Bion assumes that because Sophia is a "lady" that she can't take care of herself. Sophia assumes that because Bion is cold to her that he doesn't like her, and that he doesn't have any manners at all. They learn a LOT about each other when they are forced to rely only on each other. And that's when the romance in this steampunk romance really builds up a head of steam!

I give  A Captain and A Corset by Mary Wine 4 crystal stars!
***FTC Disclaimer: Most books reviewed on this site have been provided free of charge by the publisher, author or publicist. Some books we have purchased with our own money and will be noted as such. Any links to places to purchase books are provided as a convenience, and do not serve as an endorsement by this blog. All reviews are the true and honest opinion of the blogger reviewing the book. The method of acquiring the book does not have a bearing on the content of the review.