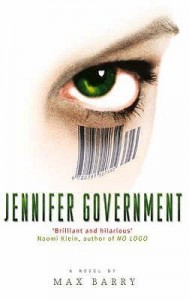 Format read: Paperback
Series: N/A
Genre: Science Fiction, dystopia
Release Date: February 5, 2004
Number of pages: 352 pages
Publisher: Abacus
Formats available: ebook, paperback, audio, hardcover
Purchasing Info: Goodreads, Author's Site, Book Depository, IndieBound.
Book Blurb:
Taxation has been abolished, the government has been privatized, and employees take the surname of the company they work for. It's a brave new corporate world, but you don't want to be caught without a platinum credit card–as lowly Merchandising Officer Hack Nike is about to find out. Trapped into building street cred for a new line of $2500 sneakers by shooting customers, Hack attracts the barcode-tattooed eye of the legendary Jennifer Government. A stressed-out single mom, corporate watchdog, and government agent who has to rustle up funding before she's allowed to fight crime, Jennifer Government is holding a closing down sale–and everything must go.

A wickedly satirical and outrageous thriller about globalization and marketing hype, Jennifer Government is the best novel in the world ever.
My Thoughts:
Sometimes when the Great Recession is oppressing you with the ever-rising cost of living, stagnant poverty-level wages, rampaging sexual harassment, misogynist health care policies, and general pending apocalyptic doom, the only route to sanity is to bask in the sheer absurdity of it all.
Then The Daily Show goes on a two week summer hiatus. Damnit!
It is for just such an situation that Max Barry penned his terrifyingly hilarious Jennifer Government. Set in a future in which Our Corporate Overlords have abandoned all pretense and outright taken over the world, a lone government agent stands firm against The Man and Fights For the People.
When they are willing to pay her to do so.
In this world You Are Your Job. You take the last name of the company you work for (kids, you will be named after whichever company owns the school you go to, and beholden to whatever product consumption levels said institution demands), and are expected to Embody the Principles of Your Owner Employer in all aspects of your life.
The plot kicks off with a scenario in which Marketing determines the best way to stir up interest in a new product is to have people quite literally die for it. By arranging random murder sprees at key openings. Hark! Children DIED for these shoes. BUY THEM FOR THE DEAD CHILDREN!!!! 
As you can imagine, it's actually a pretty damn effective maneuver. Scarily effective. Makes-you-vow-never-to-buy-on-release-day effective. Just in case.
This book is a quick, delightful read. The plot zips right along with characters from all walks of life bouncing off this Grand Master Marketing Scheme of murder and mayhem in a hilariously described world that isn't too absurd to be believable.
Well, almost not too absurd. There is one glaring characterization flaw that nearly stopped me from finishing the book.
Hypothetical situation for all of you with Baby Book Lovers. You are in a tight spot and need a last minute babysitter. Do you call:
A neighbor,
A teacher,
An ex,
A co-worker,
A friend,
A friend-of-your-child's-parents, or
Some clearly suicidal dude you just met today after he saw a child murdered in front of him?
Guess which option the titular Jennifer Government went with? I know this is supposed to be satirical, but, in the immortal words of Heather, "fuck me gently with a chainsaw." Satire loses its emotional punch once both the characters and the world they live in are unrecognizable.
Despite Max Barry's clear ignorance on the subject of single parenting (has the man never interacted with any sole custodians in the entirety of his existence?), Jennifer Government provided the daily dose of absurdity I needed while catching up on the news in Jon Stewart's absence.*
Accept the delicious, delicious brain candy, and imagine a school in which your education was dependent upon the appropriate purchase of McDonald's or Pepsi products. (I'm a Wendy's eating Coke drinker! I never would have graduated.) Don't look at anything too closely or it'll fall apart, and try to remember that our lovely Jennifer truly isn't The Worst Parent Ever. She doesn't punch babies or paint her daughter's bedroom with lead paint. She could be worse.
I give  Jennifer Government 3.5 stars!


You should read Jennifer Government if you thought Margaret Atwood's MaddAddam trilogy was just a little too heavy-handed, or find some of Terry Pratchett's work too intellectually stimulating on brain-dead days. No judgment here. We all have those days.
*Sorry non-USians for the blatantly U.S.-centric references. But it's in theme, because this really is one of those ridiculously U.S.-centric books. Even when in Austrialia. Which Max Barry is certain is just the U.S. with flipped around seasons. (Gasp! You go skiing in the summer in the southern hemisphere?! What kind of crazy magic is this?!)
***FTC Disclaimer: Most books reviewed on this site have been provided free of charge by the publisher, author or publicist. Some books we have purchased with our own money and will be noted as such. Any links to places to purchase books are provided as a convenience, and do not serve as an endorsement by this blog. All reviews are the true and honest opinion of the blogger reviewing the book. The method of acquiring the book does not have a bearing on the content of the review.