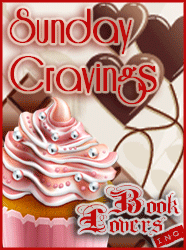 Holy shit, it's Sunday already? Where did my Saturday go?! Hell, where did my week go?
It is 28 degrees Fahrenheit as I type this, so in case there are any doubters out there….
 Which means it is clearly time to stock up on books! Before the road is closed for avalanche blasting, or the internet is down due to storms, or I have a psychotic break in the coming darkness. (Yes, the singular is correct. There is one road.) This week we're stockpiling….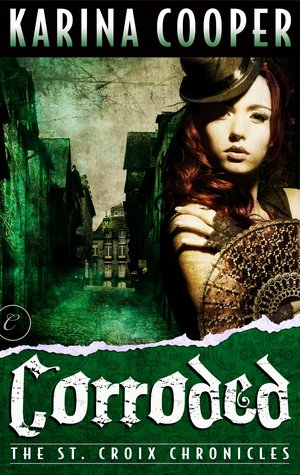 Marlene: Corroded (The St. Croix Chronicles, #3) by Karina Cooper.
My rival, a collector of bounties like myself, has murdered one of my own. In consequence, I have been removed from my house, my staff, and all who would support me. I have nowhere else to turn, so I beg asylum within the Midnight Menagerie, London's decadent pleasure garden.

Micajah Hawke's dominance there will not tolerate my presence for long. I am fixated on revenge, but I walk a razor's edge under his scrutiny His wicked power is not easily ignored, and I must not allow myself to submit—no matter how sweet the sacrifice.

Challenging my rival to a race is the only way to end this, no small task when the quarry is the murderous Jack the Ripper. As my enemies close in, I fear the consequences of this hunt. I am trapped between two killers, and what doesn't kill me may leave its scars forever.
I just finished Gilded yesterday, and my review of Tarnished will be up on BLI next week. I think I just figured out that the title of each book is a description of the condition of the metal that the heroine believes that her cage is made out of. She always believes she's caged in some way. This is an awesome series if you love dark steampunk with very flawed characters.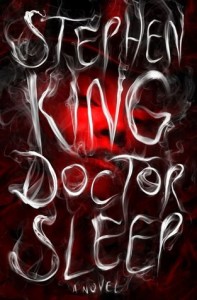 Cass: Doctor Sleep (The Shining #2) by Stephen King.
On highways across America, a tribe of people called The True Knot travel in search of sustenance. They look harmless—mostly old, lots of polyester, and married to their RVs. But as Dan Torrance knows, and spunky twelve-year-old Abra Stone learns, The True Knot are quasi-immortal, living off the "steam" that children with the "shining" produce when they are slowly tortured to death.

Haunted by the inhabitants of the Overlook Hotel where he spent one horrific childhood year, Dan has been drifting for decades, desperate to shed his father's legacy of despair, alcoholism, and violence. Finally, he settles in a New Hampshire town, an AA community that sustains him, and a job at a nursing home where his remnant "shining" power provides the crucial final comfort to the dying. Aided by a prescient cat, he becomes "Doctor Sleep."

Then Dan meets the evanescent Abra Stone, and it is her spectacular gift, the brightest shining ever seen, that reignites Dan's own demons and summons him to a battle for Abra's soul and survival. This is an epic war between good and evil, a gory, glorious story that will thrill the millions of devoted readers of The Shining and satisfy anyone new to the territory of this icon in the King canon.
Did you know that Stephen King hates the movie adaptation of The Shining for being so glaringly misogynistic? I love King's old works, but haven't really gotten into anything he wrote since I was burned by Desperation. But that awesome level of awareness? Well, that's luring me right back in. Also, The Shining was awesome. REDRUM.
Alisha: Can I just say, "sequel to The Shining say WHAAA?" Definitely didn't see that coming.
Cass: REDRUM! REDRUM! REDRUM!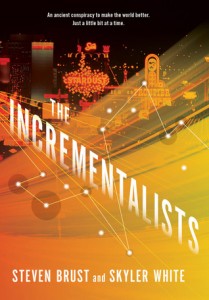 Marlene: The Incrementalists by Steven Brust & Skyler White.
The Incrementalists—a secret society of two hundred people with an unbroken lineage reaching back forty thousand years. They cheat death, share lives and memories, and communicate with one another across nations, races, and time. They have an epic history, an almost magical memory, and a very modest mission: to make the world better, just a little bit at a time. Their ongoing argument about how to do this is older than most of their individual memories.

Phil, whose personality has stayed stable through more incarnations than anyone else's, has loved Celeste—and argued with her—for most of the last four hundred years. But now Celeste, recently dead, embittered, and very unstable, has changed the rules—not incrementally, and not for the better. Now the heart of the group must gather in Las Vegas to save the Incrementalists, and maybe the world.
I love Steven Brust's Vlad Taltos series, although this is definitely nothing like those. I'm terribly curious about this, and he was great on panels at WorldCon.
Cass: You mean high, right? Dude appeared to be blatantly high every time I saw him.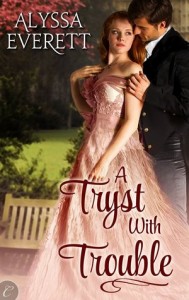 Stella: A Tryst with Trouble by Alyssa Everett.
London, 1820

Lady Barbara Jeffords is certain her little sister didn't murder the footman, no matter how it looks…and no matter what the Marquess of Beningbrough—Ben—might say. She can scarcely help it if his cousin is the only other suspect. In fact, she wants nothing to do with ruggedly handsome Ben; he reminds her of all the insensitive clods who passed her over.

For years Ben has been dogged by painful gossip about his father's rumored homosexuality. His gruff shell hides a passionate nature, and he's also fiercely loyal—which is why he'll never let the clever and beguiling Lady Barbara pin a murder on his cousin.

Sparks fly as the two compete to defend their loved ones. But as strange new clues emerge that neither can decipher alone, they have no choice but to compare notes and sleuth in tandem. A tenuous bond develops that soon faces its toughest challenge when Ben himself becomes a suspect…
Ever since I first read Ruined by Rumor by Alyssa Everett I have been a big fan of her writing and this new book of hers sounds delightful, can't wait to read it!! 😀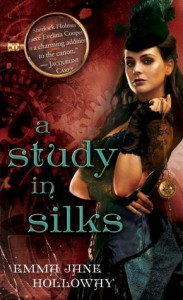 Marlene: A Study in Silks (The Baskerville Affair, #1) by Emma Jane Holloway.
Evelina Cooper, the niece of the great Sherlock Holmes, is poised to enjoy her first Season in London's high society. But there's a murderer to deal with—not to mention missing automatons, a sorcerer, and a talking mouse.

In a Victorian era ruled by a council of ruthless steam barons, mechanical power is the real monarch, and sorcery the demon enemy of the empire. Nevertheless, the most coveted weapon is magic that can run machines—something Evelina has secretly mastered. But rather than making her fortune, her special talents could mean death or an eternity as a guest of Her Majesty's secret laboratories. What's a polite young lady to do but mind her manners and pray she's never found out?

But then there's that murder. As Sherlock's niece, Evelina should be able to find the answers, but she has a lot to learn. And the first decision she has to make is whether to trust the handsome, clever rake who makes her breath come faster, or the dashing trick rider who would dare anything for her if she would only just ask.
Yet another Sherlock Holmes variation, which makes it catnip as far as my TBR pile is concerned. In this steampunk version, it's Holmes' niece playing the detective, although she seems to be having some difficulty deciding who her "Watson" will be.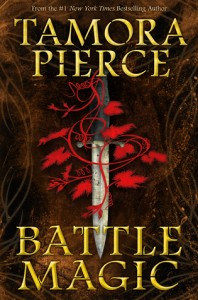 Cass: Battle Magic by Tamora Pierce.
On their way to the first Circle temple in Gyongxi, mages Briar, Rosethorn, and Evvy pay a visit to the emperor's summer palace. Although treated like royalty when they first arrive, the mages soon discover that the emperor plans to invade Gyongxi, posing a fatal threat to the home temple of the Living Circle religion.

Accompanied by one of the emperor's prize captives, the three mages rush to Gyongxi to warn its citizens of the impending attack. With the imperials hot on their trail, Briar, Rosethorn, and Evvy must quickly help the country prepare for battle. But even with the help of new allies, will their combined forces be enough to fight the imperial army and win the war?
A new Tamora Piece? New Tamora Pierce?! New Tamora Pierce!!!!!!!!!!!!!!!!!!!!!!!!!!!!!!
Marlene: Seconded. I love Tamora Pierce.
Okay, that's it. Marlene has more (she always does), but I am just too cold to go on. (Did I mention my landlord decided that we just desperately need fucking AIR CONDITIONING and has thus UNINSTALLED the HEAT to assist with this batshit crazy plan?!) What books are you stockpiling for the winter? And which would you recommend I use to brazenly assault the maniac who took away my heat?