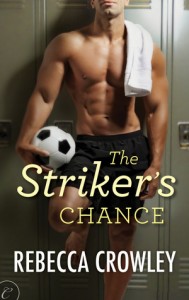 Format read: ebook provided by NetGalley
Genre: Contemporary Romance, Sports Romance
Release Date: September 2, 2013
Number of pages: 149 pages
Publisher: Carina Press
Formats available: ebook, audiobook
Purchasing Info: Author's Website | Goodreads | Amazon | B&N | Kobo | Publisher's Website
Landing the PR contract for North Carolina's new soccer team could take Holly Taylor's career to the next level. Her task? Make Kepler "Killer" de Klerk, an athlete with a party-hard reputation, a star. But revamping the sexy footballer's image while battling her unwanted attraction to him is easier said than done.

The car accident that derailed Kepler's European career also gave him some much-needed perspective. He's ready to give up on fame and focus on the game he loves. The last thing he needs is a headstrong brunette pushing him back into the spotlight, even if butting heads with her is the most fun he's had in ages.

The more time Holly spends with Kepler, the more she sees how different he is from his tabloid persona. But when she's offered her dream job for a price, she finds herself torn between the career she's spent years building and the man she doesn't want to give up.
My Thoughts:
A sports romance set in North Carolina about soccer instead of NASCAR. What a surprise!
Hey, a sports romance set in the U.S. about soccer instead of football. An even bigger surprise!
On the other hand, because the book is about soccer instead of football, or any other sport that USians are familiar with, the title kind of lays an egg. On the other hand, the cover, while featuring yet another infamous headless torso, represents an event that takes place in the story. (Also looks yummy.)
About the story…
This is a contemporary romance about a female sports PR specialist who has to make a silk purse out of a sow's ear. Not exactly, but close enough. It's not that "Killer" de Klerk isn't pretty enough (back to that cover picture again) but his off the field reputation is "party all the time" and the "Killer" nickname sums up his on the field rep.
His off the field antics ended in an automobile accident that nearly ended his career and got him kicked off his old team and out of Europe. The new team in North Carolina is his last chance to play the game he loves before either time or the accumulation of injuries bring his career to a close.
Holly Taylor's brilliant idea is to turn Killer back into Kepler de Klerk. To make him a bit more family friendly, but mostly to showcase him as a leader and integrate him into the team and the community.
Kepler finds himself making a home in Charlotte, and a place for himself with his new team. He's the star, but it's his experience that proves a genuine treasure, as he teaches the young team not just how to play, but also how to win.
And while he makes himself at home in Charlotte, he gets to spend more time with Holly, who proves to be the most compelling reason to love his new team. While Kepler starts to feel like he might have finally found a place where he belongs, the team's owners have other plans–plans that Holly can't share with him.
No matter what she feels about those plans. No matter what she might feel for him.
Verdict: This is a solid contemporary sports romance. It doesn't break any new ground, except maybe for the hero being a soccer player instead of something more usual for an American audience. Also, it's interesting that Kepler is South African and not from one of the more typical European countries for a non-US background.
While the chemistry in this romance wasn't off-the-charts, it was definitely there from the beginning, and in a very plausible way. I actually liked that things developed naturally and we didn't get treated to unrealistic insta-anything.
The development of Kepler's character, from someone who was used to getting things handed to him and didn't want to be there, to someone who became a real leader and coach, was well done.
One of the things I liked about Holly was that she was unapologetically devoted to her career. She understood herself and that she put her career first. She'd sacrificed some relationships to that and it was something she understood about herself. Men do this all the time, in romance novels and in life, and it was great to see a woman do the same thing.
The one thing that detracted from the story was the big misunderstandammit. It made sense that Holly would hold off on a relationship with Kepler because getting involved with a client was definitely a conflict of interest. But the whole underhanded business with the team owners seemed very contrived as a way of creating tension.

I give  The Striker's Chance by Rebecca Crowley 3 and ½ stars!
***FTC Disclaimer: Most books reviewed on this site have been provided free of charge by the publisher, author or publicist. Some books we have purchased with our own money and will be noted as such. Any links to places to purchase books are provided as a convenience, and do not serve as an endorsement by this blog. All reviews are the true and honest opinion of the blogger reviewing the book. The method of acquiring the book does not have a bearing on the content of the review.