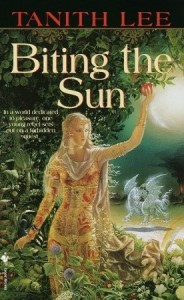 Format read: Paperback.
Genre: Science Fiction, Dystopian Utopia.
Release Date: October 5, 1999.
Number of pages: 384 pages.
Publisher: Spectra.
Formats available: Paperback.
Purchasing Info: Goodreads, Amazon, IndieBound, BetterWorldBooks.
Book Blurb:
In a world dedicated to pleasure, one young rebel sets out on a forbidden quest–.

Published for the first time in a single volume, Tanith Lee's duet of novels set in a hedonistic Utopia are as riveting and revolutionary as they were when they first appeared two decades ago.

It's a perfect existence, a world in which no pleasure is off-limits, no risk is too dangerous, and no responsibilities can cramp your style. Not if you're Jang: a caste of libertine teenagers in the city of Four BEE. But when you're expected to make trouble–when you can kill yourself on a whim and return in another body, when you're encouraged to change genders at will and experience whatever you desire–you've got no reason to rebel…until making love and raising hell, daring death and running wild just leave you cold and empty.

Ravenous for true adventures of the mind and body, desperate to find some meaning, one restless spirit finally bucks the system–and by shattering the rules, strikes at the very heart of a soulless society….
My Thoughts: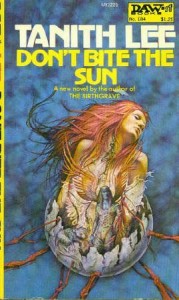 Biting the Sun was originally published as two novels: Don't Bite the Sun (circa 1976) and Drinking Sapphire Wine (circa 1980). Take a moment to admire the superiority of the re-released cover art's futuristic Garden of Eden vibe. Except here, Eve is more serpent than mother – and Adam steals a fucking android dragon! That's right Book Lovers. The glittering dragon on the cover is featured in the romantic arc of this story.
Then we have the original covers. First, the seventies gift us with a diarrheic egg hatching some orgasmic hippie chick, a winged-dude, and a rodent that is clearly in the process of neutering said bird-man by eating his junk. Then the sequel highlights Tits-McGee meditating outside her spaceship while The Last Centurion contemplates cutting her in half. Possibly for looking the other way while that rat ate his balls.
No. Just no.
In this cover art smackdown, the nineties emerge victorious.
But we can't judge this book by its cover. Even if it is an amazing representation of the overarching themes of the novel (not to mention full of spoilers).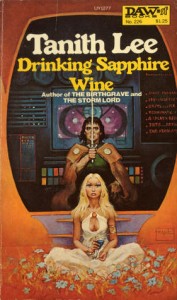 Biting the Sun is an adult spin on the robot-controlled future recently depicted by Pixar in Wall-E. Rather than our Robot Overlords turning humanity into mindless balls of blubber, the Ruling Robots of these futuristic cities mandate hedonism. Get drunk, steal a plane, and die in a fiery wreck? No problem. We'll just download you into some nice new flesh. Designed to your specifications.
My friend Hergel had killed himself again. This was the fortieth time he had crashed his bird-plane onto the Zeefahr Monument and had to have a new body made. And when I went to visit him at Limbo, I was wondering around for ages before the robot found him for me. He was dark this time, about a foot taller, with very long hair and a mustache, all glittery gold fibers, and these silly wings growing out of his shoulders and ankles. .
It's a world utterly without consequence, and consequently without meaning. Humanity has used technology to embrace all of our most self-destructive impulses, in perpetuity. No work, all play, all utterly repugnant.
Our nameless heroine was born to a set of "kinky" parents (in that they had a long-term relationship), and unintentionally starts a revolution when she begins rebelling against the robot-regimented societal expectations that she binge, party, and fuck her way through the next couple centuries.
There is even enough romance and (mostly implicit) sex to please Caro Romance Readers. Build-Your-Own-Body = a whole host of bizarre hook-ups and romantic drama. And I ship the shit out of any relationship that involves dragon stealing. Just saying.
The horror of this Dystopian Utopia is deftly conveyed with a skill the rash of futuristic YA tripe could only hope to imitate. Tanith Lee is a brilliant writer, creating a world vastly different from our own, and yet still recognizable, if only through the perpetual self-involvment of teenagers.
I give  Biting the Sun 4 stars!


You should read Biting the Sun, if you loved the idea of a humanity succumbing to laziness in Wall-E, but hated the fat-shaming bullshit. Or if you keep wanting to enjoy the series churned out by Kiera Cass, Lauren Oliver, Lauren DeStefano, and Veronica Roth – but can't swallow the crappy writing, lazy characterizations, weak-worldbuilding, and so-called romances.
***FTC Disclaimer: Most books reviewed on this site have been provided free of charge by the publisher, author or publicist. Some books we have purchased with our own money and will be noted as such. Any links to places to purchase books are provided as a convenience, and do not serve as an endorsement by this blog. All reviews are the true and honest opinion of the blogger reviewing the book. The method of acquiring the book does not have a bearing on the content of the review.