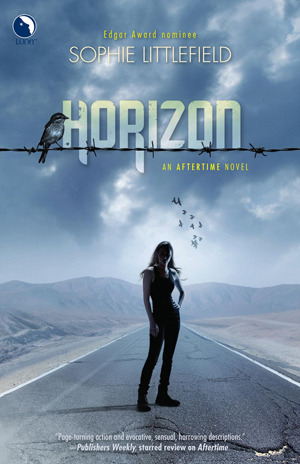 Format read: ebook (eARC and purchased final copy)
Publisher: Harlequin Luna
Genre: dystopian fantasy, romance elements
Number of pages: 400 pages
Publisher: Harlequin Luna
Formats available: trade paperback, ebook
Purchasing Info: Goodreads, Book Depository, Author's Website, Amazon, Barnes & Noble, Kobo
Blurb:
Aftertime Trilogy, Book #3

Cass Dollar is a survivor. She's overcome the meltdown of civilization, humans turned mindless cannibals, and the many evils of man.

But from beneath the devastated California landscape emerges a tendril of hope. A mysterious traveler arrives at New Eden with knowledge of a passageway North—a final escape from the increasingly cunning Beaters. Clutching this dream, Cass and many others decamp and follow him into the unknown.

Journeying down valleys and over barren hills, Cass must confront the worst of what's inside her—dark memories from when she was a Beater herself. But she, and all of the other survivors, will fight to the death for the promise of a new horizon…
My Thoughts: 
Okay, so first things first. There is …

5 Stars,featured,Review,Sophie Littlefield,The Needy Lover

21 Feb 2012

18 comments
Welcome to the 17th day of Book Lovers Inc Advent Calendar. Each day, we will offer you one great read in a giveaway on all 24 days till Christmas.
Usually, I like to read books that will be fun and dashing and all things sweet. But I'm also a sucker for a good 'n creepy dystopian tale, the farthest thing from hearts and stars. And author Sophie Littlefield had knocked me out with her (intense!!!) book Aftertime, which was released by Harlequin Luna in February 2011. The book is set in California after a majorly catastrophic event has wiped out society as we know it, leaving behind disenchanted human survivors and a whole lot of flesh eating zombies (called "Beaters"). That's right, I said the Z word, which seems to be all over the place these days. But what sets this story apart from many of its type …