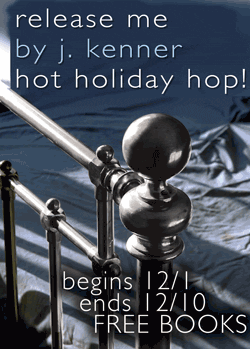 Welcome to the Hot Holiday Blog Hop!
Put on your Santa's hat, give Rudolph's nose a tweak and check out the fabulous prizes packed into the sleigh! *g*
Romance at Random blog is spearheading the hop which begins 12/1 and ends 12/10!
Giveaways sponsored by Random House & include:
Grand Prize $25 Gift Certificate to a retailer of your choice!
10 print copy winners of RELEASE ME, must be 18 or older! *US Only*
15 Net Galley Preview copies of RELEASE ME, must be 18 or older!
Participating Blogs:
Enter using the Rafflecopter widget beginning December 1st:
Thanks to all who participate and Good Luck!!!

Blog Hop,featured,Giveaways,The Danger Lover

30 Nov 2012

11 comments
Welcome to the Naughty & Nice holiday Hop! Grab a Candy cane,  Hop on and join the fun *g*  Here is your chance to win fabulous prizes.
Take a look at what Random House is offering  (must be 18 or older to participate):
· 15 Net Galley Preview copy winners of Naughty & Nice +
· 5 ABOUT LAST NIGHT paper giveaways (US only) +
· Grand Prize of $15 Gift Certificate to eRetailer of choice!!
BLI is also offering an additional prize (open internationally):
· 1 book (10$ top)  from Book Depository (Winner's choice)
Check the bottom of the post to see how to enter
Here's the list of all the places participating in the Hop!
To enter and win the Random House prizes just fill out the Rafflecopter form below: a Rafflecopter giveaway
~~~~~~~~~~~~~~~~~~~~~~~~~~~~~~~~~~~~~~~~~~~~~
BLI Giveaway

Blog Hop,featured,Giveaways,Promo,The HEA Lover

22 Oct 2012

40 comments