We are delighted to welcome Ruthie Knox to BLI today! Ruthie is here on the next stop in her Blog Tour to celebrate the release of her new contemporary romance Ride With Me which will be published in digital format on February 13th by Loverswept/Random House. Ride With Me is receiving many rave reviews (I can say it's a wonderful read!) including:
Jill Shalvis, New York Times best-selling author says: A fantastic, sexy, and fun book! Ruthie Knox's Ride with Me was a delight to read."
Ruthie is sharing her thoughts on…Well check it out! (It's an awesome fun post!)
Take it away Ruthie! Woot!
Everything You Ever Wanted To Know About Tent Sex But Were Afraid To Ask
Candles. Satin sheets. Jazz music. Penthouse suites. Champagne and strawberries. In a classic romantic seduction, the tuxedo-clad hero sweeps the gorgeous heroine into his arms, carries her to the bed, and overwhelms all five of her senses in an assault of sexification that she barely survives, so thoroughly does he rock her world.
And then there's my book. Which contains a lot of sex in tents.
What can I say? I've never been a fan of the conventionally romantic. The whole reason I write contemporary romance to begin with—as opposed to historical or paranormal or some such—is that I like romance stories with a bit of gritty realism to them. I'll admit that yes, okay, I'm not utterly immune to the appeal of those alpha-male Greek shipping magnates and manly sheiks who thunder across the desert wastes with their straining, ah, steeds between their legs. But all in all, I prefer characters who eat junk food and go bowling. Which means that when I decided to send the hero and heroine of Ride with Me on a bike trip across the United States, I inadvertently signed myself up to grapple with the realities of tent sex.
Here are a few things I learned along the ride.
(1) We're Going to Need a Bigger Tent.
Yeah. Have you ever been shopping for tents? A "one-man" tent is approximately the size of a loaf of bread. At five-foot-four, I can sit up in a one-man tent, but my six-foot-tall husband can't. There's nowhere to put your luggage, or your feet, or your spare oxygen. If someone told me they'd managed to have sex in a one-man tent without spraining something, I'd be very impressed, but not envious. (Incidentally, Serenity Woods's novel White-Hot Christmas has a hilarious and somehow also very hot sex scene that takes place in a teensy little tent. The tent is the only thing that's, um, teensy.) So the first order of business was to make my hero, Tom, be the sort of guy who didn't care enough about how much weight he was hauling on his bike to put up with the inconvenience of sleeping in a small tent. Tom has what they call a "four-man" tent, which is big enough for two people to sleep comfortably—and also to get it on in any number of positions without risk of personal injury.
(2) Location, Location, Location.
Variety is the spice of life! People who ride across the country usually camp, but they don't always. Sometimes, they stay in hotels. That meant I could send my characters to knock boots wherever the heck I wanted. I gave them a night in a swanky hotel in Steamboat Springs, Colorado, and another night at a seedy little motor court along Route 66, just for kicks.
(3) There's Nowhere to Have Public Sex in Kansas.
A cross-country bike trip offers endless scenic vistas and a limitless quantity of outdoor features to stage sex scenes beside. River banks with weeping willow trees: yes, please! Haystack in a rainstorm: check. But when my characters descended from the Rockies and began to cross Kansas, I had to rein myself in. I've driven through Kansas. There is nowhere—nowhere—to have public sex along the roadside in Kansas. Even the ditches aren't deep enough, had my characters been desperate enough to get it on in a ditch. Poor Tom and Lexie. They just had to restrain themselves until they made it to the next campsite. Or find a tool shed to break into. . . I'll let you guess which way I wrote it. Or you could buy the book and find out.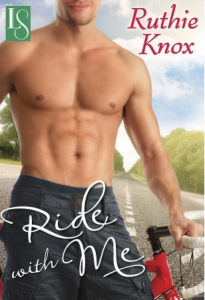 Length: 216 Pages
Genre: Contemporary Romance
Release Date: February 13, 2012
Publisher: Random House / Loveswept
Formats Available: eBook, Kindle, Nook
Purchasing Info: Publisher, Author's Website, Goodreads, Kindle, Nook
Book Blurb:
In this fun, scorching-hot eBook original romance by Ruthie Knox, a cross-country bike adventure takes a detour into unexplored passion. As readers will discover, Ride with Me is not about the bike!

When Lexie Marshall places an ad for a cycling companion, she hopes to find someone friendly and fun to cross the TransAmerica Trail with. Instead, she gets Tom Geiger — a lean, sexy loner whose bad attitude threatens to spoil the adventure she's spent years planning.

Roped into the cycling equivalent of a blind date by his sister, Tom doesn't want to ride with a chatty, go-by-the-map kind of woman, and he certainly doesn't want to want her. Too bad the sight of Lexie with a bike between her thighs really turns his crank.

Even Tom's stubborn determination to keep Lexie at a distance can't stop a kiss from leading to endless nights of hotter-than-hot sex. But when the wild ride ends, where will they go next?
About Ruthie:
Ruthie Knox figured out how to walk and read at the same time in the second grade, and she hasn't looked up since. She spent her formative years hiding romance novels in her bedroom closet to avoid the merciless teasing of her brothers and imagining scenarios in which someone who looked remarkably like Daniel Day Lewis recognized her well-hidden sex appeal and rescued her from middle-class Midwestern obscurity. After graduating from Grinnell College with an English and history double major, she earned a Ph.D. in modern British history that she's put to remarkably little use.
These days, she writes contemporary romance in which witty, down-to- earth characters find each other irresistible in their pajamas, though she freely admits this has yet to happen to her. Perhaps she needs more exciting pajamas. Ruthie abhors an epilogue and insists a decent romance requires at least three good sex scenes.
Where to find Ruthie:
Website
Twitter
Facebook
Goodreads
Question: Do you enjoy romance novels written in an outdoor setting? If so, why or why not?
~~~~~~~~~~~~~~~~~~~~~~~~~~~~~~~~~~~~~~~~
~*~*Giveaway*~*~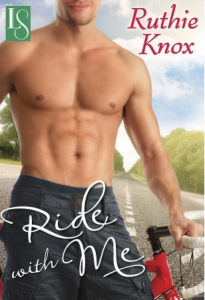 Random House Publishing has generously offered a digital copy of Ride with Me for one lucky winner. The winner will pick up their copy through Net Galley
All you have to do is answer the question noted above or leave a meaningful question for Ruthie!
(You can read our full giveaway policy here)
Please leave us a way to contact you.
(Email in blogger profile or twitter name – no way to contact you – no entry).
This Giveaway is open Internationally!
Giveaway ends on Saturday, February 18, 2012; and we will announce the winner on Sunday.
Good luck!