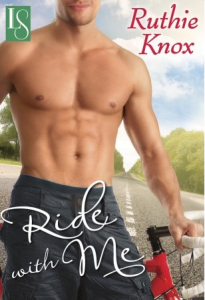 Format Read: e-book provided courtesy of Publisher for Review
Length: 216 Pages
Genre: Contemporary Romance
Release Date: February 13, 2012
Publisher: Random House / Loveswept
Formats Available: eBook, Kindle, Nook
Purchasing Info: Publisher, Author's Website, Goodreads, Kindle, Nook
Book Blurb:
In this fun, scorching-hot eBook original romance by Ruthie Knox, a cross-country bike adventure takes a detour into unexplored passion. As readers will discover, Ride with Me is not about the bike!

When Lexie Marshall places an ad for a cycling companion, she hopes to find someone friendly and fun to cross the TransAmerica Trail with. Instead, she gets Tom Geiger — a lean, sexy loner whose bad attitude threatens to spoil the adventure she's spent years planning.

Roped into the cycling equivalent of a blind date by his sister, Tom doesn't want to ride with a chatty, go-by-the-map kind of woman, and he certainly doesn't want to want her. Too bad the sight of Lexie with a bike between her thighs really turns his crank.

Even Tom's stubborn determination to keep Lexie at a distance can't stop a kiss from leading to endless nights of hotter-than-hot sex. But when the wild ride ends, where will they go next?
My Thoughts:
It all started with an Adventure Cycling ad for a companion looking for a grand adventure while cycling the 4262 mile Trans America Trail. Tom's meddling sister Taryn, pretends to be him, answers the ad and arranges for her brother to be the needy companion's bike buddy. Yes, Tom planned to cycle the trail over the summer. Alone. Tom is a non-repentant antisocial creature and wants to spend a few months cycling from Astoria, Oregon, to Yorktown, Virginia, in solitude. He doesn't want a buddy. He doesn't do buddies. Taryn, however is having none of it.
"Please, Tom. You can't ride your bicycle across the country alone. It's insane. You'll end up being slaughtered by a serial killer."

"Taryn, I'm thirty-five, single, tattooed, and antisocial. I'm the serial killer."

"Okay, point taken. But you could get hit by a car and bleed to death by the side of the road."

"How would riding with another person prevent that?"

"It wouldn't, but he could call me on his cell phone so you could tell me you love me with your dying breath."

Ride With Me © Ruthie Knox
Tom isn't a serial killer. He is actually an honorable guy with a conscience who made difficult choices, did the right thing and ended up estranged from most of his family for the past six years. Hence he prefers his own company, but Tom finds himself on the beach with his bike and gear at 6 am the following morning waiting to meet Alex Marshall, the guy his sister has arranged to be his unwanted bike buddy. The plan is to unload Alex at the first opportunity because Tom already hates the guy. The thing is, Alex is Alexandra "Lexie" Marshall and she is all perky and excited to be embarking on a 4 month cycling adventure, with Tom who tells the very pretty Lexie that their traveling together is a bad idea.
Tom Geiger, isn't at all what Lexie imagined, she was prepared to have to deal with some shock regarding her gender as she wasn't exactly forthcoming about the fact she had breasts during the months of correspondence with Tom. What she wasn't expecting was for him to be hostile, not to mention weird with no communication skills. Tom is young, handsome and fit and Lexie isn't keen to travel alone, so she digs in and sets up negotiations with her monosyllabic soon-to-be cycling partner. Tom then explains that it was his sister, not him that made the arrangements and he planned to travel solo. Lexie is tenacious and after an intense exchange during which she manufactures a husband, Tom relents and agrees to bike with her. He still plans to dump her with another more compatible partner sooner rather than later. Famous last words.
The juxtaposition author Ruthie Knox establishes between Tom and Lexie is wonderful. He is a seasoned cyclist who wears khaki's and rides an older well used and loved bike. A crusty introvert who works as a bike mechanic in a shop, Tom does not suffer fools gladly and isn't afraid to say so. He really does like repelling people. lol Lexie has trained for this adventure and has a brand new bike with an abundance of high-tech gadgetry. An affable extrovert, she works as a teacher and loves chatting up cyclists and listening to their war stories regarding times on the road. Lexie also has a set itinerary all mapped out for the trek and has no intention of deviating from it. Tom has plans to cycle off the beaten trail, go where the wind takes him so to speak, alone. lol As we know opposites attract and Knox writes a narrative with high-octane sexual chemistry.
As the days go on and the miles fly by, Lexie slowly comes to realize that Tom isn't at all what he seems. Still waters run deep as they say and while Tom's tend to be quite choppy (Lexie is often frustrated by his variable moods) he proves to be extremely intelligent and worldly. Along with the outdoors and cycling they share a love for Thoreau's Walden. There are a number of touching scenes in this story but one in particular where the couple discuss their views of Walden, while cycling up a steep precipice was very memorable. Tom relates the way he currently lives his life to the themes explored in Thoreau's classic novel.
Ride with Me takes readers on fast-paced across country cycling adventure that offers vivid descriptions of beautiful landscapes, stops at out-of-the-way charming towns and places to eat. Knox brings these touring cyclists to life, giving readers a realistic view of what it's like to live outdoors for weeks with only a bike as transportation. As a person whose idea of roughing it is a stay at the Holiday Inn, the whole camping thing? *shivers* LOL But Lexie and Tom find ways to stay warm at night. *waggles brows*
As it turns out, hero Tom is a complex man who carries significant emotional baggage. He has a number of  issues to work through related to his family, and is a casualty of a failed marriage. Lexie is jaded secondary to a very unhappy outcome of a  previous serious relationship.  Knox created endearing characters who I wanted to see happy and together at the end of the story.
Ruthie Knox is fun, and darn witty! Humorous sarcastic dialogue and introspection added many laugh out loud moments to a read that I enjoyed in one sitting. Do these two competitive cyclists get a second chance at love? Well, I will say Ride with Me doesn't disappoint. 😉
If you enjoy a unique well crafted contemporary sexy sports themed romance, you may like to give Ride with Me a try.

I give Ride With Me 4 Stars
***FTC Disclaimer: Most books reviewed on this site have been provided free of charge by the publisher, author or publicist. Some books we have purchased with our own money and will be noted as such. Any links to places to purchase books are provided as a convenience, and do not serve as an endorsement by this blog. All reviews are the true and honest opinion of the blogger reviewing the book. The method of acquiring the book does not have a bearing on the content of the review.