Today we are very excited to welcome author Tessa Bailey in celebration of her debut release with Entangled Publishing, Protecting What's His. Tessa stops by today to tell us all about her debut title and to answer a couple of our questions. Protecting What's His is a sexy and sweet story about a woman who stops at nothing to protect those she cares for and a man who will show her just how sexy law enforcement can really be 🙂 Like always, don't forget to check at the end of the post for our contest details.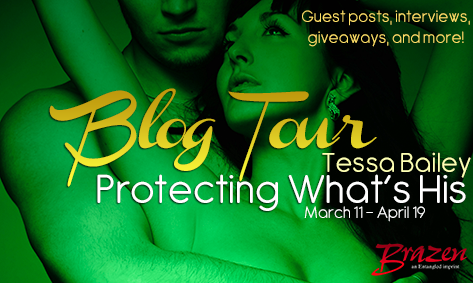 Stella: Hi Tessa, welcome to Book Lovers Inc! Can you please tell us a bit about yourself?
Tessa: Sure! Thank you for having me! I am a 29-year Brooklynite. I drove to New York from San Diego the day after high school graduation and never looked back. I have a lovely husband with an adorable Irish accent and a 20-month old daughter.
Stella: Are you a planner or pantser? Can you tell us a bit about your writing process? How do your novels come to life?
Tessa: I'm a pantser, but I'm working on becoming a planner. I let my characters make too many decisions and then find myself backtracking (really, it's all their fault). My process is changing with each project, but I usually start by creating my characters – I really need to "like" my heroine and understand her motivation before I can begin plotting. It's something I realized recently. I can't write a heroine who annoys me. She can make a few bad decisions, but she can't overdo the snark or I'll kill her off. Anyway, once I "get" my heroine and where she came from, I then create the guy who is going to knock her on her butt.
Stella: What do you think is the difference between a reader and a real Book Lover?
Tessa: Real book lovers have a hard time moving on once a book is finished. There are people who say "that was a great book" and then there are book lovers who can basically remember every detail, every line…they really take it to heart.
Stella: Your debut novel, Protecting What's His, the first book in the Line of Duty series was published in Entangled's Brazen line, congratulations! Can you tell our readers what they can expect of the series and especially Protecting What's His?
Tessa: Thank you! Protecting What's His is the story of Ginger, a country bombshell from Nashville who has been busting her butt behind a bar for years to provide for her sister, Willa. She comes home one night to find her stripper/junkie mother passed out on their couch, clutching fifty-thousand dollars. She takes it. They go on the run to Chicago where they move in next door to sharp, sexy homicide cop who is determined to find out Ginger's secret and get her into his bed. And as far as he's concerned, possession is nine-tenths of the law (titillating line!). I've written the next two instalments of this series, the first of which takes us to New York 🙂
Stella: Could you introduce the hero and heroine of Protecting What's His to us? 
Tessa:
Name: Lieutenant Derek Tyler

Name: Ginger Peet

Age: 30

Age: 23

Eyes: Green

Eyes: Hazel

Height: 6'2"

Height: 5'6" in my cowboy boots

Hair Color: Brown

Hair Color: Chestnuty…depends on the lighting

Occupation: Lieutenant of Homicide, Chicago PD

Occupation: Bartender

Favorite Book: The Art of War by Sun Tzu

Favorite Book: My checkbook

Favorite Music: I prefer silence

Favorite Music: Loud, hot country!

Favorite Movie: Dirty Harry

Favorite Movie: Thelma and Louise

Weaknesses: N/A

Weaknesses: Good tippers 😉

What makes you happy? Solving a homicide

What makes you happy? My little sister, Willa

Ever Been in Love? God, no

Ever been in love? Sure! I'm in love with a pair

of boots right now.

Secret to a happy life? Define happiness

Secret to a happy life: Not answering to anyone

Philosophy: Protect and Serve

Philosophy: "We cannot direct the wind, but we

can adjust the sails" – Dolly Parton
Stella: If Protecting What's His were to be made into a movie, who would be your perfect cast?
Tessa: I came across this actress, Shelley Hennig in a recent episode of Justified that I think would make a perfect Ginger. Derek is more difficult, because I have an idea of him in my head that I can't shake. I'd love Stephen Amell from Arrow would be great choice, though. As for Willa, I would look for a young Kat Dennings-type.
Stella: Was there a scene in Protecting What's His that is a memorable to you, either because it is a favourite scene of yours or because it was difficult, challenging to write?
Tessa: The last scene in the book (in the motel room) was a hard scene to write. I don't want to give anything away, but they've hurt each other and it takes some work to make it right.
Stella: Can you share with us a behind the scenes secrets about Protecting What's His? 
Tessa: In the original manuscript, I had a whole separate storyline for Willa and Evan, from their POVs and everything. My editor (correctly) didn't think a seventeen year old's point of view was appropriate for an erotic romance. Ha! She was so right – but they really had a sweet high school romance story and Willa is a great character.
Stella: Now can you tell us 3 reasons why people should read Protecting What's His?
Tessa: 1.) Derek. He is the ultimate possessive alpha male and he never wavers in his pursuit of Ginger. 2.) Ginger and Willa's relationship, which is complicated, funny and original. 3.) The giant Dolly Parton statue. You'll have to read to find out.
Stella: Could you please summarize Protecting What's His for us Twitter-style (in 140 characters or less)?
Tessa: Boldly sexy Nashville girl meets hot, dominating, dirty-mouthed homicide lieutenant. Fireworks.
Stella: How many books are you planning on having in the Line of Duty series? And who will be their heroes/heroines? Anyone we got to meet in Protecting What's His?
Tessa: There is a connection between PWH and the next in the series, but you haven't met any of the characters. We're moving the series to New York where a whole new batch of guy friends will be brought to their knees by some seriously awesome ladies. I *think* the next one you'll see is about a lady pool hustler who catches the eye of a cop, recently transferred from Chicago.
Stella: What is your favourite part of a romance novel to read or write? The beginning, the first meeting, first kiss, getting to know each other, first love scene, big fight, HEA, or something else?
Tessa: The first time they meet each other is usually my favorite scene to write. I don't like to plan that conversation out – I start it off and cut them loose.
Stella: Could you share with us something, a trivia that not many people know about you?
Tessa: When I listen to songs I really like, sometimes I create choreography in my head and picture a younger, hotter version of myself performing it on a stage. Don't tell anyone!
About the Author
Tessa lives in Brooklyn, New York with her husband and young daughter. When she isn't writing or reading romance, Tessa enjoys a good argument and thirty-minute recipes.
About the Book
She's running from the law, and the law wants her bad.

The opportunity was just too damn delicious for Ginger Peet to pass up. The purse full of money she finds—$50,000 to be exact—could give her and her teen sister the new start they need. So she grabs the cash, her gothy sibling, and their life-sized statue of Dolly Parton, and blows outta Nashville in a cloud of dust. Chicago, here we come…

Turns out, Chicago has some pretty hot cops. Hot, intense, naughty-lookin' cops like Derek Tyler, who looks like he could eat a girl up and leave her begging for more. And more. Tempting as he is, getting involved with the sexy homicide lieutenant next door poses a teensy problem for a gal who's on the lam. But one thing is certain—Derek's onto her, and he wants more than just a taste.

And as far as he's concerned, possession is nine-tenths of the law.
~~~~~~~~~~~~~~~~~~~~~~~~~~~~~~~~~~~~~~~~
~*~*Giveaway*~*~
Entangled Publishing has generously offered an ebook copy of Protecting What's His to one lucky commenter!
All you have to do is answer Tessa's question :
How BAD can a bad boy get before he crosses the line?

(You can read our full giveaway policy here)
Please be sure to include a valid email address in the comment form (need not be in the actual body of the comment).
This giveaway is open to everyone!
Giveaway ends on 27 April 2013 and we will announce the winner on Sunday.
Good Luck!