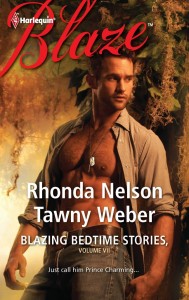 Format Read: paperback provided courtesy of Author for Review
Length: 224 Pages
Genre: Contemporary Romance
Release Date: June 1, 2012
Publisher: Harlequin Blaze
Formats Available: Mass Market Paperback, Kindle, Nook
Purchasing Info: Publisher, Rhonda Nelson's Website, Tawny Weber's Website, Amazon, Books-A-Milliion, Powell's, , Goodreads, Book Depository, Kindle, Nook
Book Blurb:
It's bedtime—and bestselling authors Rhonda Nelson and Tawny Weber have two deliciously wicked tales to tell you…

The Steadfast Hot Soldier by Rhonda Nelson

Army ranger John "Bear" Midwinter has two rules when it comes to the ladies—no tiny women, and no dancers. So why does petite ballet teacher Veda Hayes turn his blood into liquid fire? Still, the heat between them won't be denied. Will this soldier melt…or burn up?

Wild Thing by Tawny Weber

Compared to her beautiful siblings, groomer Andrea Tanner always felt like an ugly stepsister. But when she's left tied up and fuming, her prize pooch, Medusa, stolen, Andrea can't help hoping her prince will come. And he does. Hunky P.I. Percy Graham arrives in time to save the day—and to remind her that he hasn't forgotten the naughty night they once shared….…
My Thoughts:
Blazing Bedtime Stories, Volume VII, is an anthology offering two contemporary romances, both featuring strong alpha male heroes.
In The Steadfast Hot Soldier by Rhonda Nelson, Major John "Bear" Midwinter uses his leave from the Army Rangers to honor his mother's request and return home to small town Hydrangea to help her ready her apartment and dance studio for impending sale. Bear had a difficult upbringing as he notes: "Celeste Midwinter's parenting style had been more Mommy Dearest than June Cleaver". As a young man, Bear was delighted when he was able to go college and get away from 'Mom'. Celeste was a single parent and there hadn't been a day in his life when she hadn't reminded Bear of how his  birth had ruined her body and career as a gifted ballerina. In spite of his mother's lack of parental instincts and support Bear hopes that maybe they can repair some of the damage to their relationship while he is in town doing the repairs the new owner requested. Sadly, when Bear arrives at his mother's she is on her way out the door bound for Paris and he is left to do the work. I have to say, Celeste is a real piece of work.
Veda Hayes' ballet career was derailed because of stress fractures, so when she found out Celeste was selling the dance studio Veda left New York and returned home. Veda was a gifted dancer in her own right and had been on track to joining an international dance team. It seemed like fate when the dance studio where she first honed her talent became available. She hopes the repairs on her new home and business will progress quickly because she really wants to move away from her parents' place they mean well but are driving her nuts. Now the handsome, very large, Bear Midwinter has arrived to take care of her requested repairs. Veda hasn't seen Bear for 12 years and she had a mad crush on him in school. As a confident military man, Bear is even more appealing. Veda has a bad case of nerves when she first meets him again.
In the briefest of seconds, she watched recognition flash in those pale brown eyes––a golden amber that put her in mid of the tiger's-eye ring she'd worn on her right hand since her sixteenth birthday, which had been the reason she'd chosen it, of course––and then he smiled, really smiled and her pathetic heart practically flipped in her chest, then thundered into a sprint that resonated in her ears so loudly, it left her nearly deaf. Her hands trembled and her body broke out in a prickly sweat that heralded impending nausea and her last thought, before she darted into he bathroom and emptied her stomach, was at least she wasn't puking on him…like she did the last time she'd seen him.

Thank God for small favors.

Only stage fright and Bear Midwinter had ever made her nervous enough to hurl. She'd eventually gotten over the stage fight.

Clearly, Bear was another matter.

The Steadfast Hot Soldier © Rhonda Nelson
I really liked Nelson's voice, she writes a story that has some heart felt issues regarding parental neglect but instills plenty of laugh-out-loud fun. Veda and Bear tease the locals creating rumors regarding their relationship and Veda, in particular, has a good time yanking the chains of a  couple of the women who have their eye on Bear.
Bear and Veda's romance evolves during the time the repairs are completed and readers can expect light "Blaze level" sensuality. Bear has every intention of returning to his unit when his leave is finished and plans to reenlist for another tour. He is accustomed to the transient lifestyle inherent to single special forces men, after all, there is nothing else for him right? I felt empathy for this man who has never known what it is to be part of a loving family, but also admired his maturity and strength in rising above his selfish mother's indifference to become an admirable (and very sexy) human being. Settling in a town filled with so many bad memories of Celeste isn't in the plan but as the townsfolk embrace him warmly and as his feelings for Veda intensify Bear begins to rethink his life as career army officer.
The Steadfast Hot Soldier offers strong, memorable characters and an endearing well paced romance. As well, you get lots of small town fun.

In Wild Thing by Tawny Weber Private Investigator Percy Graham has planned a well deserved and much needed vacation. He has been having a bad run of luck lately, ever since an event he refers to as The Failure.
"Failed cases. Failed communications. Failed dates. Hell, it was getting so he was scared to take a woman to bed. Who knew what else might fail?"

Wild Thing © Tawny Weber
LOL Poor Percy.
Then his secretary, the chain smoking Jolene, calls with a dognapping case. Dognapping? Percy is not operating a puppy retrieval service but with some, um, cajoling from Jolene he agrees to take the job which requires a visit to a fancy dog grooming facility. What greets Percy totally shocks him, and it takes a lot to shock Percy. Gagged and tied to a chair in the upscale dog grooming shop is the woman who crushed his heart, Andrea Tanner.
After a comical interrogation Percy frees Andrea who shares that her business was broken into by a thug and a particularly valuable pooch was taken. It seems the very dog that has been snatched is the same one Percy was hired to retrieve. Percy plans to quickly find the missing pooch, return the dog to its owner and make his flight out of the country. Andrea is frantic and wants Percy to take her along to find her charge, after all, her business and reputation is at stake.
Percy endures more coercion including tears and blackmail and he eventually agrees to take Andrea along, but makes a couple of "demands" of his own. Weber writes dialogue chalked-full of witty banter and it was great fun watching Andrea get her way with the hard nosed PI. Percy is very handsome and sexy and Andrea is smitten but she doesn't believe she is attractive or appealing enough for Percy. After all, he didn't pursue her when she left him following their short term relationship. It's obvious Percy has women at his beck and call. Conversely Percy has no clue that he hurt Andrea by not making more effort to see her again. Percy's befuddlement concerning Andrea's seeming reluctance to get involved with him again is so well protrayed. All he knows is his pride was wounded when she didn't return his calls. Percy has never had a problem like this with a lady before.
When they track down and retrive Medusa, the Chinese Crested, Percy is completely stymied, that naked thing is a dog? No. Way. Weber found her way into my heart by giving this little pooch a primary role in her story. Two Chinese Cresteds share my home and my love, and one, like Medusa, is a hairless. Weber nailed her mannerisms and personality, they are indeed divas, high maintenance dogs.
He gave the animal––he wasn't calling it a dog until someone showed him proof that it was one––another questioning glance. Long silky hair sprouted all around those big ole ears and off its legs like it was wearing ugly boots. It had a tail, and there was hair on that. But the top of its head looked like a mop. Instead of silky tufts, the long white hair was all bunched together in dreadlocks. Vintage Madonna meets Bob Marley.

Wild Thing @Tawny Weber
LOL! Oddly, Medusa takes a real shine to the appalled Percy, who gradually warms up to her. Tough PI Percy and sweet Andrea are able to work through their conflicts and Weber offers an underlying mystery surrounding the valuable Medusa making her reacquainted lovers story all the more intriguing. Wild Thing was a fun page turner, Weber must have a wonderful sense of humor because it certainly shines through.
Blazing Bedtime Stories, Volume VII offers two quick satisfying reads that can certainly, as the title suggests, be read at bedtime. I liked both these authors voices and felt the nature of the stories complimented each other. I'm looking forward to reading more of Rhonda Nelson's and Tawny Weber's work.

I give Blazing Bedtime Stories Volume VII 4 Stars
***FTC Disclaimer: Most books reviewed on this site have been provided free of charge by the publisher, author or publicist. Some books we have purchased with our own money and will be noted as such. Any links to places to purchase books are provided as a convenience, and do not serve as an endorsement by this blog. All reviews are the true and honest opinion of the blogger reviewing the book. The method of acquiring the book does not have a bearing on the content of the review.