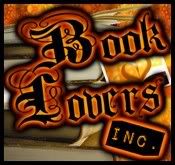 Today it is our pleasure to introduce you to a new Book Lover. Jenn joins us today and we hope you like her as much as we do.
We found her through our We Want you As a Book Lover search and we are really happy about that.
She will be here as an "Intern" for a month to see if it works out for her and us but I'm positive that we found a new member for our group in Jenn.
Please Give her a warm welcome!
Hi everyone, I am Jenn, the YA Book Lover – I am so pleased and happy to be here! I am a single, mother of 2 kids, Aubrey my reader is 11, and Zachary my non-reader is 6 (working on that). I am also a photographer, I own and run Fingers To Toes Photography and work in the Northern VA area. With 2 little kids, my photography, and being single – reading is my outlet, besides driving that is. I just recently, about a year and a half ago, got back into it, with the introduction to Twilight into my life, which I loved and still do, though it's no longer my FAVORITE YA book ever, I have expanded! I really enjoy the fantasy in YA today, but there's always a place for the more realistic side as well, I honestly wish I had more time to read, but alas… Some of my favorite authors include, Elizabeth Isaacs, Jennifer DeLucy, Shelena Shorts, Lauren Kate and Lisa Schroeder among LOTS of others.
Places to find me:
Book Crazy, twitter, facebook, goodreads