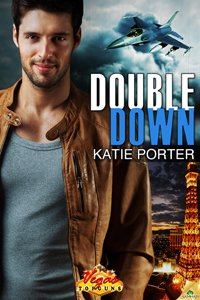 Have you read a book by the debut co-writing team of Katie Porter (Lorelie Brown & Carrie Lofty)? Have you told others what you think? Now's your chance! With Kindles!
Katie would love to get the word out by giving others access to the most important opinions of all: those of readers! It's so simple. Just post a review of DOUBLE DOWN on Amazon.
Love it, hate it, think it's worth a solid three stars…? Want to write a few lines or a treatise? Katie can't wait to hear what you think. Here are the prizes.
When DOUBLE DOWN reaches 25 reviews, Katie will  give away a $50 Amazon gift certificate to a randomly selected reviewer.
When DOUBLE DOWN reaches 50 reviews, Katie will give away a $119 Kindle Paperwhite.
When DOUBLE DOWN reaches 100 reviews, and for every 100 reviews after that, Katie will give away a $199 Kindle Fire HD.
You only need to …

Announcements,featured,Katie Porter,Promo,The Danger Lover

27 Oct 2012

Comments Off

on Katie Porter's Amazing Race for a Kindle!