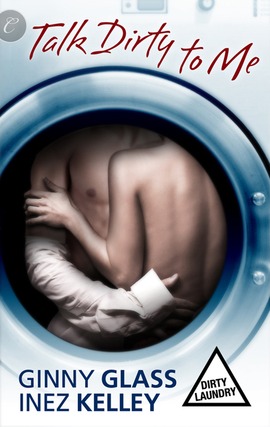 Format Read: eARC
Number of Pages: 68 pages
Release Date: July 19th, 2010
Publisher: Carina Press
Formats Available: eBook
Purchasing Info: Ginny Glass' Website, Inez Kelley's Website, Goodreads, Carina Press
I received this book as a review copy from the publisher through netgalley.
Book Blurb:
"Tell me what you want. Talk dirty to me."
For Nora MacGregor, the sinful voice of a stranger gives her permission to explore her deepest fantasies – fantasies that only exist outside her daily drudgery in the science lab. 'James', challenges Nora's icy, clinical ideas about the power of sex. The arrangement – she talks to him and he returns her lost dissertation notes, page by page. What he can't give her is human touch, tangible sweetness, attributes she finds in the company and gentle romance of Dr. Jarod Reed.
Jarod, who seized an opportune moment and became the mysterious James, is now trapped in a mess of his own making, unable to let Nora know that he wants more than an naughty bedtime story. The anonymity of being Nora's cell phone lover frees Jarod to reach into the not- not-so-scholarly pursuits of the flesh but may have cost him the chance to make those fantasies a reality.
My Thoughts:
I really thought Coin Operated was hot but this book is smoking. Talk Dirty to Me is about Prof. Dr. Jarod Reed and Nora MacGregor. I should warn you all I have a soft spot for professors and Prof. Reed didn't disappoint me at all. He is wonderful. I loved the way he thought- it seemed to be so honestly real. He made me laugh out loud so often. He's intelligent, witty and full of sexual wickedness. New book boyfriend for sure. He's a bit obsessed with Nora, his laundry girl. He sees her 2 times a week. One day he's brave enough to ask her out while she walks to do her laundry. I just say pepper-spray.
Nora is obsessed too but not with a person- she is consumed by her work. She tries to finish her doctor thesis about "The Vagina Myth–The Modern Educated Woman and Sex: A Biological Study of Female Sexuality." Unfortunately she is not really practiced in that topic. Not that she is a virgin but that orgasm while with a man didn't happen to her. Poor girl. When her notes get lost and she gets phone calls from "James" who offers her a naughty deal she first resists but her resistance is futile.
OMG those phone calls were mind boggling good. Jarod can call me any time. He had the right sense of what to say and how to push Nora. I loved every second of it. I loved how the character confusion led through the book. The pace was perfect and I was caught by the characters. And the ending was eye opening. Loved it.
Talk Dirty to Me is a wonderful book. It will sweeten your time and you won't be able to put it down. The characters are very likable and made me laugh so much. This sexy read is one of the best novella I ever read and highly recommended to all who love their romance a bit more sexy.
I give Talk Dirty to Me 4 out of 5 bookies.
***FTC Disclaimer: Most books reviewed on this site have been provided free of charge by the publisher, author or publicist. Some books we have purchased with our own money and will be noted as such. Any links to places to purchase books are provided as a convenience, and do not serve as an endorsement by this blog. All reviews are the true and honest opinion of the blogger reviewing the book. The method of acquiring the book does not have a bearing on the content of the review. All our links to the online bookstores are affiliate links. The money earned with these accounts is spent on books for contest exclusively.