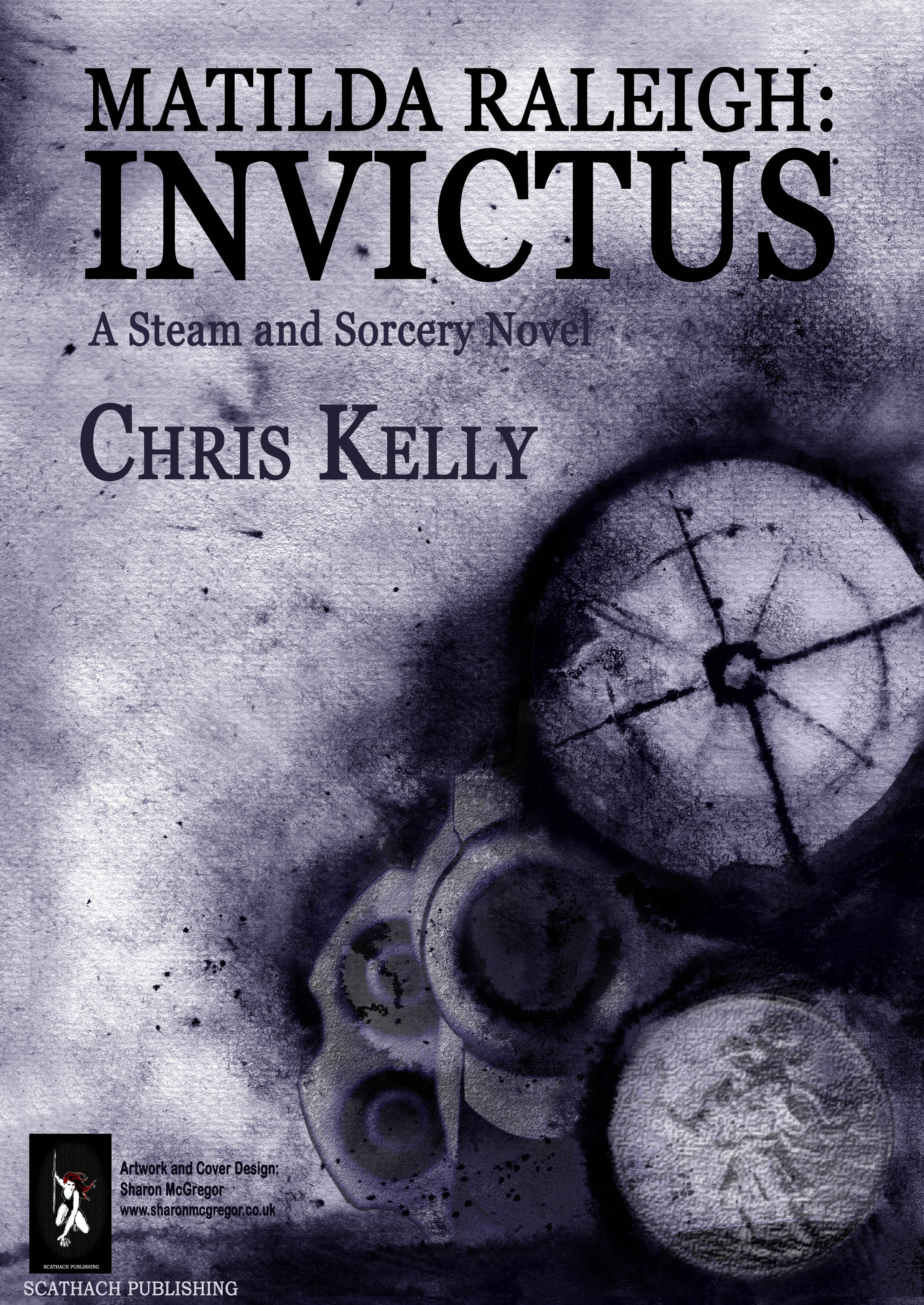 Format Read: Ebook
Number of Pages: 80 pages
Release Date: Sept 10th 2010
Publisher: Scathach Publishing
Formats Available: Ebook
Purchasing Info: Author's Website, Goodreads, Smashwords
Book Blurb:
It is 1912, and the British Empire faces the worst magical threat it has ever known, the misuse of ancient Incan crystal skulls. 72 year old former adventuress Matilda Raleigh is brought in as an adviser. But when she realises she has been lied to and betrayed, it falls on Matilda to save the Empire, and possibly the whole world.
My Thoughts:
I never heard about Chris Kelly before, and read the book Matilda Raleigh: Invictus with absolutely no expectations- whether good or bad. Perhaps it's the best way to approach a story, this way you can't be disappointed.
The story:
England 1912 – war is on the doorstep of Europe. All nations prepare for it by both mundane and arcane means. In this background we witness through the eyes of retired Matilda Raleigh the events that take place. Everyone's nervous. Someone attacked the king with some kind of living machines. Who sent them? Was it Kaiser Wilhelm of the German empire or some other unknown agency? Shortly after this strange opening event, our 72-year old heroine suffers from a robbery by the hands of an magical agent with German accent. The thing he's after – one of thirteen ancient Incan crystal skulls – they are said to bestowe immortality and neverending wealth on the person who brings them all together and invokes them. At this time Matilda realizes, that it's only she, who can save everyone from the impending doom.
She uses her contacts with the intelligence service and tells the director everything she knows about the skulls and their usage. Not satisfied with leaving everything in the hands of others, she makes investigations of her own. From now on it's helter skelter- we meet vampires, prototypes of flying machines, mad scientists, armies of soulless machines and golems, angels and finally land -after a breathtaking and rapid chase- on board the Titanic.
Here is to be the stage for the showdown. The culprit is on board the ship in order to find the rest of the skulls, which are believed to be in America. Matilda would not be who she is if she hadn't got a few trumps to play. So in the end everything turns out…
Chris Kelly provides us with an interesting storyline, in which historical events collide with magical influences and items. Matilda Raleigh, 72 years old, former adventuress, smoker, ill with tuberculosis and generally in the shape in which a 72 year old lady can be. Nevertheless she is thrust in this events and tries to cope with them as good as possible. Naturally there are a few pains in her old bones or a shortness of breath, but her iron will keeps her moving, again and again and again. It's an interesting choice of protagonist, but one that I'm truly liking. It's boring to always read about perfect 'superheroes'. Matilda's abilities are limited but she strives to protect others despite the fact of her near death by tuberculosis. For an inexperienced writer this book is quite good, the settings and events are varying, and the emotional side has it's place too.
On the downside, the pace in which events follow one another is – in my opinion – much too great. You simply don't have time to reflect on the events or about their consequences. One thrilling highlight is followed by another. I read this book in just over 6 hours, which says a lot about the intoxicating style of writing. With one or two slower parts Matilda Raleigh: Invictus would be a truly fantastic book, and that's not just because we learned the true reason the Titanic sank…

3 out of 5 Bookies
***FTC Disclaimer: Most books reviewed on this site have been provided free of charge by the publisher, author or publicist. Some books we have purchased with our own money and will be noted as such. Any links to places to purchase books are provided as a convenience, and do not serve as an endorsement by this blog. All reviews are the true and honest opinion of the blogger reviewing the book. The method of acquiring the book does not have a bearing on the content of the review. I bought this book myself.