Format read: e-Book provided by author for review
Length: 48 pages
Formats available: e-Book, Kindle
Release Date: September 21, 2010
Publisher: Samhain Publishing
Purchasing Info: Author Website, Samhain Publishing, Amazon Kindle, Goodreads, All Romance Ebooks, My Bookstore and More
Desire cuts both ways…

Nothing gives Dina more pleasure than leaving the vampires she hunts to the mercy of the dawn. And yet most humans she is sworn to protect seem all too happy to offer up their necks. She has vowed never to be like those needy creatures yet, three months ago, she allowed a vampire to kiss her. The memory still makes her body burn—and her skin heat with humiliation.

For over twenty empty years, Luke has lived in a world of dead pleasure and burning sunrise, feeding off those who long for immortality and taboo thrills. Only his art makes him feel half-alive. Until one night in a dark, moody nightclub, where a reckless, amber-eyed bloodwolf left behind her clean, sharp scent—and an ache in his blood nothing but another taste can ease.

Finally, with the chance to purge Luke out of her system, Dina moves in for the kill. But she comes to a horrifying realization. She can no longer shift, and the desire to taste him—body, soul and blood—is making her crazy. As an enraged bloodwolf threatens to rip them both apart, she may just be crazy enough to trust Luke with her life.

Warning: Contains interspecies lust between a bloodwolf and a vampire, and desire thick enough to cut with a blade.
My Thoughts:
I enjoy interspersing a good novella with longer novels, call it instant gratification! *g* I read "Night Haven" last year and it was one of my favorite novellas of 2010. Fiona Jayde's prose is crisp, and her voice is perfect for this dark paranormal tale about two mortal enemies who become lovers. Bloodwolves are warrior wolf shifters, vampire slayers, who are entrusted with keeping humans safe from the vamps. There is one main rule Bloodwolves are required to follow – "No bites, no stakes", in other words, a vampire cannot be executed unless it is observed biting a human.

Dina is a kick ass heroine who lives for the hunt and extermination of her prey. She is shaken to the core and embarrassed to find herself sexually attracted to one of the very beings she has been hunting and killing her entire life. As this vampire is not observed breaking the golden rule Dina stalks and confronts him but finds herself unable to move in for the kill. Further, she discovers she is drained of magic and unable to shift into her wolf form.
Luke is just the sort of hero I love, tortured, brooding, he is a vampire who was turned against his will and is so full of self loathing it is literally palpable. I know you are probably thinking he sounds like many vamp heroes you have read before, but I found him different. Luke is not a natural warrior, he is an artist and helps others in need when he is able. He is as shocked as Dina to find himself attracted to her, a bloodwolf.
"Bright light fought its way into the high attic window. Like always, he waited to curtain it off, foolishly clinging to the hope that he could look the rising sun square in the face and have the guts to burn.

The bloodwolf's scent still clung to him—reckless and dangerous and sexy. No perfume, no floral imitations to mask her natural fragrance. Just female arousal and nerves mixed in a heady combination. He liked the nerves, liked feeling her heart shuddering under him. Liked feeling, because that in itself was rare.

Maybe he shouldn't have kissed her knowing what she was, but he couldn't resist those dangerous gold eyes, that tough and sexy body. Remembering the feel of her pressed hard against his chest made Luke's blood hum again."

Night Haven © Fiona Jayde
I found the story's graphic imagery provided an excellent visual of a dark and dangerous world where humans have no knowledge of the fight being waged to protect them. As well, the scenes involving Dina and Luke crackle with sensuality. The plot is fast paced and the author provides enough information about the bloodwolves history and physiology so that a reader is kept interested but is not overwhelmed with detail. Readers are treated to an action packed climax and conclusion to Dina and Luke's story.
"Night Haven", is the first in the Bloodwolves Series to be released by Samhain Publishing and I'm looking forward to reading the next novella in Ms. Jayde's series called "Night Legacy", which will be about the Bloodwolf, Zachariel, who is unable to shift into wolf form because of his hatred for humans. (Sounds great to me!) If you enjoy an action packed dark, sensual paranormal romance, with an enemies turned lovers theme, you may like to give "Night Haven" a try.

I give "Night Haven" 4.5 out of 5 bookies.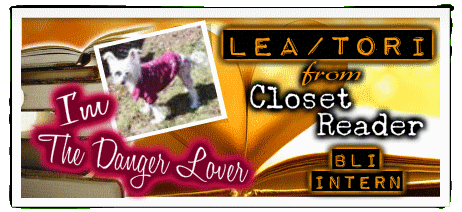 ***FTC Disclaimer: Most books reviewed on this site have been provided free of charge by the publisher, author or publicist. Some books we have purchased with our own money and will be noted as such. Any links to places to purchase books are provided as a convenience, and do not serve as an endorsement by this blog. All reviews are the true and honest opinion of the blogger reviewing the book. The method of acquiring the book does not have a bearing on the content of the review.