Format Read: Paperback ARC submitted by Publisher for review
Length: 448 Pages
Series: Sinners On Tour Book 2
Release Date: April 1, 2011
Publisher: Sourcebooks Casablanca
Formats Available: Trade Paperback, Kindle, Nook
Purchasing Info: Author's Website, Goodreads, Book Depository, Amazon.com, Borders, Barnes & Noble, Powell's, IndieBound, Chapters, Kindle
Book Blurb:
Sinner's lead singer, Sed, had his heart shredded when Jessica left him to pursue her dreams,so when she dances her way back into his life, he's not sure he's ready for her brand of pain, or pleasure, again. When she convinces Sed to engage in a benefits with benefits relationship, things seem to be going his way, until one of his fans catches their explicit public display of affection on film and posts it all over the internet.

Will Jessica ever trust Sed again?

And has Sed become the man of Jessica's dreams or is he just posing to get what he wants?
My Thoughts:
After reading and enjoying Brian Sinclair and Myrna Evans' story, Backstage Pass, the first book in Olivia Cunning's Sinners On Tour series last year, I have to admit I wasn't sure how she would further develop Sedric "Sed" Lionheart's character in Rock Hard. The lead singer and heart of the Sinners came across as an egocentric narcissist, who utilized his charismatic stage presence to his own advantage, the innumerable nubile females falling at his feet were used for sex, nothing more. Moreover, he hurt people, and could be downright cruel and controlling. Not to lessen Sed's musical abilities, he is a talented performer and lyricist. However, through skillful characterization, Ms. Cunning redeems Sed who proves to be a man who has loved one woman and only one since falling for Jessica Chase 2 years earlier. In addition, he is a strong, thoughtful man, who while doesn't always communicate his thoughts and feelings effectively will do whatever it takes to take care of those he loves.

Sed and Jessica fell in love quickly, were engaged for a short period and because he didn't show support of her dream to attend law school she left, taking his heart with her. At the time of their short relationship the band was still struggling for success, money was tight and Sed was stressed, trying keep the Sinners afloat. There were therefore a number of pressures at play that caused their break-up. But, in Jessica's eyes her fiancé wanted to control her life, and Sed gave her good reason for this belief.
Jessica is an extremely independent, intelligent, attractive and driven woman. She has a magnetic sensual aura, (that she is unaware of) and a wicked temper to boot. In the 2 years since leaving Sedric Lionheart she has attended school working extremely hard to attain her goal of becoming a lawyer. One of Jessica's scholarships is running out so she must look for a way to earn a substantial amount of money over the summer break. Her best friend and roommate Beth convinces Jessica that working as an exotic dancer is the best way for her to earn money quickly. Admirably, Jessica refuses to get into debt or be reliant on anyone to pay her way. She therefore accepts a job as a stripper in a bar. Little does she know that this is the catalyst that will bring her face to face with Sed again.
To say the heroine and hero of Rock Hard have a tempestuous relationship would be an understatement, it's evident they love each other, however the foundation of their previous short term engagement was sexual and they never really knew each other. Both these people have voracious sexual appetites and like to be daring. Sed and Jessica are perfectly matched in this regard, and their reunion after being apart for so long is nothing short of volcanic. As with the series predecessor Backstage Pass, Rock Hard is a nuclear grade hot erotic romance, Ms. Cunning continues to pen extremely sensual, sexually explicit love scenes. Over the course of the novel, however both Sed and Jessica come to know one another on an intellectual level and misconceptions are revealed. Initially they agreed to have a purely sexual summer no strings attached fling, however things change and their relationship evolves into much more.
Ms. Cunning continues to adeptly explore the lifestyle and struggles of the Sinners as an extremely popular hard rock band. The lack of privacy and inability to go out in public without a disguise for fear of being mobbed by rabid fans is addressed. Conversely while not on tour, these guys enjoy a life of luxury and Sedric certainly throws money around like it were confetti at a wedding. The band also has to deal with shock and anguish when one of it's member's is critically injured in a bar fight requiring hospitalization, life threatening surgery and a protracted recovery for a variety of reasons. Band members rally to his aide and it is here that the depth of Sed's caring for his friends is evident. Ms. Cunning shows how these guys are much more then members of a rock group. They are a family, somewhat weird and dysfunctional, but a family nonetheless. lol They are there for each other through thick and thin, and their camaraderie shines through in a narrative that is laced with this author's signature humor.
Myrna and Brian are secondary characters in Rock Hard, their love and commitment to one another is evident. Myrna, is quite the mother hen and plays a small but pivotal role in the storyline. Readers also learn more about the other band members, particularly the enigmatic Jace (bass guitarist), whose story I'm really looking forward to. Outside of his, um interesting sexual appetites, Jace proves to be a musician with far more talent then the Sinners had previously realized. His story Hot Ticket, will be the next Sinners On Tour book to be released! (WOOT)
At it's heart Rock Hard is an erotic romance with a lover's reunited theme, but IMHO Ms. Cunning has crafted a multilayered story about two unusual and complex people who travel a very bumpy road to commitment. This story was emotionally touching, funny, and curl your toes hot! Rock Hard was a non-stop thoroughly enjoyable read for me and I hope those of you that choose to read it will enjoy it too. While I think Rock Hard can be read in isolation it would be far more beneficial to read the series in order beginning with Backstage Pass.

I give "Rock Hard" 4.5 out of 5 bookies.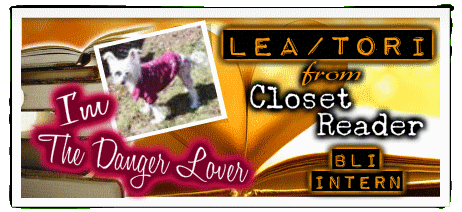 ***FTC Disclaimer: Most books reviewed on this site have been provided free of charge by the publisher, author or publicist. Some books we have purchased with our own money and will be noted as such. Any links to places to purchase books are provided as a convenience, and do not serve as an endorsement by this blog. All reviews are the true and honest opinion of the blogger reviewing the book. The method of acquiring the book does not have a bearing on the content of the review.