Format Read: e-ARC submitted by Novel Sidekick courtesy of Author
Length: 50 Pages
Series: Pacific Passion Book #1
Genre: Erotic, Paranormal, Shapeshifters
Release Date: May 4, 2010
Publisher: Samhain Publishing
Formats Available: eBook, Kindle, Nook
Purchasing Info: Author's Website, Publisher, Goodreads, All Romance Ebooks, Kindle, Nook
Book Blurb:
These elements have no desire to be tamed…

As the new traveling doctor for the Pacific Inside Passage settlements, Matthew Jentry balances dual roles for his water-shifter people—caring for their health as a human-trained physician, and for their spiritual needs as a shaman.

Distractions of the female kind are not on his agenda, but his magical bloodline makes him a target for every marriage-minded woman within range. There's something about the mysterious Laurin Marshall, though, that he finds far too enticing. It's just as well that it's time for him to move on.

Laurin thought she had perfected her guise as a mild-mannered teacher, but the sexual fireworks she and Matt touch off are threatening to blow her cover out of the water. Luckily it's time for her to catch the boat to her next assignment.

When she discovers she'll be sailing with Matt, she realizes there's only one thing more dangerous than their unforgettable one-night stand—being trapped with him on a boat that gives "riding out the storm" a whole new meaning…

Warning: Contains strong sexual currents and powerful waves of desire that break down inhibitions. Recommended only for those able to navigate through extremely steamy situations, on land and at sea.
My Thoughts
Stormchild is a short erotic paranormal story that introduces Matthew "Matt" Jentry a medical doctor and powerful shaman and shifter from the "People of the Sea" who travels to settlements seeing to the medical and spiritual needs of the various shifter clans. Matt controls and commands powerful magic, and is sought after not only for his healing abilities but female shifters want him to sire their children so they may have powerful proginy. Matt has no desire to sire children and have no involvement in their upbringing and therefore has remained celibate despite female clan members vying for his attentions. Then Matt meets Laurin.

Laurin Marshall is a qualified teacher who travels among the settlements seeing to the children's educational needs. Unknown to the clans of the "People of the Sea" Laurin is hiding from her clan who are air shifters. She is an excellent teacher and loves her work but to maintain her anonymity has declined any personal relationships for over 2 years. Ms. Arend's shifters are highly sensual so it is natural for them to be intimate, often. So, both Laurin and Matt have been fighting their innate natures by avoiding sexual activity.
Laurin has made sure to avoid meeting the visiting shaman while teaching at the settlement for fear her true nature will be discovered. She is after all a bird hiding amongst fish. 😉 When Matt and Laurin meet for the first time, they cannot resist a powerful mutual sexual attraction and share a night of passion. Ms. Arend pens extremely sensual love scenes and Matt and Laurin's magical abilities enhance their experience. What neither of them expect is that their one night stand develops into much more.
"The magic filling the room was more powerful than he'd ever experienced. Sexual pleasure was a strong catalyst for shaman skills, but of this intensity? The unreasonable concentration of passion he felt scared him. Made him hesitate and wonder if it was safe to continue. He sat beside her with care and laid his hand on her chest, his fingers splaying out as he opened himself to his mystic side. It wasn't an invasive search, only a surface questioning of her innate skills."

Stormchild © Vivian Arend
While reading Stormchild, the first of what is a trilogy of stories centering on Matt and Laurin's romance I was reminded of the line from the 1998 film Ever After; "A bird may love a fish, signore, but where will they live?"1 However, when the lovers involved are a shifters, and able to transform to human form where they live doesn't really present as a problem and Matt decides very quickly he isn't about to let Laurin go. Using their sexual compatibility as a basis Matt convinces Laurin they should stay together leading to an HFN ending it also sets the stage for the next story of the series Stormy Seduction.
I enjoyed Stormchild very much, and considering this is a short story, felt Ms. Arend did an excellent job of world building as well as developing Matt and Laurin's unique relationship. I didn't find the narrative to be overburdened with secondary characters or sub plots, and I was impressed with the author's lush descriptive prose detailing the beauty of the Pacific Ocean and British Columbia. What does the title of Stormchild signify? Well, you'll have to read the story to find out.. 😉 As a FYI review of Stormy Seduction will be posted here at BLI later today.
1 Ever After. Dir. Andy Tennant. Perf. Drew Barrymore, Anjelica Huston, and Dougray Scott. Twentieth Century Fox Film Corporation, 1998.

I give Stormchild 3.5/5 Bookies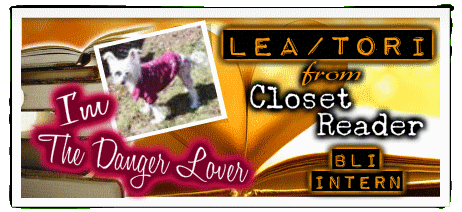 ***FTC Disclaimer: Most books reviewed on this site have been provided free of charge by the publisher, author or publicist. Some books we have purchased with our own money and will be noted as such. Any links to places to purchase books are provided as a convenience, and do not serve as an endorsement by this blog. All reviews are the true and honest opinion of the blogger reviewing the book. The method of acquiring the book does not have a bearing on the content of the review.