I just want to get one thing off my chest, I am a proud supporter of the gay community. I avidly hate any and every type of prejudice and won't stand for it, in any instance.
I felt I needed to say that to get to my point LOL. we're talking about books, so i wanted to talk about gay characters in UF and PNR and how much I love them!
They can be the gay best friend or the gay secondary character that steals the show, these people usually just make a story pop and give a much brighter realism to the fantastic worlds we get to read about constantly.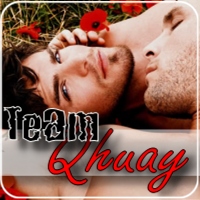 Who is is not dying to read Qhauy's HEA?
A sub genre that showed up more recently that rocks, is the M/M PNR. There are so many great ones out there, I mean, I already love ALPHA males, so how can I not fall in love with two of them?
I also would be remiss in not mentioning my favorite M/M romance and mystery writer, Josh Lanyon, he does such an amazing job in bringing these characters and stories to life!
What about you guys?
Do you enjoy M/M romance?
Do you enjoy seeing gay secondary characters in UF and PNR?
Are you Team Qhuay?