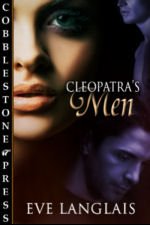 Format Read: E-Book
Number of Pages: 97
Release Date: 14 January 2011
Publisher: Cobblestone Press
Formats Available: E-Book
Blurb:
One former Egyptian queen plus two vampires equals a threesome with lots of bite.

I've paid my dues in Hell for my mistakes, but Satan thinks I'm too dangerous to keep around so he's kicked me out into the modern world for a second chance.

Ambushed by a pest from my past, I'm rescued by a seriously hot vamp. I vowed to not allow men to use me anymore, a pledge forgotten with Michael's first kiss. And when Julius, my first love, shows up bitter and angry, I can't help but want him too.

Maybe I do deserve the nickname Whore Queen, for I've decided I shall keep them both—naked in bed.
My Thoughts:
Cleopatra's Men was yet another hot exhibit of Langlais's writing ability.
Cleopatra is alive and well in modern times, having been kicked out of hell for nearly forcing Lucifer to marry her, Cleopatra is now fending for herself in the real world once again. She is immortal, powerful and currently blonde.
But Cleo has made many enemies in her time, one of those being Antony, her ex, who has an annoying habit of continuously trying to kill her by sending demons her way. On her first night out, these demons attack her and things are looking bleak if not for Michael, the mysterious dark stranger who jumps from a building to save her.
Cleo is definitely my kind of chick, I would have preferred more actions behind her words though as she seemed to be playing damsel in distress too much, but for a quick, hot story like this, I didn't really mind. Cleo was not only tough and sexy but she also had an added element of wit that kept the story light.
Michael was everything and more, sexy, powerful and a gentleman. Michael was everything Cleo wasn't used to after being used for most of her life and although it made for some questioning on her part as to his intentions, it also made for some really hot sex and quite a few swoon moments.
Cleopatra's Men was a quick hot dive into the world of a paranormal Ménage a trois with the addition of Julius Caesar, Cleo's first love into the mix it made for some comical but very hot reading. I loved Cleo's dissection of her feelings for each man and how she didn't try to hide behind an equal love excuse for her actions.
The massive deux ex machina at the end did put a slight dampener on the rest of the story. It was expected, but I was hoping it wouldn't happen.
Cleopatra's Men was another excellent example of Langlais's incredible writing and has left me wanting even more of her yet again.
I give Cleopatra's Men 4 out of 5 Bookies
***FTC Disclaimer:
Most books reviewed on this site have been provided free of charge by the publisher, author or publicist. Some books we have purchased with our own money and will be noted as such. Any links to places to purchase books are provided as a convenience, and do not serve as an endorsement by this blog. All reviews are the true and honest opinion of the blogger reviewing the book. The method of acquiring the book does not have a bearing on the content of the review.